COMMUNITY CAMPAIGN - KEEP MANI CLEAN
The community campaign initiated by Dr Sofia in December 2011, arranges days when alone, or together with other community groups, local volunteers work to improve our environment. For photos of gatherings see Flickr KMC and COMMUNITY CLEANUPS
The next Clean Mani day will be on Friday 17th November in the Aghios Nikolaos area. The meeting point is at Pantazi at 16:00 pm. Mobile phone 6977779314 Many thanks Doctor Sophia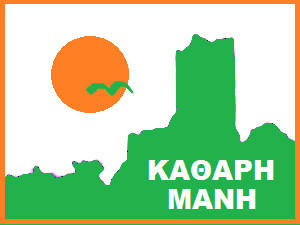 June 2017 : The new CLEAN MANI Assoc is bringing together all the people active in the community, and will now include the work of 'Keep Mani Clean'.
For latest news see News from the 'CLEAN MANI' Assoc
---
Keep Kardamyli Clean - April 5th 2019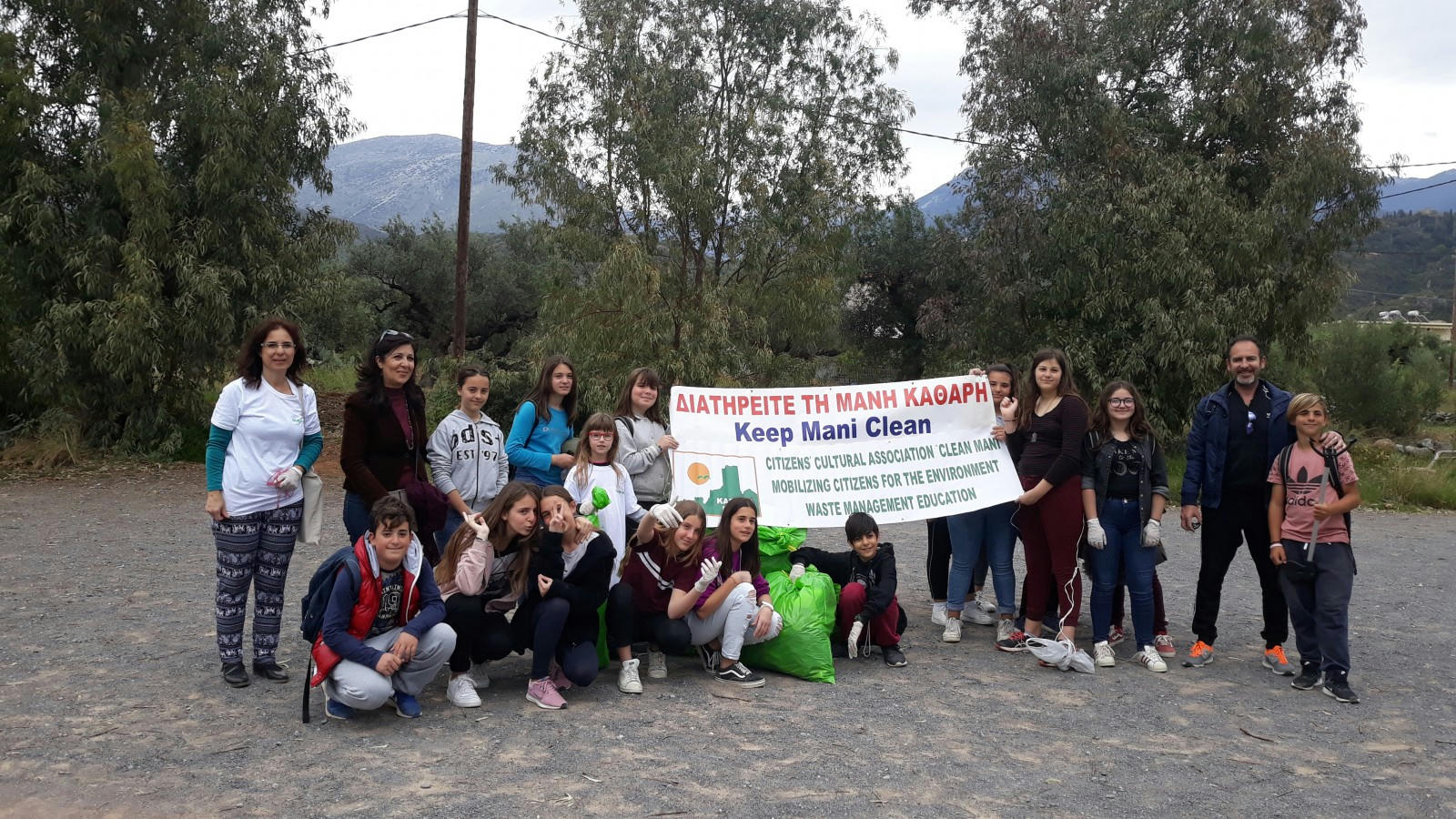 On Friday, April 5, Kardamyli was voluntarily cleansed by the Katharis Mani Association in collaboration with the Gymnasium. Volunteers cleaned the village while the students with the manager, Thomas Thalassa Palazzas and Professor Chihuahua, cleared the Rica Beach. The children, with zeal and excitement, dug up garbage that had long been hidden in shrubs or half-buried in the sand, thus preventing them from entering the seabed.
Congratulations to teachers, volunteers, but mainly to young active citizens who have made the message of how important it is to our lives or environmental protection.
Yours sincerely, Sophia Christofilopoulou
President of the Net Mani Association Tel. 6977779314
---
Keeping Mani Clean - January 20th 2017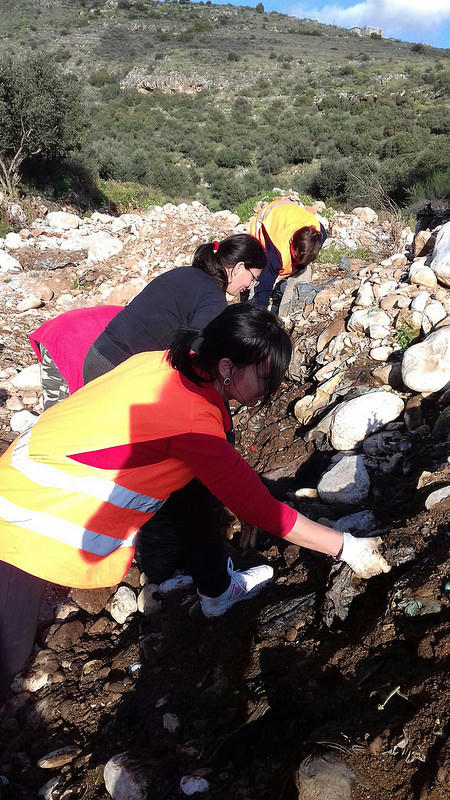 For the first gathering of 2017, and the 3rd cleaning session near the Valavani Olive press, Ag Nikolaos, volunteers of all ages spent around two and a half hours, clearing the rubbish, mainly unsightly plastic that had washed down during the September 7th flooding. See video >>
There is still a lot of rubbish embedded in the stones and tangled with roots, which cannot be removed by hand, but at least the area looks clean now.
T he next KMC cleaning session will be in another area of the municpality.
The Dimos were unable to attend on January 20th, but it is hoped they will be able to help next time. Thank you everyone who came to help, especially Leonardo who had come all the way from Tseria.
There are photos in the PsM Flickr album Keep Mani Clean 2017 and on

Σοφία Χριστοφιλοπούλου (10 photos and 4 videos.)
---
2016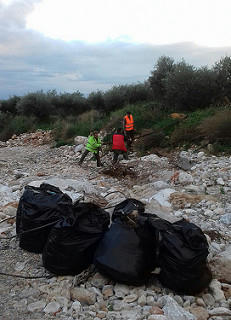 On a chilly grey afternoon (December 16th), nearly a dozen public spirited people turned out to help Dr Sophia continue the clean up of our area, near the Valavanis olive oil press.
A big thank you to those who helped, but more people are needed to 'Keep Mani Clean' to finish the job The rubbish scattered during the September storms is not only unsightly, but dangerous, and the more people get involved in the clean up, the better. Gloves, rubbish bags and high visibility jackets are provided.
More pictures in the gallery Flickr KMC
Message from Stavroula Nikoloudi who organised the clean up near Ag Nikolaos on December 2nd :-
" Thank you so much everyone who participated in the collection of garbage from the village up to the beach Pantazi, including colleagues who responded to my call and they called themselves or their workers during the summer season. Thank you very much and to Kostas Koloveas for the bags!"

Children were helping too >>! More photos on

Stavroula Nikoloudi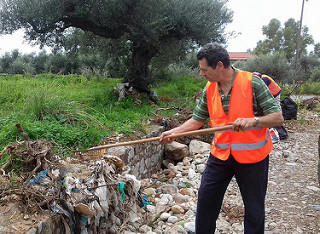 Thank you to the 12 people including 4 children, who gathered near Maniatiko on the main road on November 26th 2016, despite the weather.
They cleaned round Maniatiko, across the road by Valavanis olive oil factory and the start of the side road next to this factory. It was difficult to clean everything because some rubbish was mixed with soil and stones.
More pictures in the Parea KMC album.
( There is another chance for us to help with the community clean-up on December 2nd. Stavroula Nikoloudi is organizing a cleaning event in Ag Nikolaos. )
Public spirit in W Mani: Message from Dr Sophia:- "I noticed that someone was cleaning the main road from Stavropigio to Agios Nikolaos, and plastic black bags were at the side of the road. I asked him if he works for Dimos and he answered no, he's a volunteer that just wants to clean up all the rubbish that tourists throw out of their cars while they are passing. Congratulations to this unknown volunteer - he is an example for all of us!! "(17-8-16)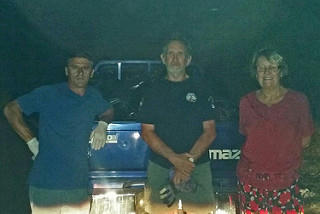 July 17th : Thank you to the dedicated few who who helped Dr Sofia last evening with cleaning around the entrance to Kardamyli and around some of the bins - Within 100metres they filled several black bin bags with rubbish, mainly cans and plastic bottles! By they time they had finished at 21:30, they had a truck full of rubbish! The bin just before going down to Kalamitsi beach had been reversed and thrown in the field.
Dr Sofia spoke about the rubbish situation, to the Vice Mayor, who said they are still waiting to hear from the Perifereia, where they can put rubbish from Mani, so EVERYONE, please reduce your rubbish as much as possible.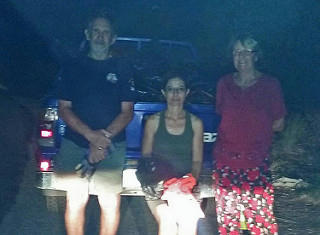 ---
2015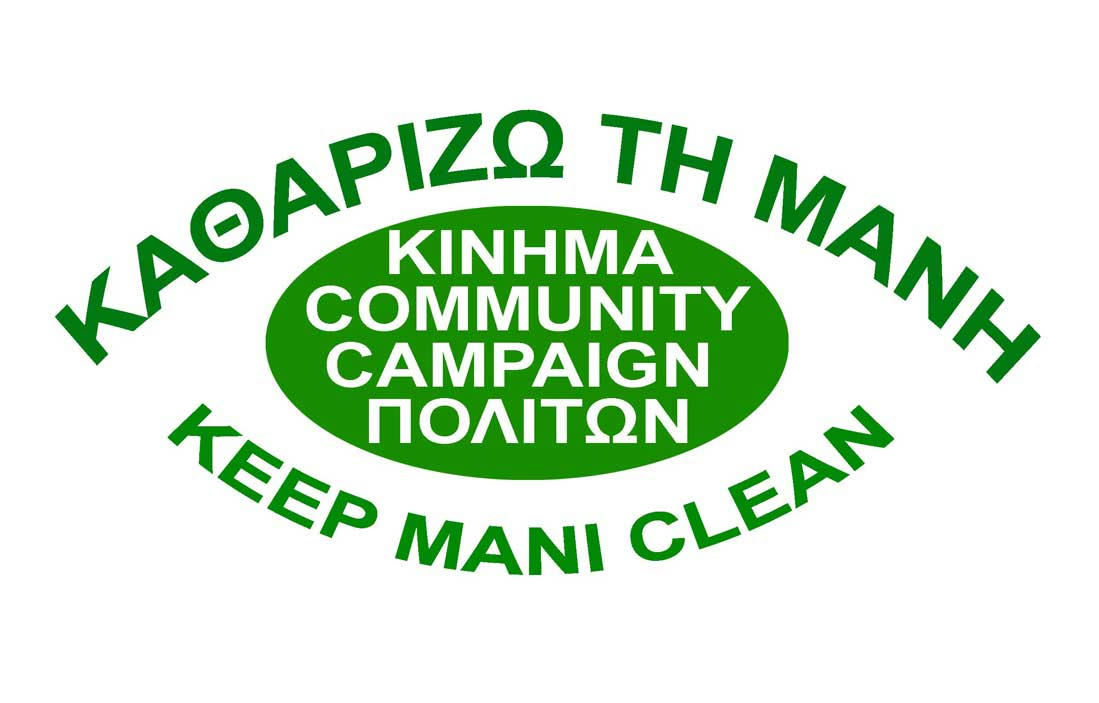 PLEASE KEEP HELPING TO 'KEEP MANI CLEAN'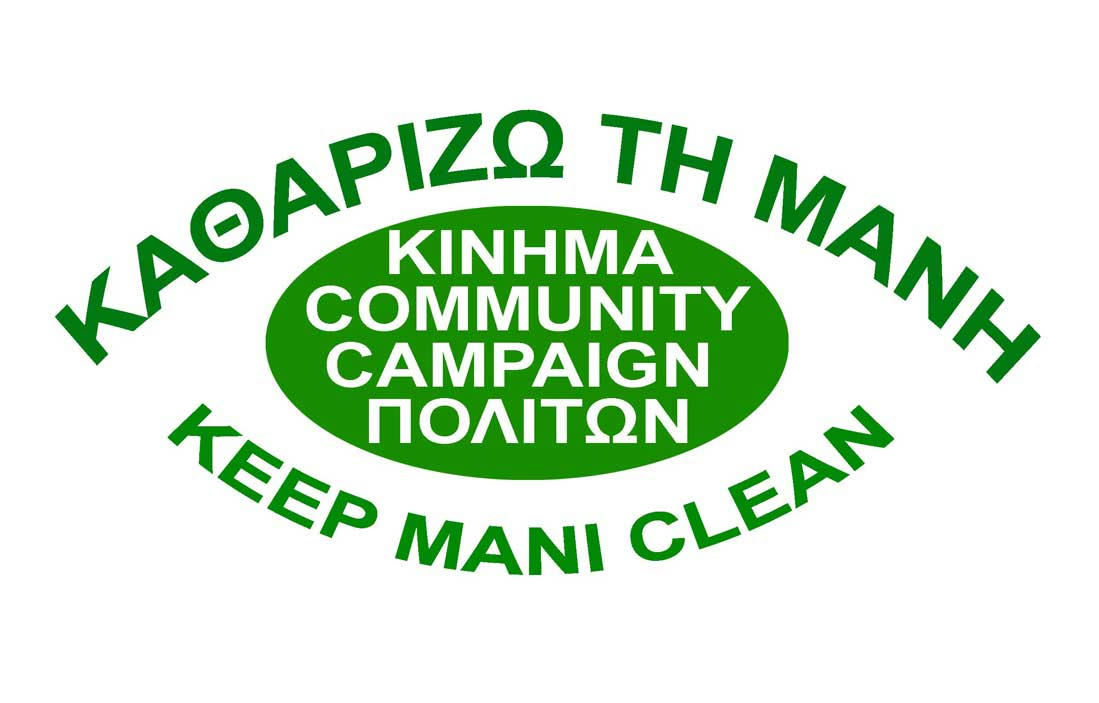 July 4th 2015 :The early morning start (8am) did not deter the volunteers who joined Dr Sofia to help KEEP MANI CLEAN . Thank you to all who helped.
Message from Dr Sofia:- 3 volunteers cleaned the entrance to Kardamili, coming from Kalamata and 13, the road from Neohori to the main road...6 were children..one was my daughter Stavroula. Saranteas from Katerina s market gave us free water and juice, as in the past.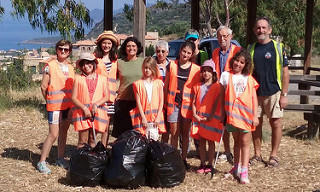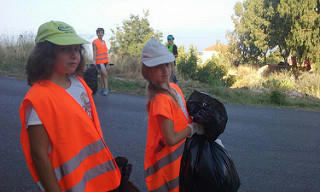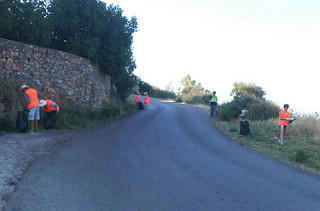 June 27th 2015: Rubbish management news
• When Dimos employees were cutting the vegetation along the roadsides from Riglia-Aghios Nikolaos to Kardamili, a lot of rubbish appeared. On June 26th they were out picking up the rubbish.
• Many rubbish bins have been moved to sites that are out of sight, and put on concrete bases for easier cleaning round the base. Mr Fokeas asks people to close the bins
• The Dimos has two boxes in the townhall, one for recycling lamps and the other for batteries.
• Recycling containers for glass (blue bells) have been put in many places, and some for recycling paper - many more are planned
• There is a container in Stoupa for both large and small electrical devices, which will soon be in use
• HELP WANTED - The Dimos has very few employees for cleaning. If anyone would like to help the Dimos cleaning the area please contact Dr Sofia 69777 79314
---
2014
December 2014: Where do we need to clean ? : Message from Dr Sofia:- We are going to organise a cleaning day after New Year's Day. The new vice mayor Mr Fokeas cleaned the area on the way into Kardamili on the left where the Dimos have bins. I told him that there are volunteers that can help him. he promised to call me and arrange a Dimos meeting with volunteers to talk about possible solutions. If anyone would like to communicate with me about cleaning, or to tell me about dirty areas, they can email me sophiachristof\gmail Thank you very much
July 11th : 7 volunteers cleaned along the main road from Foneas to Stoupa.
From September again, anyone who knows areas that need to be cleaned can contact Dr Sophia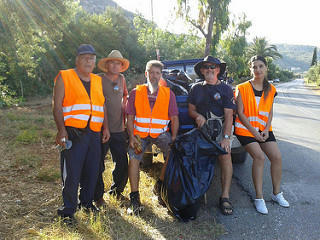 July 4th 2014 : Volunteers in the newspaper again: Article in Eleftheria on the back page (p32) about Dr Sophia and her helpers, including the 3 from Thomas Cooke agency, doing voluntary cleaning in Kardamyli/Stoupa, to compensate for what the Dimos is unwilling/unable to do.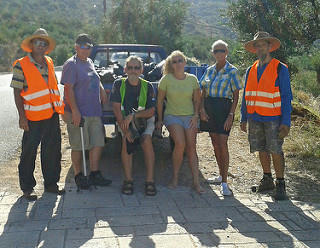 July 1st: A message from Dr Sofia:- 5 of us are going to clean the part from Foneas to Stoupa early in the morning one of the following days. If someone is interested to join us he can call me, 6977779314.
On Saturday (June 28th) we cleaned the road from Kardamili to Foneas and the road from the high school of Kardamili until the first turn. We were 8 persons.
June 5th: Volunteers with the Cultural Group of Ag Nikolaos -'Selenitsa', not only cleared rubbish, but also pruned overgrown vegetation and weeded the road sides from Ag Nikolaos to Pantazi, and painted the kerbs. (Some of the work was funded by local businesses.) This is how it was before their efforts..............
On April 8th, the Kalamata newspaper Eleftheria, published an item about 'Let's Do It - Greece' in West Mani, with a photo which included Gaia and KMC volunteers (Dr Sofia, Lybereas, Peter, Karolemeas )
March 16th - Yesterday, a group of volunteers removed not only rubbish, but several thousand shotgun cartidges from the small area between Kastania and Saidona !
Thank you Peter and Maggie Rollette, Tony and Sandra Cadden, Isabel Zeiss, Dr Sofia, and her husband and daughter.
Dr Sofia will be contacting local newspapers with this photo, to emphasise that hunters should pick up their spent cartridges.
MARCH 2014 Some encouraging news! - Message from Dr Sofia:-
"I would like to inform people that the problem with rubbish and over whelmed bins should be temporary. It is because the new contractor, who seems to be good, has not yet been paid by the Dimos because, as the vice Mayor Mitseas told me, they are waiting for some signatures from the Perifereia. I talked today with Lybereas who is responsible for the environment, and he will ask for the cleaning employees to clean better where the rubbish is spread around. They believe that the problem will be solved with the new contractor and that he will come to empty the bins every day."
February 2014: Dr Sofia hopes to arrange cleaning days in February and March and wants to know where YOU think cleaning is needed. She is planning another cleaning day in April, for the main road from Kardamyli to Ag Nikolaos. Contact Dr Sofia by email sophiachristof\gmail or at her office 10.00 - 13.00 (Mon.- Fri.) or call 6977 779 314, with your suggestions.
As a reminder of the challenges they faced in the summer see ABOUT STOUPA RUBBISH and CRISIS IN RUBBISH COLLECTION
---
2013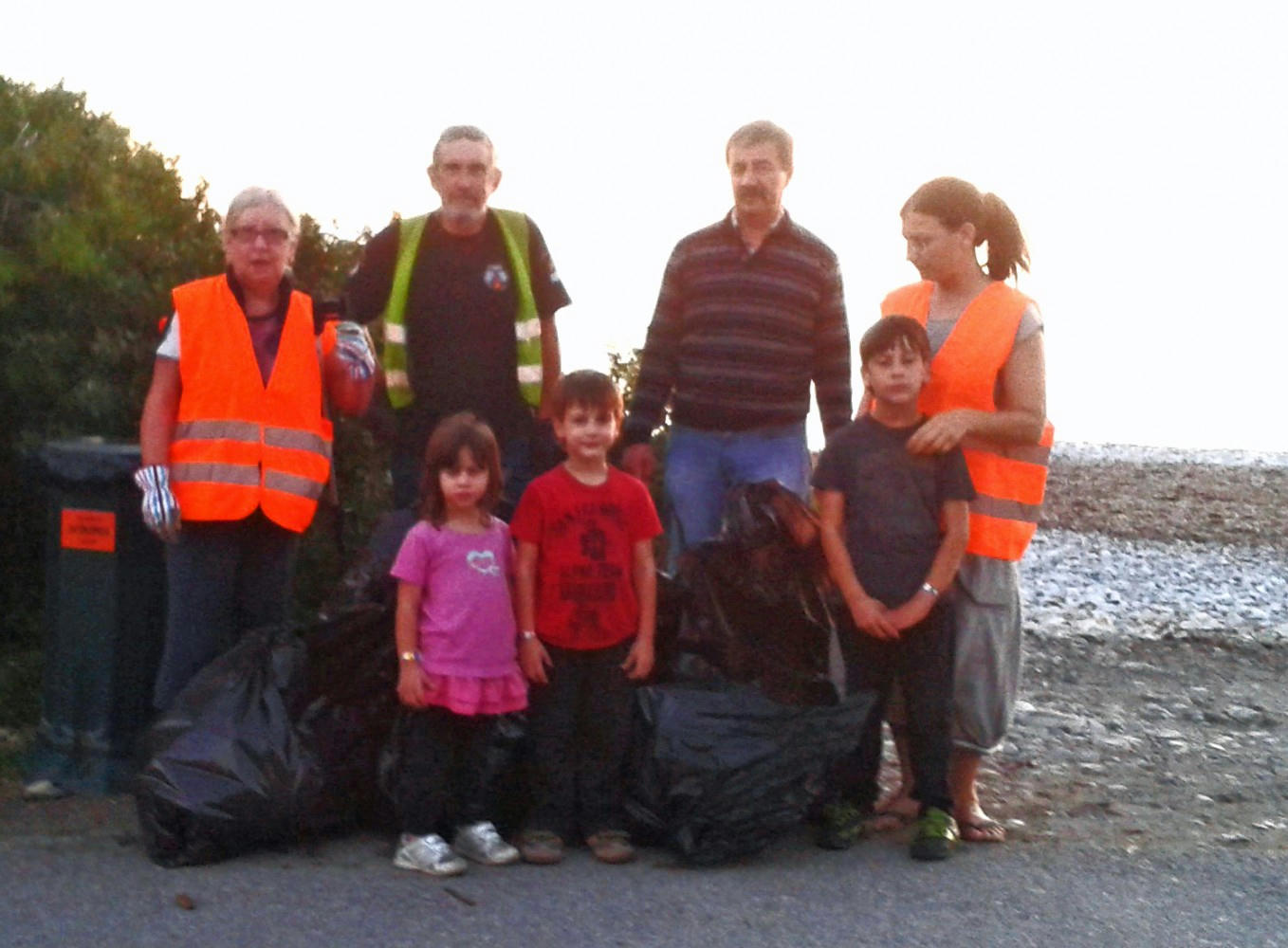 On the afternoon of November 9th volunteers, including the vice Mayor Christos Libereas, cleaned from the church square in Kardamyli down to Elies restaurant, the beach and the seaside road, plus along the main road from Kardamyli to Kastro restaurant + from the high school sown to the beach + clearing round the bins outside the Town Hall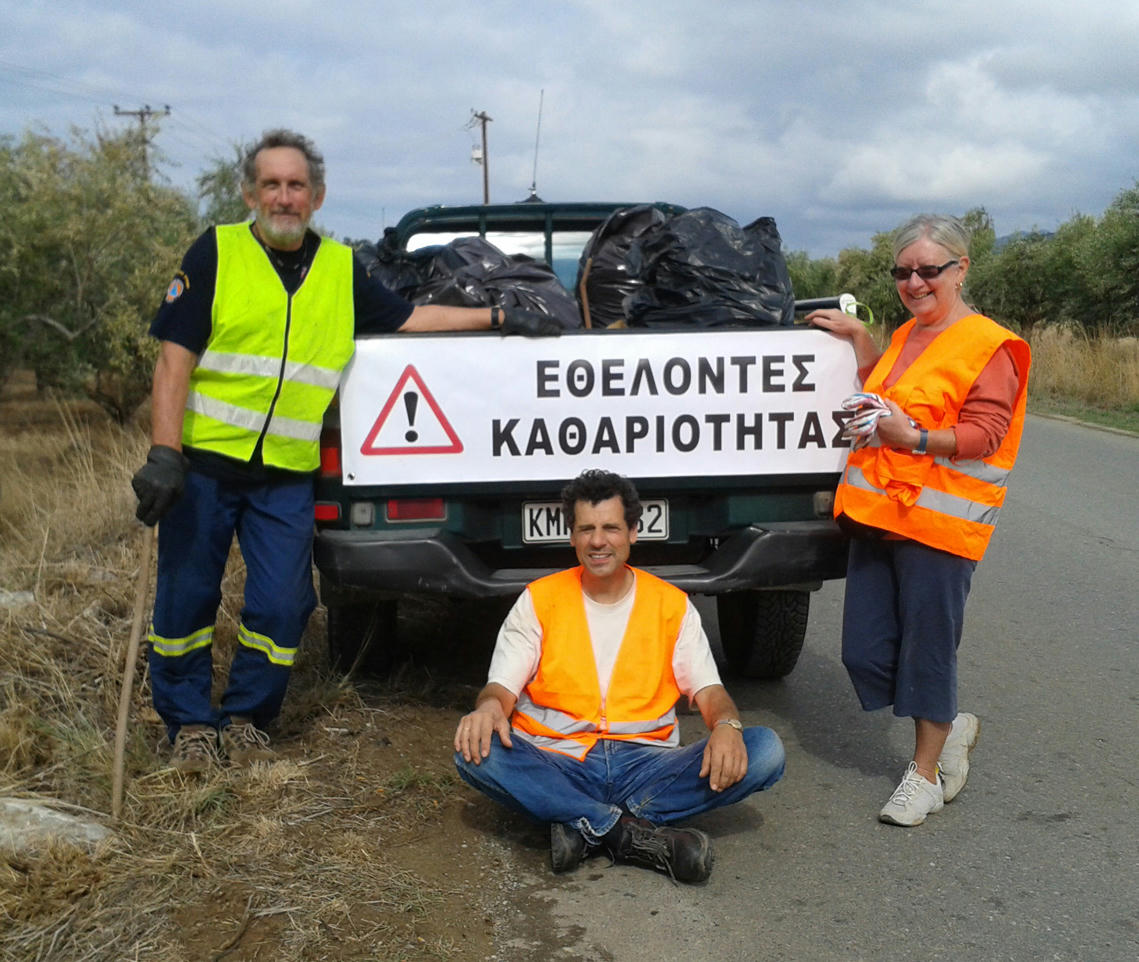 October 5th - Volunteer Cleaners make the news!
Despite the wet start to the day, Dr Sofia was joined by 6 other volunteers - 3 Greeks and 4 foreigners in total. And their work is being recognised! This photo of Peter Rollett, Isabel Zeiss, and Dr Sofia's husband, appeared in the Kalamata newspaper ELEFTHERIA
The notice on the truck informs passing drivers that they are CLEAN UP VOLUNTEERS . Dr Sofia has also arranged for the installation of 2 road side notices to inform people that " The cleaning is done by volunteers - Don't throw rubbish"
Dr Sofia said "A Greek man joined us. He read about the meeting in the local newspaper "Eleftheria". The journalists said to me that these clean up meetings are important to be published so, a lot of Greek people can learn and join us. Two old Greek men stopped and congratulated us. They wish to join us next time! "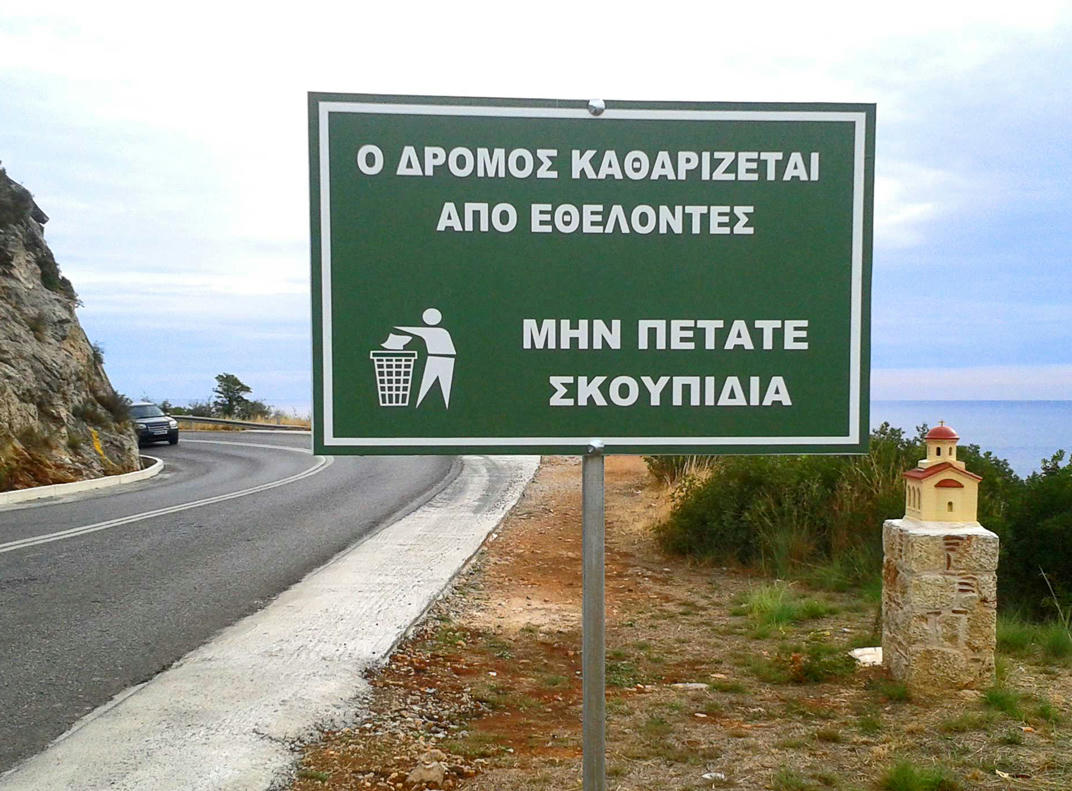 August 9th - Early in the morning, two volunteers, Peter Rollett(a Gaia volunteer) and an Albanian helped Dr Sofia to clear rubbish from the bus stop by Paniotopoulos up to Libereas market. They also moved the many, smelly rubbish bags from around the bins below the elementary school in Kardamyli, to the bins outside the village.
August 3rd - Volunteers cleaned the road sides from the bins outside Kardamyli up to the turning to Foneas beach.They were 5 adults and 6 children ( see picture >> )! On the next cleaning day the plan is to clean from Foneas to Stoupa.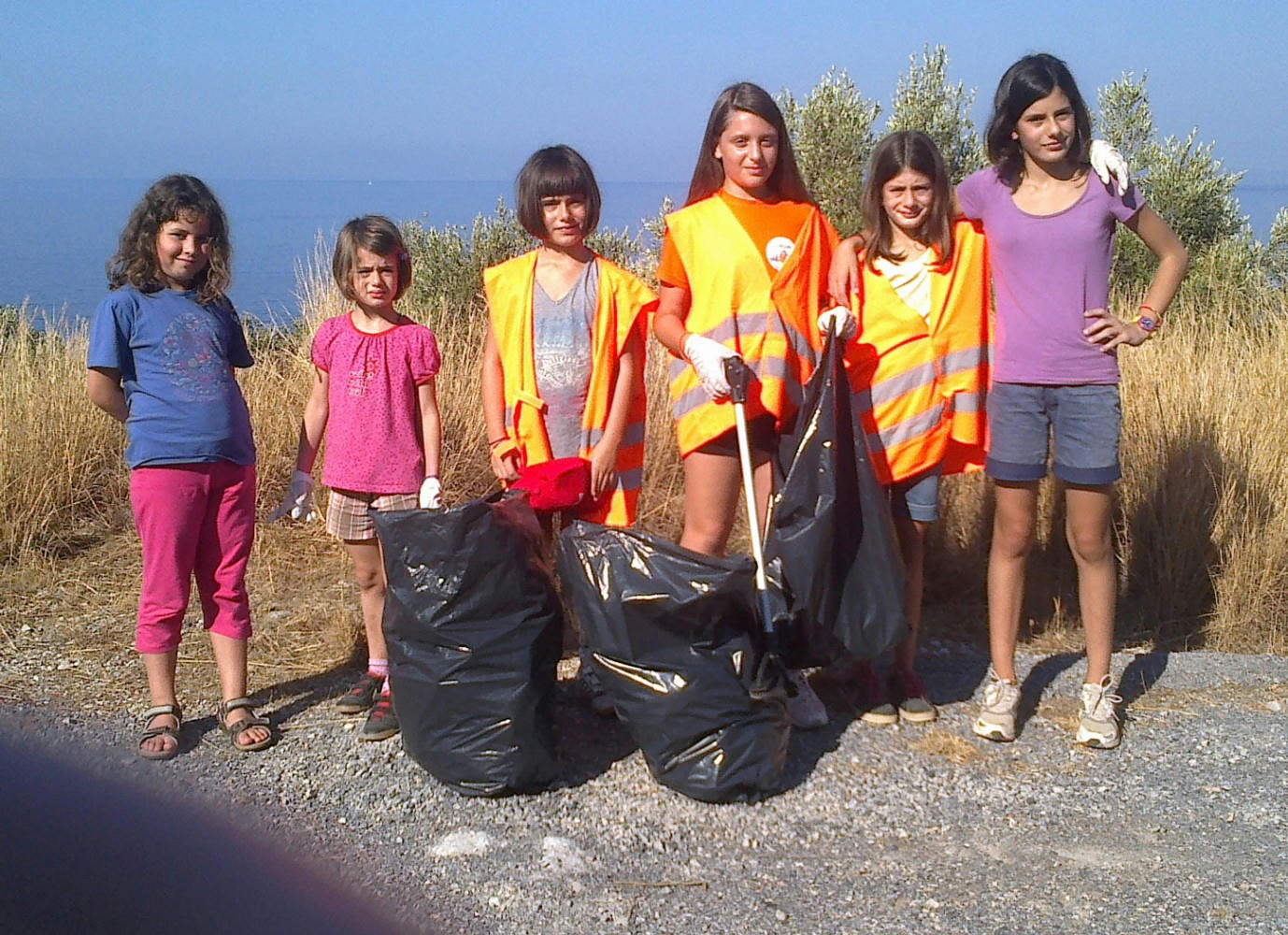 July 24th - Dr Sofia and her husband cleaned the road-sides from her house to the Town Hall in Kardamyli (1500m). This is a job they have to do regularly, because rubbish blows about and people persist in just dropping things out of cars. They also cleared around the rubbish bins near their house, moved rubbish from overflowing bins to ones that were not so full, and closed unbroken bin lids that had been left open. Other people do similar voluntary work for the community, but many do not. If they see clean roads, they do not consider who has done it, so TELL people if you are helping the community in this way and encourage others to their bit. The more people get involved, the better it will be for everyone. It is our community, it is mostly our rubbish, so if it is not cleared, it is our problem!
On Saturday June 15th, 10 volunteers cleaned the road to the old town of Kardamyli, and the road from Kardamyli to Kalives. They spent a lot of time clearing under the bridge which is opposite the bank. The students from theHigh School and passersby have thrown a lot of recyclable rubbish there over the years - so much, that the cleanup volunteers need to spend a second session on cleaning there. Peter Rollett, a Gaia volunteer, was again one of the helpers. Gallery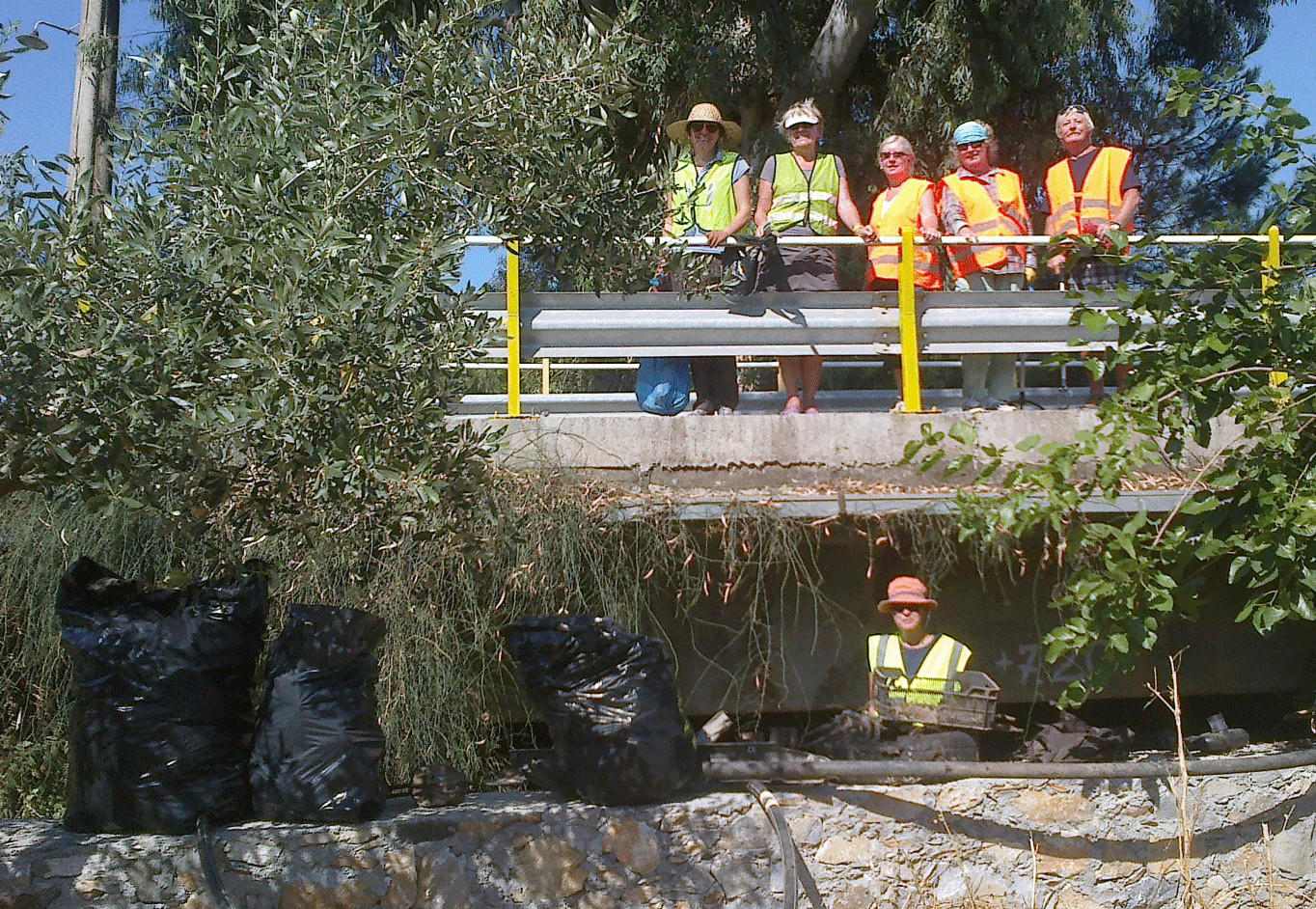 The meeting point was opposite the DIMITRIS/SPIREAS supermarkets in Kardamyli. If everyone does a bit during the summer, we all benefit.
Financial help is also needed - see CRISIS IN RUBBISH COLLECTION
In April, the Dimos promoted the international event for volunteering 'Let's do it' and people from all over the area did their bit to help improve our environment by clearing rubbish, cutting shrubbery and roadside verges and clearing public footpaths.
But that was only one day, and rubbish builds up EVERY day, and is scattered by wind and scavengers, if not cleared. The Dimos has few staff and they are not able to empty bins as often as is needed during the summer. Also, because many of the bins are broken, they are freqently left open. Recent discussions with Dimos about making the service more efficient have been disappointing.
SO THE COMMUNITY HAS TO CHOOSE!!
1) Put up with the build up of unsightly, and unhealthy rubbish
2) Clear the rubbish ourselves
3) Pay people to clear the rubbish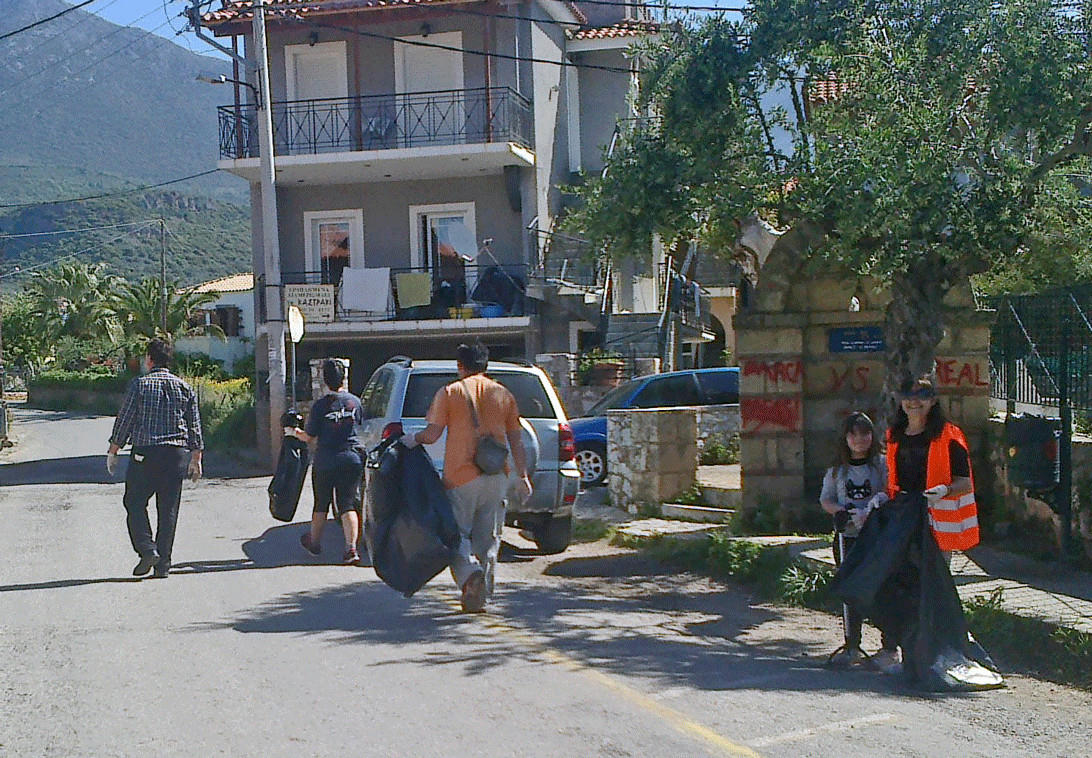 **Business Assoc of W. Mani
Sotiris Saranteas - President Voula Kyriakea - Vice President
Ioannis Karolemeas - Treasurer
Sofia Christofilopoulou - Secretary
Council members: Konstantinos Balaktaris, Michael Kelepouris, and George Mantzouneas
The Business Association of W. Mani is working with, and also includes members of several village cultural Associations
---
GOOD NEWS !!! Following the KEEP MANI CLEAN day on February 17th, Dr Sofia told the Dimos about the many large items that needed clearing from the old village dump in Proastio. The Dimos agreed to clear things and that has now been done! Hopefully, people will now pay more attention to the Dimos notice at the site, forbidding dumping!
There is a new sub-Mayor with responsibility for garbage disposal, Christos Libereas who is having discussions with Gaia on plans to improve rubbish disposal. And Dr Sofia is working on a plan to get more bins closed by Dimos workers and put notices on bins asking people to close them (only those that CAN be closed!) Repair and/replacement is a separate issue.
So what else can we all do to help?
We can report bins that are placed in dangerous places such as bends in the road, and suggest better locations
We can report illegal dumping(fly-tipping).
We can report areas in need of extra cleaning, especially in summer
Send us details of what needs to be done near you. We can't promise improvements, but it seems that suggestions will now get a more sympathetic hearing.
WHO KEEPS MANI CLEAN??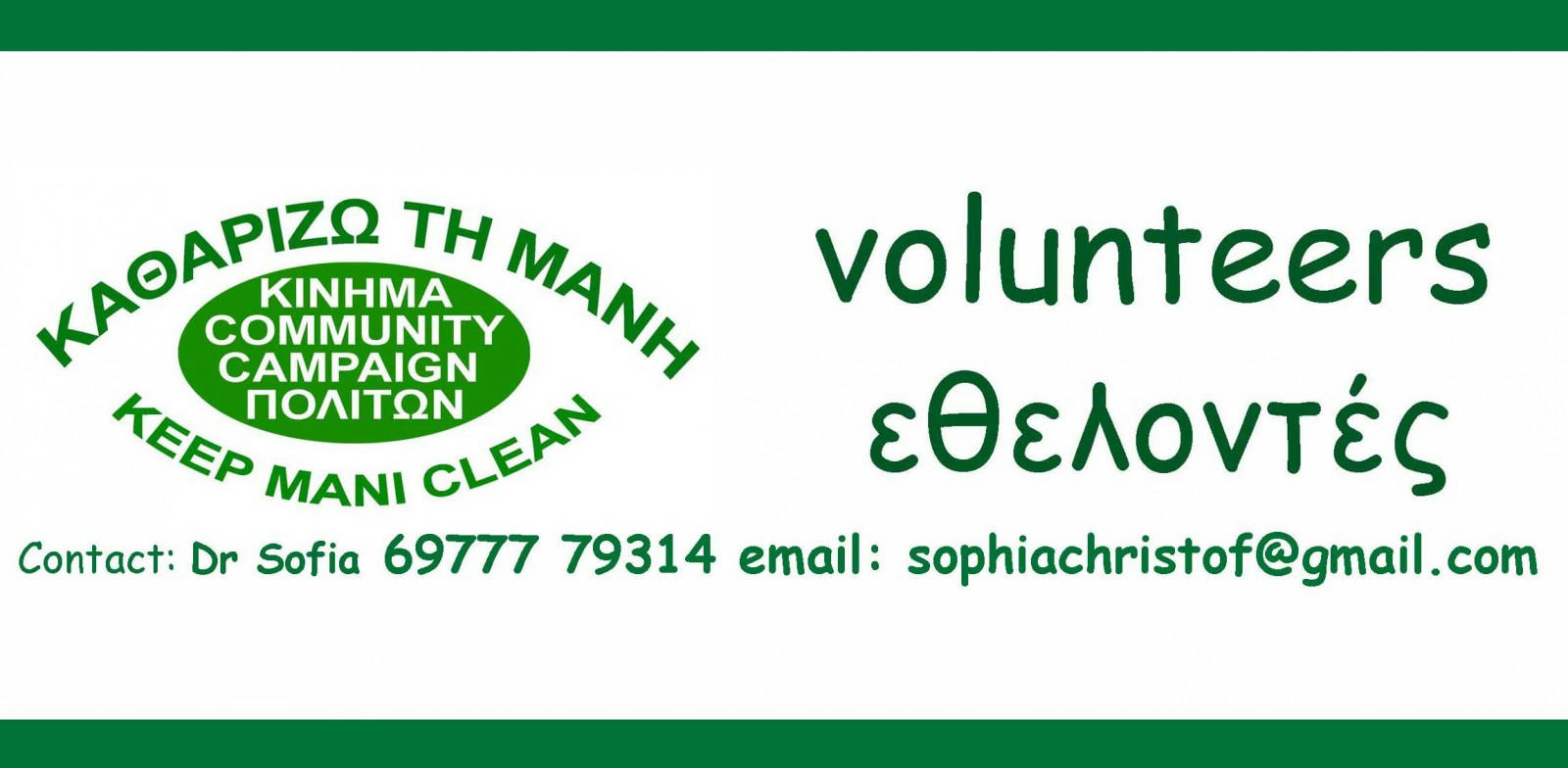 Rubbish is a global problem, but here in Mani things are not too bad - HOW IS THAT?
The Dimos empties bins regularly, but if we had to rely only on the Dimos, many places would be snowed under with rubbish!!! The answer......, the people who recognise that KEEPING MANI CLEAN is everyones's responsibility, be they business owners, retirees, doctors, teachers, visitors or children.
When we walk or drive through the countrside or sit on the beach, how many of us stop to wonder "who cleaned here?" It is time to do more to recognise the work of these unsung heroes and we hope ithis will encourage others to do their bit.
The KEEP MANI CLEAN campaign, initiated by Dr Sofia in 2011, highlights the need for major cleaning in various locations, and we ask people to support this cross-community initiative, but MANY people are regularly clearing rubbish to keep their own area clean, and we want to recognise these efforts.
Here are some pictures of volunteers clearing rubbish during the past week.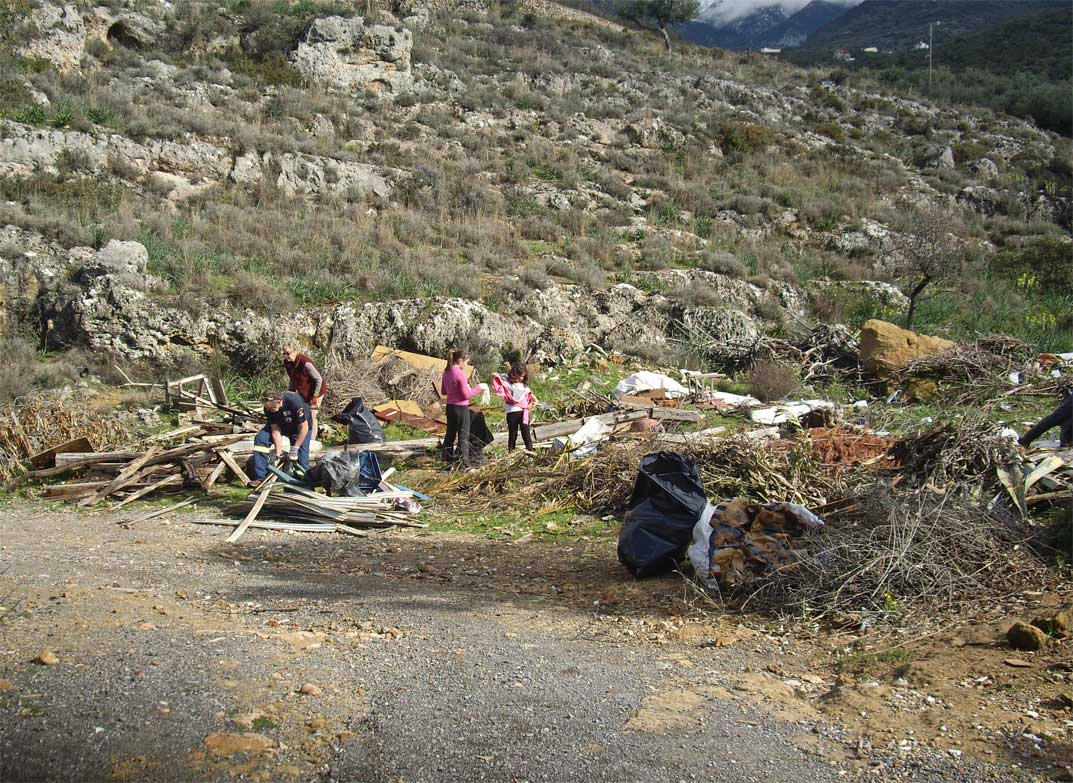 AG NIKOLAOS : The local cultural committee'Selenitsa' , encourages all ages to help with community work. Even when rubbish is cleared in one area, wild weather spreads any loose rubbish and washes more in from the sea - it is an on going battle to keep the foreshore clean.
PROASTIO : On Feb 17th 2013, KEEP MANI CLEAN focused on an area near the old school. It is the site of the old village dump and 14 people, including several children, joined Dr Sofia to clear all the small items of rubbish. People have also dumped many large objects. Now, prompted by Dr Sofia, the Dimos have said they will be remove these.
Despite the Dimos notice in Greek and English that says garbage and rubble is prohibited, there was a lot to clear - see photos on Facebook from Stavroula Nikoloudi.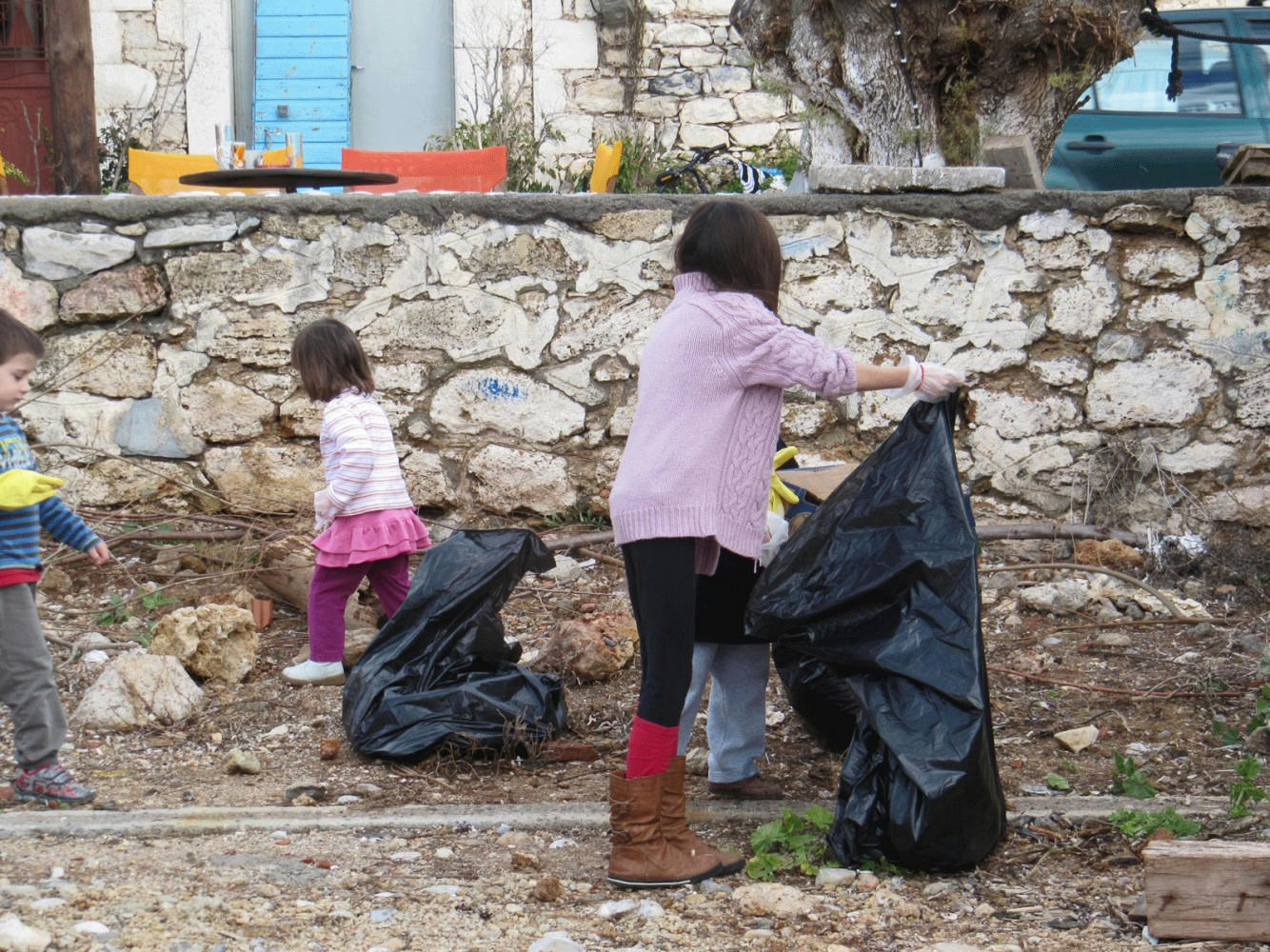 PANTAZI : The area round the beach is generally clear of rubbish these days, but only because local people, mainly Sue and Chris regularly clear the rubbish that blows or washes in, or gets dumped by passing cars! Here you can see this week's collection.
If YOU regularly clear rubbish from a public place near you, why not send us a photo to encourage others?
Some say "It is not our job to clear rubbish, it is the responsibility of the Dimos!". Maybe they 'could do better', but if we just sit back and complain, progress will be slow. Even if the Dimos were super-efficient, they would need our help in these hard economic times, and clearing rubbish is something we can ALL help with, even if it is just picking up a plastic bottle and putting it in a bin.
Better still - we should all try to produce LESS rubbish! Even if we do not reduce the number of items, if we 'wash 'n squash' cans and bottles and flatten boxes before putting them in the rubbish, they will take up much less space, bins will be slower to overflow, and there will be fewer things to get blown around - or washed out to sea...........the consequences of that can be seen in this video about an island in the ocean at 2000 km from any other coast line. Nobody lives there, only birds and yet...........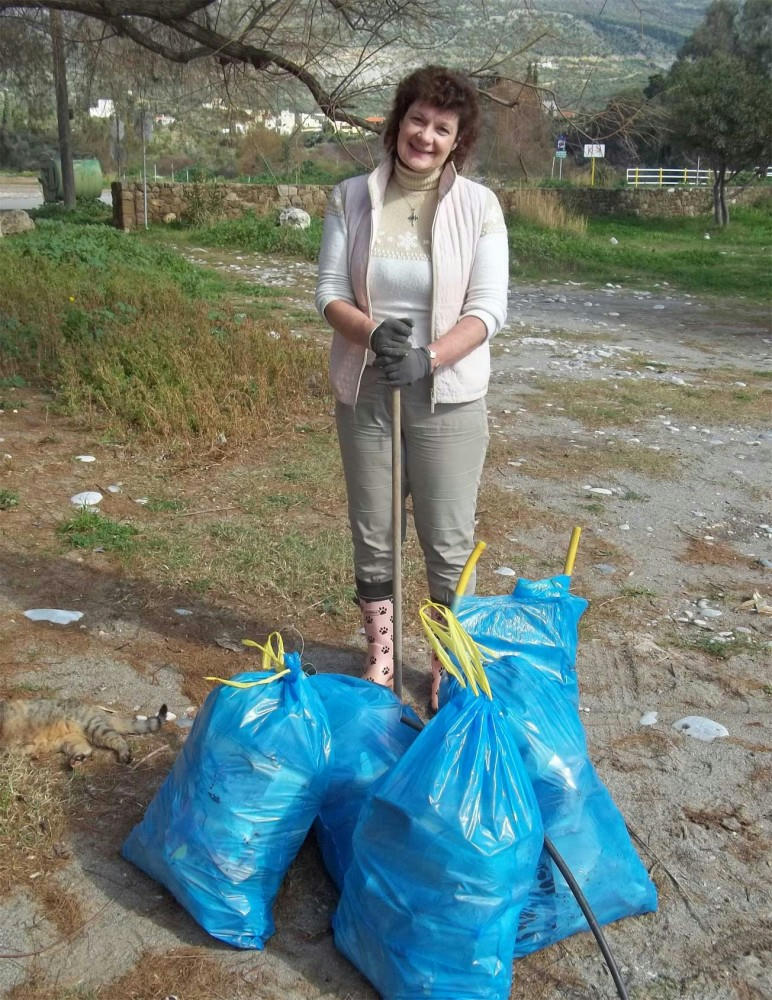 ---
2012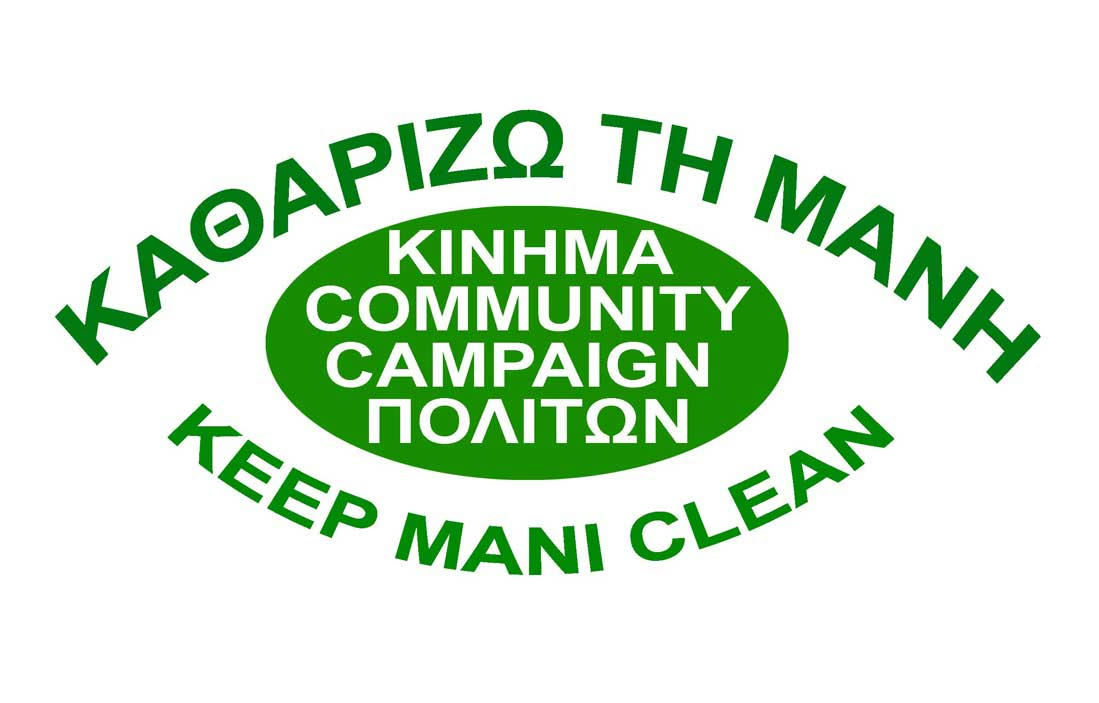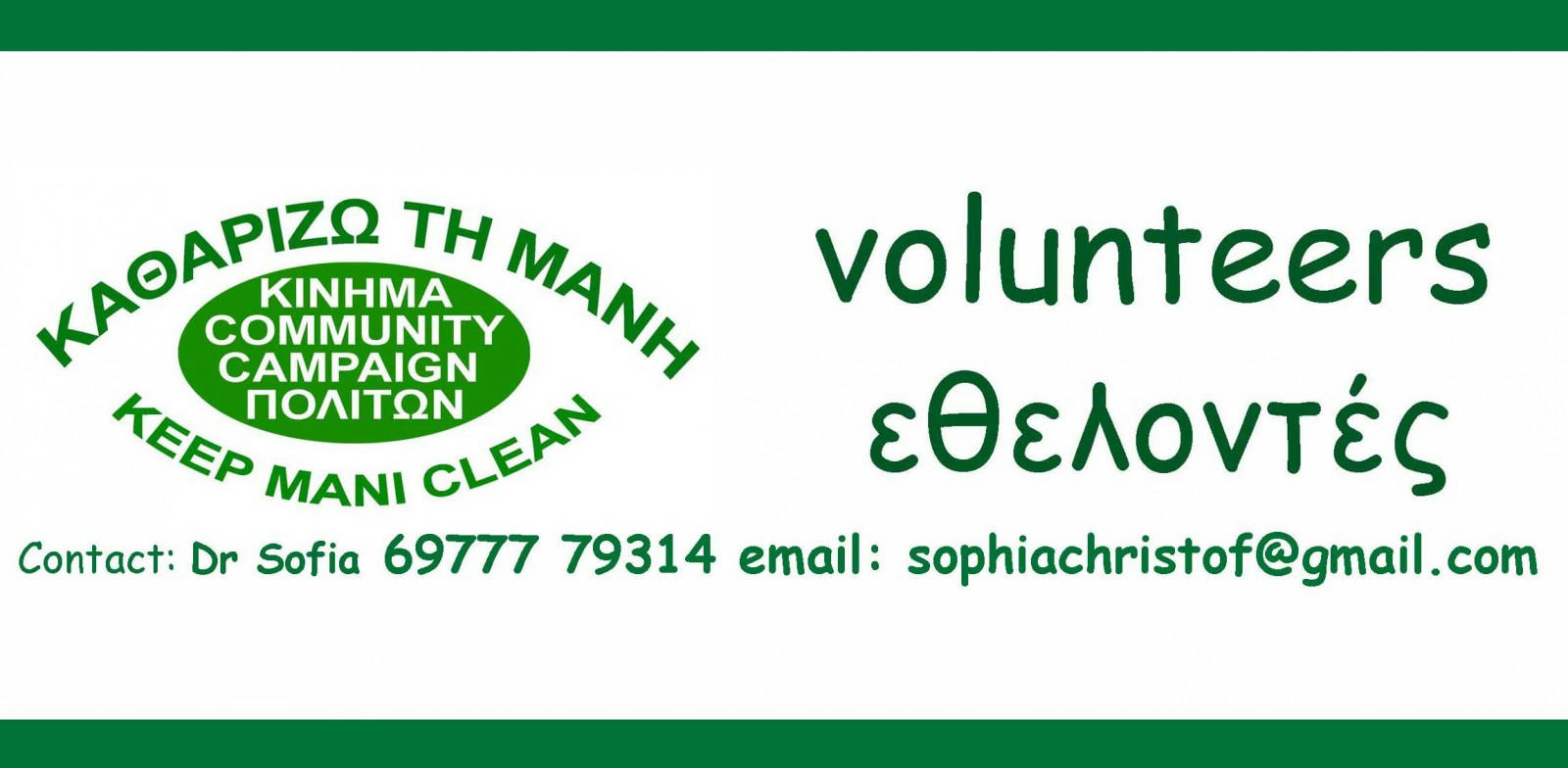 November 24th 2012 : From Stavroula Nikoloudi People from across the community came together to clean areas round the Gaia Base(in preparation for the official opening), the road between the two turnings to Ag Nikolaos, the parking area near the harbour outside Neriedes, and the road and sea shore almost as far as Pantazi.
For more pictures see FACEBOOK.
(The first batch of bumper stickers were issued on 24th)...
October 30th : A message from Dr Sofia:-
On October 25th we cleaned from Kardamyli to Foneas, there were 8 volunteers. Some people - including Christina from Gaia - wanted to come but they could n't. I would like to thank all the ones that joined us.
People who were passing by in their cars told me later that they didn't know that volunteers do this work , and that they like to participate another time.
(Dr Sofia hopes to get some bumper stickers to help publicise the campaign, but please tell people about the cleaning days, even if you can't join in.)
CONTACT TELEPHONE NUMBER: Sophia 69777 79314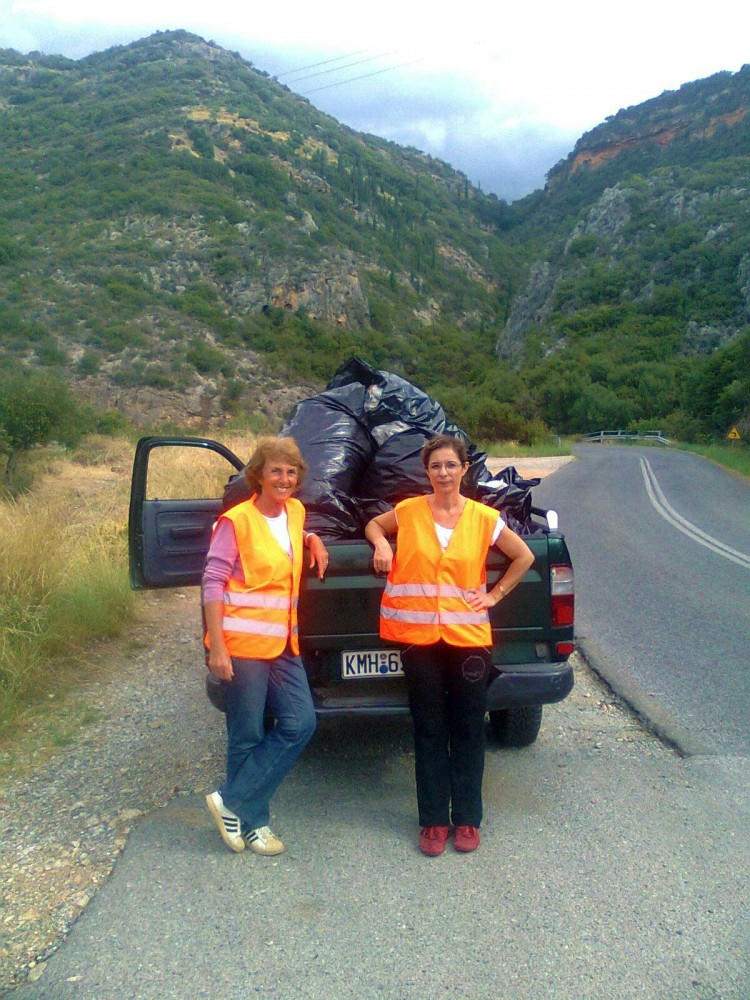 If you know of areas(villages or paths) that are in particular need to cleaning, please contact Dr Sophia sophiachristof\gmail , Sue sj.lilley\hotmail or Peter peterrollett738\msn
---