Yoga, Tai Chi, Meditation at Spirit of Life
Please find the current schedule and updates here http://www.thespiritoflife.co.uk/leaf/Local+Yoga .
There is meditation after yoga on Tuesday evening at 7.30pm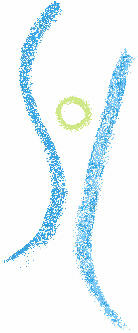 Come and try yoga for yourself. You will find that a regular yoga practice will benefit body and mind in many ways e.g. reduced blood pressure, decreases anxiety, improves flexibility, improves breathing and normalises the hormonal system.
It is wonderful when our guests become inspired to continue their yoga practice on their return home. To help, we are adding yoga resources (pose information and yoga practice plans) –
CLICK HERE for YOGA RESOURCES
Read our blog on yoga, health, recipes and Greece –
CLICK HERE for OUR BLOG
For more information ring Kerry on 27210 78240.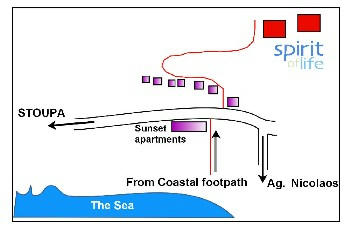 Note: The old road indicated here, is still impassable, but a new road which starts opposite the Gaia Base, has been tarmaced
We are adding new courses and workshops throughout the year. To keep posted please check our website or subscribe to our monthly newsletter


Sol Yoga Holidays
YOGA GENTLY
Please check with Spirit of Life before attending, as classes may be changed/cancelled at short notice
This class is a drop in class . The class will last for 90 minutes. Drop in price is 10 euros, a 10 class card is 80 euros (i.e. 8 euros a class)
Tel Spirit of Life on 27210 78240
What is Yoga Gently?
For students who may be new to yoga or coping with injury and mobility issues. Previous experience of yoga is not necessary just a willingness to explore your own body through the breath and gentle movement. The yoga studio is fully equipped with props to support each individual's requirements.
Yoga is the 'yoking' of the breath body and mind; yoga is an individual practice, you and your body being present in the moment. Yoga is not the ability to wrap your legs around your neck.
Yoga can help to preserve and enhance flexibility in the joints which is particularly important as the body ages or when recovering from injury. Yoga also helps our mental health, allowing us to focus on what is happening in our bodies, be more aware of our movement patterns and accepting how we are.
Vanda Scaravelli, a major inspiration in the development of a gentle more accessible style of yoga said "Don't kill the instinct of the body for the glory of the pose"
The objective is to develop for each individual a simple yoga routine that can be performed at home.
---