Archive April 2016
- - - - N e w s S n i p p e t s - April - - - -
817 boxes of supplies for refugees : On April 26th this collection in Messinia, was transferred to refugees through the Red Cross in Athens. The action "The humanity has no borders," were coordinating assembly and packaging of products. The action was held under the coordination of the Peloponnese Regional Unit of Messinia, in cooperation with local agencies. The volume of things gathered from the citizens and all the participants was very large 441 boxes of food, 80 boxes of toiletries, 26 boxes of medicines and 270 boxes of clothing tharros (30-4-16)
Olympics 1896 : On the occasion of this year's Olympics and 120 years since the revival of the ancient Games, the Benaki Museum, at Athens International Airport and Costa Navarino present an intriguing photographic exhibition through the eyes of artist Eva Nathena. A unique digital journey takes visitors "live" back to the 1896 first modern Olympic Games in Athens, through rare photographs from the album of photographer Albert Meyer, held at the Benaki Museum Historical Archives. A 'taster' video YouTube "Olympic Games 1896" Exhibition (30-4-16)
Kitries and other beaches after the anti-erosion work: After two years of work, Kitries is back to being a 'normal' beach although it looks rather different after the major coastal protection measures. " ... it is ready to receive hundreds of visitors to the "magical" landscape, which is a top destination in our region - on the other hand the "wildness" of the sea , that gave the area an unrivaled beauty, has been lost during the necessary work to protect the property of residents." During the work, new, larger beaches have been created, even in places where they did not exist, Photos of Kitries and other beaches as they are now tharros (22-4-16)
Is a website really down? : There are many occasions when attempts to access a website fail. Often, as for the Parer sti Mani, it is a temporary problem, and a fresh attempt a few seconds later will be successful. A failure to load may be because of high demand on the site, internet problems, a problem with your computer, or more serious issues. However there is a website where you can check if the problem with the site you are trying to contact is general, or down to you. http://www.isitdownrightnow.com/parea-sti-mani.com.html
This site also tells you of sites having problems, and what you can try, if you have browser problems (22-4-16)
Beekeepers will be fined for hives too close to roads: A stern warning was issued to beekeepers who place hives too close to roads. Hives should be placed at least 30 metres from any street.The Forest Service is starting to check locations, and beekeepers failing to comply will face fines and lawsuits . tharros (13-4-16)
Restoration of Kastania church gets an EU Prize for Cultural Heritage: In the category 'Restoration', two works from Greece won prizes, the Byzantine Church of Saint Peter in Kastania Mani, and the traditional watermill at Agios Germanos Prespes. 187 nominations were submitted overall, by organizations and individuals from 36 European countries.The prize winning buildings were selected for their exemplary work in the areas of rehabilitation, research, and long-term contribution to civilization. photos The Byzantine Church of St. Peter in Kastania Mani is a building with 800 years of history, and architectural beauty. The awards will be presented May 24 in Madrid. metinpena blogspot (9-4-16)
New ITV series on Gerald Durrell's childhood: Based on Durrell's most famous book "My Family and Other Animals" where he narrates his idyllic, if oddball, childhood in Corfu, a new drama series commissioned by ITV Channel to acclaimed screenwriter Simon Nye, entitled "The Durrells", began airing Sunday April 3rd, with the first episode narrating the story of Louisa Durrell. The main theme of the series narrates young Gerald's fascination with the wildlife of Corfu and his idyllic childhood spent on the island studying the wildlife with the help of Theo Stephanides (played by Greek actor Yorgos Karamichos) an academic, biologist and naturalist and Gerald's later mentor, who showed him how to study animals and log his findings, inspiring a lifelong passion. greeknewsagenda (8-4-16)
Kalamata Needlework exhibition : The needlework exhibition committee invites all who wish to exhibit items such as tablecloths, curtains, doilies and others to contact the Municipal Officer Anastasia Belogianni, tel. 6976 193064, until April 30, 2016, to obtain information and for the necessary consultation. The exhibition will take place the first week of July 2016, in Kalamata Municipal Cultural Centre. The Municipality of Kalamata and Diocles SA will provide financial support and visibility level organization and realization of the exhibition kalamat gr (8-4-16)
Sonic booms caused by Greek Air force :A loud noise that resembled explosion shook Kalamata and throughout the region of Messinia, a few minutes before 9 Wednesday night. Many people telephoned both the Police and the Fire Service. From April 4 there is an ongoing Air Force exercise, "Charioteer 2016" and the noise that shook the entire region, is due to fighter aircraft breaking the sound barrier. Tharros (7-4-16)
Kalamata Official Summer Shop Hours: Starting April 4th, the opening hours are
Monday 8:30 - 14:00 CLOSED pm Tuesday 8:30 - 14 :00 and 18:00 - 21:00
Wednesday 8:30 -14:00 CLOSED pm Thursday 8:30 -14:00 and 18:00 - 21:00
Friday 8:30 - 14:00 and 18:00 - 21:00
Saturday 8:30 - 14:00 CLOSED pm Sunday CLOSED Tharros (6-4-16)
Another 'gold' medal for Bläuel olive oil : At the leading international organic olive oil contest, Biol 2016, held in late March in Puglia, Italy, Messinian olive won the most gold medals. Greek oils took a total of 6 gold medals, three from Messinia, two from Lesvos and one from Laconia. In particular, Messinian gold medal winning organic olive oils were "Epikouros Demeter ", produced in Kalamata, " Argali Bianchi Giovanni " produced in Gargaliani and "Mani Bläuel", produced in western Mani kalamata journal (6-4-16)
UNICEF's 'Unfairy Tales' of Refugee Children : UNICEF's 'Unfairy Tales' of Refugee Children The refugee and migrant crisis in Europe – whether off its coasts, on its shores or along its roadsides – is also a crisis for children. A total of 1,014,836 people arrived in Europe by sea in 2015, and about 1 in every 4 was a child. More than half of them entered Europe through Greece, escaping mostly conflicts and insecurity in Syria, Afghanistan and Iraq. A significant number of children are travelling unaccompanied or have become separated from their families on the move and most of them have undertaken perilous journeys, exposed to adverse weather conditions and the threat of smugglers.On March 29, 2016, UNICEF launched a series of animated films called UnfairyTales, in an effort to help frame positive perceptions towards the tens of millions of children and young people on the move globally. greeknews agenda ( 3-4-16)
Greek state broadcaster has launched a news bulletin in Arabic for refugees: Greek state broadcaster ERT TV has responded to the influx of Middle Eastern and North African refugees by launching its own Arabic news bulletin 'News for Refugees' on radio and TV. The project is a joint venture by ERT and state news agency ANA-MPA.The news bulletin aims to cover the urgent need in useful, official and reliable information in Arabic for the 50.000 refugees and migrants in Greece right now. It airs everyday after the regular ERT-1 news bulletins on 15:00, 16:00 and 21:00 and is also available to view online. The first news bulletin in Arabic aired on March 22 and it was viewed by approximately 30.000 people.greeknewsagenda (3-4-16)
Concern about the coming fire season
.. because of the mild winter ...
and with zero funding, both Fire Kalamata Service and the forest Service Kalamata are concerned about the coming fire season.
Careful planning is well under way to make the best use of mininimal resources, with vehicle and equipment maintenance, but even the official fire service is having to rely on donations for some tyre replacement(last year).*
Waste dumps continue to be a potential problem, but the Fire and Forest services are doing their best to check forest roads are accessible after winter damage, and that water tanks/hydrants are working - also 10 new tanks have been installed in forest areas.
Although they have not received any funding this year, and do not know if they will get any , the Forest Service plans to start work on road maintenance immediately after Easter. They have completed the new forest road in Regkouzenitsa Taygetos , and two other projects opening forest roads in the area, are underway, which will enable easier access in case of fire. Tharros
* Note: In W Mani the Gaia voluntary fire-fighters have to rely totally on donations to pay for the necessary equipment and repairs/maintenance supplies, and only last week, 3x25m lengths of hose were destroyed in a woodland fire. !
See Messinia from a hot-air balloon
On May 15, 2016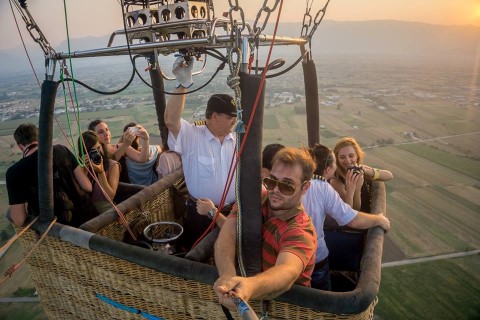 the balloons fly out over Messinia from Kalamata,
The airline Olympic Balloons will have flights daily until October 30, 2016 . According to the Mayor, the take-off / landing track in Kalamata will be the court of former Slaughterhouses, West Beach. The Mayor described the flying balloons as "....something very interesting for visitors and residents of our region." kalamata_gr
Based in Athens OLYMPIC EXECUTIVE BALLOONS is the 1st World Hot Air Ballooning company, licensed Air Operator by EASA- European Aviation Safety Agency - AOC 51
For more information Email sales\eve.com or Tel 21032 44453, 21032 45415
Olympic Executive Balloons
Street Opera Kalamata
On April 16th,
people in Kalmata had the opportunity to attend a unique show, involving 50 artists from Greece and abroad, in front of the Church of the Holy Apostles. An open event with music, dance, theater, song, poetry, stencils, projections and many surprises.
"In a world marked by significant moments that mark our time and the future of Europe, terrorism, assassinations, closed borders, waves refugees and unstable countries, jumbled, with mistrust and with the far-right populism rising across Europe, the Opera Street comes to show that together we have the opportunity to make the world a better place. Art brings people together. This is our asset as artists, no matter whether we are unknown or famous. We are able to create an artistic and peaceful energy to breathe in the world. "
As a sign of hope and as an incentive that is something more.
Kalamata reborn after the earthquake. 30 years ago ... showed an example to be followed in disaster and these days has shown a strong growth and vitality, including art. It is time to revive the conscience around art. Opera Street - an "artistic earthquake"
According to the announcement.
The opera Road will present with an artistic way the expression of freedom and the history of Kalamata, bringing together different artistic groups of the city and, of course, different visual art. Everyone loves music or dance or theater or painting, or all together. From traditional music to rock, from dance class as the choir, theater or even cooking ... all! All of these will become part of a great show that will take place in the public space.
This project is the first event of the international Festival of Street Kalamata, which this year will be July 29-30-31.
Please note that the Festival Kalamata Road began having two parallel objectives: -the use and promotion public spaces of the city with activities that strengthen social cohesion and offer the cultural development of the country -the development of creativity of participants and offer them places where they can express themselves freely, taking advantage of the skills and interests. street festival gr and ,
,Kalamata Street Festival
Information summary from PsM ► APRIL 2016 ◄
Mani initiative for refugees: Thank you everyone who contributed, at short notice, to Dr Sofia's appeal in early March, for παξιμαδι (rusks), olive oil and olives for refugees in Athens. During her visit to Athens Dr Sofia asked about immediate needs, and the request came for baby wipes, nappies, food for infants like purées and milk, babies bottles, push chairs, also sanitary pads, shampoos, razors. Since mid-March this Mani initiative which was started by Voula Kyriakia, have additional collection points for supplies, and have published " A Drop of Compassion" which is being distributed in Mani. We are putting updates on our Mani help for Refugees page, and we also have details of other ways people in Greece can help - see Greek Initiatives for refugees. Needs are changing as supplies come in, and it is important that people who want to help, check current needs, by telephone 210 6075711-2 or email ert4refugees\ert
PsM Website changes : There is no longer a permanent link to TRANSPORT MESSAGES on the 'home' page, but when a new message is added, there will be a ''NEW TRANSPORT MESSAGE' entry in the right-hand news panel, so you can check details. There is also a change to the JOBS/SERVICES page. Enties for services/skills offered are now grouped into several categories for easier reference. Entries in each category are in order of date received.
Planned Power cuts : In addition to a number of outages caused by storms, there have been a series of scheduled power cuts because of major on-going renovation/installation work. These cuts are usually in the morning and last 4-6 hours. ΔΕΔΔΗΕ usually give a couple of days notice and you can check on their website, if there are any due in your area, PLANNED POWER OUTAGES
Other Internet matters
• FREE web education : Google has announced the implementation of a free web education platform for tourism "Grow Greek Tourism Online." GreekReporter
• HMRC Tax Return scam - The HMRC never contacts people by email or phone, only post. If you get an email saying you are due a refund, please fwd it to HMRC at phishing\hmrc.gsi.gov MESSAGES
• Alert from the Greek Cyber Crime Unit: The virus "Locky" has appeared in Greece. They urge Internet users not to pay the money requested Cyber Crime
Road works : The long awaited repairs to the sea front at Trachila are starting and are likely to take around 6 months to complete.snippets (11/3), and a contract has also been signed for improving the road from Koskargas bridge to Kardamyli (7/3). Meanwhile, the main road and many of the minor roads to villages are being 'sliced' for the installation of fibre optic internet cables. The work is being done quickly ; the grooves are being tarmaced within a few days, and a few potholes filled in as they go along, but the end result only adds to the poor state of roads in many places!
What else new?
• Improvement to Healthcare in Messinia - 25 young doctors and nurses have been recruited for hospitals in Kalamata and Kiparissia snippets(14/3)
• The new purpose built centre near Kalamata is open. PAPADOPOULION offers 3rd age medical tourism for long or short stays. PAPADOPOULION
• IKA booklet annual renewal can now be done on-line - details under the HEALTH heading IKA Health Booklet
• The Ag Nikolaos sports area now has back boards for the basketball court, thanks to generous support from the community
• Elli's Taverna in Ag Nikolaos has reopened after major refurbishment Elli's
• Kalamata is through to the next round for selectionas European Capital of Culture 2021 europa
• We have added a recommended satellite engineer, and a dog/house-sitter to our SKILLS/SERVICES page
• Peter Huby's 3rd film based on the lives of the women of Mani, 'Loom' can now be viewed on Peter's website The Art of Peter Huby (scroll to the bottom of the films page)
• On March 12th, the Guiness record for Bachata dance, was officially broken in Kalamata with 740 people dancing together! YouTube and
Mariasmagicalmani
Local bazaars/Fayres : Ann's Bazaars 4 Charity continue on the 1st Saturday of the month, raising money for Cancer Research AB4C , but Daphne's Bazaars on the 3rd Saturday of the month, have finished. There is a proposal to continue using that time for a bazaar at Pefko, meanwhile the weekly Arts & Crafts Fayres at Pefko on Fridays, Friday Fayre that proved popular last summer, have restarted. This year, money raised from stall fees at the Fayre will go to the Stoupa fund for a medical emergency vehicle. Anyone interested in having a stall should contact Alison or Val for details/availability - mitchelfitzsimons01\gmail or valerieparkinson3\googlemail There will also be an Easter Bazaar at Patriko in Stoupa on May 2nd (Easter Monday)
Animal matters
• ΦΟΜ/MIAO need help and money to pay for Bobo's operation
• A well cared for young black dog found at Pantazi, needs a foster home LOST&FOUND
• A dolphin was videoed in K'mata harbour on March 19th Tharros
• a new meaning for 'Lost & Found ! KLM is using a dog (Sherlock) to retrieve and return items left on planes VIDEO
• WARNING - Chris Hodgson was attacked by a group of dogs in Neochori - one bit her! MESSAGES
Maintaining bio-diversity : With the climate in Greece becoming more volatile, it is increasingly important for the huge reservoir of plant species and traditional varieties in Greece, to be maintained. Locally, Foifa Farm and Re-think in Kalamata have a major event for seed exchange Mar 24th - April 2nd. Further afield, Peliti are having their 16th Peliti Seed Festival on Saturday, May 7th. The Peliti celebration for 2016 has the theme:"Seeds-Refugees-Migrants-Solidarity" Peliti
More cruises and flights to Kalamata : During 2016, 3 more cruise ships will be visiting Kalamata, which brings the total number of cruise itineraries including Kalamata in 2016, to 26 so far. snippets (18/3) There will also be more flights to Kalamata. In addition to the new BA flights from Heathrow, there will be flights from Rome, Milan,Copenhagen, Billund, Paris, Lyon and Nantes costanavarino
Revival of the Nemean Games: The 6th Nemead will take place on June 11/12. ANYONE can take part! "It is open to all, regardless of ethnicity, language, religion, gender, age, or athletic ability, to participate in an international athletic festival, but you need to register by May 1st. No records are kept and no medals awarded. Families with picnics on the slopes of the stadium are as much a part of the festival as the runners." On April 10th, there will be a Guided Day Trip To Nemea from Athens, which will include a tour of the archaeolgical site which inspired the revival of the Nemean Games and the true Olympic spirit Nemean games 2016
OTE History Channel: Launched in January, the OTE HISTORY channel is the first documentary channel for Greece. OTE HISTORY covers a wide range of topics: history and mythology from antiquity up to the present, arts and culture, science and important human achievements, places in Greece and their traditions, the country's habits and customs, the great personalities of yesterday and today. It includes foreign documentaries about Greece by international networks and channels, such as the BBC, the National Geographic, the Discovery Channel. In March they showed 'Lydney & Blair's Taste of Greece' , a series of programs made in 2009, partly in the Mani.
FOLLOW UP
Local fund-raising: Thank you everyone who supported the 'Flash' Carnival event at Agi's (Nereides) on March 12th. It raised 600€ net, for a local family in urgent need of help. (
pictures) Ag Dimitrios
Petition & Project to complete work on the Stoupa Cultural Centre has a separate page under 'Local Info' for updates STOUPA CULTURAL CENTRE
---