Archive July 2016
- - - - N e w s S n i p p e t s July 2016 - - - -
Cattle vaccination for nodular dermatitis: Because of outbreaks of nodular dermatitis outbreaks in cattle in areas of Northern Greece, and in Achaia, the Ministry of Rural Development and Food has decided to make the vaccination of cattle, mandatory. Farmers need to use insect repellents on animals and pesticides in stables and means of transport, remove hot spots of stagnant water, and inspect animals daily for early diagnosis and treatment of the disease. Also advised to reduce movement of people and vehicles, and disinfect footwear entering and leaving the area. Nodular dermatitis is a notifiable disease caused by a virus, but ONLY infects cattle and is not transmitted to humans. tharros (26-7-16)
New bus timetable from KTEL: The through bus to Stoupa now leaves Athens at 2.30 pm and does not stop for a comfort break only to pick up passengers in Tripoli. On July 10th, it connected OK with the 6 pm bus to Stoupa but there is concern that if traffic were heavy and it was a day other than Sunday, whether the 6 pm bus would wait for the Athens connection ktel messinias (25-7-16) Source Zorbas Camboard
Alert from 'Greece is Home': Lowcost Travel Group ceases trading - The online travel agent (OTA), which had its head office in Palma, Majorca, closed its office and sent staff home on July 15th. It had 27,000 customers overseas and 110,000 forward bookings. Administrators have been appointed and a notice has been posted on the company's website. travel weekly. For details of how this will affect people booked with them, see their notice posted July 22nd. All customers have been emailed to help them make an informed decision on how to proceed with travel plans and/or how to process any claims. They should have received an email confirming details which are specific to their booking and if not, should check spam/junk email folders. In most cases flight tickets will remian valid, BUT accomodation, has not been paid for and is not secure. lowcostholidays (23-7-16)
Extra parking by Kalamata port: By arrangement with the port authorities, an area near the port is now available for parking in the evening . The space will be open daily from 20:00- 02:00 and will allow parking for a maximum of three hours, to accommodate as many people as possible. Parking is free. It should be noted, that the area, is temporarily ceded to the municipality upon request from Kalamata Customs. The Mayor thanked the Director of Customs for good cooperation and support from the social and economic life in the beach area. Tharros (22-7-16)
Non-prescription drugs (OTC) soon available at supermarkets: Despite protest from pharmacies, a range of 216 relatively safe drugs can now be sold at supermarkets, provided that the packages are small so that the total amount of the drug may not be able to jeopardize the life of the recipient, and that there are no serious risks from long-term use of these drugs. The sub category ΓΕΔΙΦΑ (GEFIDA) has been defined .The outer packaging of GEDIFA must bear an indelible preprinted conspicuous green circle, within which will be indicated in orange the acronym "ΓΕΔΙΦΑ ". The GEDIFA products should be in a separate space from other products, and the sale of more than 2 packs per transaction, or to under 18 years customers, will be prohibited. businessnews (21-7-16)
Warning about fake Adidas and Nike trainers: After the arrest in Kalamata of 2 traffickers of counterfeit Nike and Adidas products, the company Dim. Vlachonikolos & Co which has 5 branches, 3 of which are under the name COSMOS athletic & casual wear , a named WE (R) , and the online store athletix .gr in many years of activity with the biggest brand names of the site, wants to inform the public that NIKE EUROPEAN OPERATIONS NETHERLANDS BV and ADIDAS HELLAS SA are official partners and suppliers. They warn that the dubious products do not fulfill the necessary construction standards, and can cause health problems and economic problems, because of poor quality. They advise the consumer to choose a store to purchase a brand product: that has the specific marking at its entrance AUTHORISED DEALER where the price does not differ greatly from the actual original retail product in the wider market. B.C. Adidas Stan Smith € 94.90 , Nike Air Max € 199.90 , and choose a store which has a comprehensive collection of each company's products and not only 2-3 items. tharros (21-7-16)
UK Patients could be struck off GP surgery lists after 5 years of no contact : Patients face being removed from GP surgery lists if they do not contact their doctor for five years, as part of an NHS drive to save money. Capita will contact each patient to check their "current address and registration details". If the patient does not reply they will face being removed from the practice list within six months, if the GP still cannot contact them. GPs in eastern England voiced fears that the pilot scheme would lead to key groups missing out on access to GP care because of "list cleaning". the guardian (20-7-16)
WWF Greece Introduces App Aimed At Mapping Urban Green Areas : Athens has a need for green! With only 0.96 square meters of green area per person, the city hasn't quite reached the World Health Organization's (WHO) standard of 9 square meters per person. However, that is all changing with a new app designed by World Wildlife Fund Greece (WWF) in order to improve public urban green spaces and encouraging active involvement from the citizens. The app GreenSpaces, which is FREE and available on your mobile device, lets users tag and post photos of parks and green areas and rate them based on cleanliness, tidiness, and overall maintenance. To help facilitate interaction among users, the app is designed so others can report ratings they see as unfair or under-explained. People can report rubbish on the ground, vandalism, and even unscooped pet poop. Click GREEN SPACES to install app. xpatathens (20-7-16)
Funding
approved for Patrick Leigh Fermor's house in Kardamyli : The Stavros Niarchos Foundation has approved a donation to the Benaki Museum for maintenance, repair and equipping of the House of Patrick and Joan Leigh Fermor in Kardamili. This unique property is scheduled to be operational soon as space for hosting important personalities of literature and art, but also as a center of educational cooperation for educational institutions in Greece and abroad. Patrick and Joan were close friends of Antonis Benakis and his daughter, and left their property to the Benaki Museum, to be used as a literary centre. The Benaki Museum acquired full ownership of the property after the donor's death, in the autumn of 2011, but did not have funds to refurbish the property. Now the Stavros Niarchos Foundation has announced its decision to entirely cover the cost of repair and preparation of the House, in order to start operating as soon as possible. The work will be completed in about 12-18 months from their start. Until the repair work starts, visits will still take place as now, after consultation with the Museum Five years on .and tharros (19-7-16)
Artificial Reefs Project Dives into Greek Mythology : Project ART.Reef is an ambitious research project, developed by the scientific team of the Ichthyology and Aquatic Environment Department of the University of Thessaly. The project aims to create of artificial reefs from underwater sculptures at the seabed of the Pagasetic Gulf in order to examine the possibility of using such reefs for Ecosystem Management and the restoration of the marine environment. At the same time, the underwater sculptures will form an exciting diving attraction too, showcasing the mythological lore of Jason and the legendary Argonauts. The concept is that a dive at the reef will fell also like a dive into mythology. "I have had this idea for many years. In particular, I have been thinking of it since I saw a submarine museum with sculptures by an artist in Mexico (pictured below). It was something exciting and I thought that this could also happen in Greece," the project's coordinator Alexios Lolas said to the Athens News Agency. greeknewsagenda (15-7-16)
Dogs being trained to detect money hidden in passenger luggage: The Ministry of Finance has decided to get dogs trained to detect money hidden in passenger luggage at airports or ports or elsewhere, to "beat the undeclared money." tharros However, for British visitors, the post Brexit advice from GOV UK is '.........You can withdraw cash using your UK card up to the daily limit imposed by the Greek banking system (usually €600), or the daily limit imposed by your card issuer - whichever is the lower amount. The system for paying with debit and credit cards for retail transactions continues to function. There's no guarantee that you'll be able to exchange sterling for euros in Greece. There are no restrictions on taking unspent euros out of Greece at the end of your stay.' (15-7-16)
Income earned abroad must be taxed abroad :The job income of thousands of Greeks who live and work abroad can only be taxed in the country where it is earned, and not in Greece, even if their home and family are in Greece, according to a crucial verdict issued by the Council of State, the country's highest administrative court, a few days ago..... It all started when a German national appealed to a Greek administrative court, arguing that he should not have to be taxed in Greece, where he lives with his Greek wife, on the earnings from his work as an architect in Germany. Ekathimerini (13-7-16)
Summer sales start July 11th: Next Monday, July 11 the regular summer discounts in shops will start and will last until Wednesday, August 31. Note that the displaying of the original(removed) price and the new price is manadatory, and the rate must be indicated eg 30% discount tharros (6-7-16)
Charges for using a credit or debit card must not be passed on to consumers: This was stressed the lawyer George Feretzakis ( Supporter of the Citizen and Kalamata Business), on the occasion of queries and complaints from citizens about the overall recovery of banks' income by using credit cards. A fine of € 5,000 to € 500,000 may be levied against providers and payment service beneficiaries who do not respect their obligations.Also, the enforcement of these administrative penalties shall be independent of any other civil, criminal or disciplinary sanction tharros (6-7-16)
Economic Crisis Marks 3rd Emigration Wave of Greeks :427,000 people have left Greece since the onset of the economic crisis in 2008, marking the 3rd wave of mass emigration in the 20th and 21st centuries. - This Greek emigration wave for work abroad is still in progress and does not appear to be slowing down, as unemployment remains at 25% - the third mass exodus of Greeks involves mostly young, educated people with professional experience, heading mainly to Germany, the United Kingdom and the United Arab Emirates. greekreporter (6-7-16)
Greek poverty increases - 40% of Greeks struggle to pay rent and bills: According to experts, a household can be categorized as materially deprived if at least 4 of the following apply: 1) difficulty in meeting emergency financial demands; 2) inability to afford a vacation of at least a week every year;3) inability to ensure that their diet includes fish or meat at least every other day; 4) inability to pay for heating when necessary; 5) lack of basic appliances such a washing machine, telephone or color television; 6) inability to repay loans and pay basic bills. In 2015, 22.2 % of the Greek population fulfilled at least four of these categories, compared to 12.8 % in 2005, according to the ELSTAT survey. ekathimerini (6-7-16)
Greek Businesses Defying Crisis : Despite the financial crisis that has been plaguing Greece and making media headlines over the past 6 years, there is another "face of Greece" consisting, among others, of both established and emerging entrepreneurs who defy the economic crisis and prosper against the odds. In this spirit, a project titled Greek Crisis Success Stories was recently launched by Greek Liberties Monitor and Friedrich Naumann Foundation for Freedom, aiming to tell the tale of a different Greece: of innovative entrepreneurs and business people that toil in the country daily, creating value and jobs, sustaining the local economy, fighting through the problems and creating hope for something better in Greece. greeknewsagenda For the first 6 companies featured see (videos +English text) ESPA - EZA - GAEA - INCELLIGENT - KYON - TAXIBEAT GreekNewsAgenda (6-7-16)
Now easier to rent out residential property: Since a new law was introduced in November 2015, it has been possible to rent out your home, even for just a day, without any problems with the GTO or any other public authority . It is sufficient to comply with certain requirements and conditions. Purely for residential rentals, the 3 month limit has now been abolished. This is ONLY for accommodation (ie NO cleaning, breakfast, delivery, etc provided), because then it would classify as tourist services, and incur income tax at 29% rather than 15%! Also the property must have an energy certificate.
​It is understood that a simple statement of income is all you need to submit for tax purposes, but check with your accountant.. Tharros (2-7-16)
They paddle from Patras to Kithira to donate life:
​ For the 6th year, two adventurous paddlers Angelos Christofides and Apostolis Katsina are hoping to paddle 270 nautical miles leaving Patras on July 3rd with stops in Kyparissia, Pylos, Koroni, Porto Cayo, Elafonissos before final arrival in Kythira. The purpose of their mission is to spread the voluntary bone marrow donation in collaboration with the Volunteer Center Marrow Donor of the University of Patras Bone (KEDMOP) "Give Life." During the project, there will be an information campaign for voluntary marrow donation bone, the main purpose of raising public awareness and strengthening the Greek reservoir volunteer donors. Greece has one of the lowest registration rates of volunteer bone marrow donors, often resulting in patients with potentially curable forms of blood cancer (such as leukemia, the most common cancer in young children) being lost because they can not find a compatible donor volunteer. tharros The proces is simple, painless and harmless BLOOD CELL DONATION(1-7-16)
............................................................................................
Learn German for Business
A comprehensive collection of books, video tapes and cassettes is available at Mani Money. in Ag Nikolaos
A teacher from the University of London left them with Hara.
Anyone who is interested, can call in and check what is available, but it is hoped that people will make a small donation to Gaia, if they take anything .
Note: Hara (Charoula Gennimata) collects donations and membership fees for Gaia.
NOMAD OFFERS
Big Savings on Currency Exchange EUR and GBP
New Partnership with Key Currency
Dear Nomad friends and customers, Good news! I'm pleased to say we can now offer preferential exchange rates on currency transfers. We've recently partnered with Key Currency, an award-winning currency provider, so our customers get a better deal.You can achieve significant cost savings compared to high street banks. And importantly, you won't pay any transfer fees either.
Andy Dyer is the Head of Trading at Key Currency and he personally looks after all of our currency trades. He has agreed to personally manage the currency transfers of anyone who comes from Nomad. He will beat any other quote and will genuinely get you the best deal.
If you're interested in getting a free quote from Key Currency then please click FREE QUOTE FROM KEY CURRENCY
Discount on Parcels to Greece & Italy
If you have parcels to send to Greece, Italy or anywhere in Europe, Nomad Parcels is the best way to send them. Delivery is very fast by road, with full tracking and exceptionally good prices. For example, 5 x cardboard boxes, each measuring 40cm x 40cm x 40cm and weighing 20kg would cost £94.50 + VAT from the UK to Athens.
Plus, with the discount code GREECE2016 you will get an extra 10% off the already low prices on this site. This offer is valid until 31st August 2016 so don't delay! NOMAD PARCELS
Mistaken identity - What is this fish ??? >>>
According to an article in Tharros, this fish caught by Elias Dimitrakopoulos in an area of ​​Marathopolis on Friday (July 15th), is a fistoularia Lagocephalus Sceleratus (a type of puffer fish) and belongs to the family Tetraodontoeidon. If so, it is extremely dangerous, if consumed, and can even cause death by causing muscle paralysis, respiratory disorders and deficiency in the bloodstream. This is one of the 28 species from the Red Sea that has reached the Mediterranean through the Suez Canal in recent years. According to testimonies of local fishermen, it is not the first time that this fish has been found in the sea area of ​​Marathopolis.Tharros
V
V
V
However, the appearance from the photo suggests a much more benign relative of the needlefish, the blue spotted cornet fish (Fistularia commersonii). These have been seen in increasing numbers down the coast of Mani, usually in late June/early July, and they are harmless. According to Wikipedia ".....The fish is of minor importance commercially, mostly being sold as fish meal....The bluespotted cornetfish is notable for its unusually long, slender body shape.It has a tubular snout, large eyes and a long tail filament lined with sensory pores which may help with detecting prey. Its body is greenish-grey to brown with two thin blue stripes or lines of dots on the back and lighter on the front.....It grows to a length of 1.6 m" Bluespotted cornetfish
What is this fish?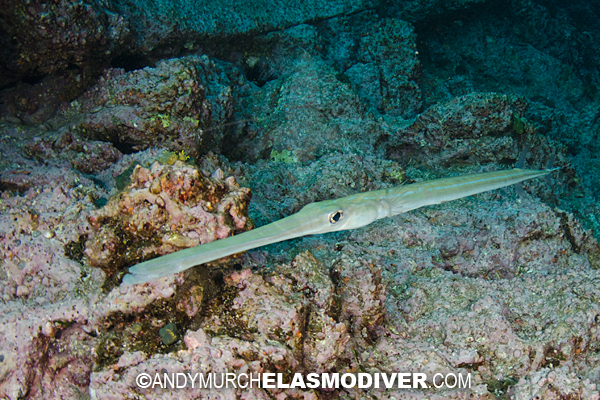 Blue spotted cornet fish

3 thieves caught!
At dawn on July 8th, Kardamili Department officers arrested 3 Albanians aged 31, 36 and 42 , who tried to escape by ramming the Police car. The police believes that this criminal group was committing systematic burglaries and thefts in the area of West Mani, and that there are accomplices. 33 cases have so far been explained - 33 cases of theft and attempted theft in cottages, apartments and hotel complexes.
According to data gathered by the police the perpetrators had set up a criminal organization for the purpose of committing theft in hotels, apartments and cottages. After choosing the "target" , they entered the accommodation at unsecured points or by breaking windows and doors, especially during the hours that the owners or tenants were absent or sleeping.
Following information, officers of Kardamili Department set up a roadblock in Stavropigio region, at dawn. Shortly before 6.00, the car with the three Albanians appeared. They did not obey the instructions of the police, but rammed the car being used by the Police, causing serious damage. Stolen property worth 48,000 euros was recovered, which came from 27 robberies and 6 theft attempts, in hotels, apartments and cottages in the area of West Mani Messinia, where the criminal group had been operating. They had taken money, gold, jewelry, electronic equipment, mobile phones, watches etc.
In Neochori, Mani they had committed 8 robberies and 2 attempts
in Kardamili 6 robberies and 4 attempts
In Riglia 3 thefts,
In Agios Dimitrios 2 thefts
In Lefktro 2 thefts,
In Stoupa 3 thefts
In Vasilitsi Pylia 3 robberies.
In the thieves car the Police money found, tools for breaking into property, flashlights, clothing and gloves, which were seized. in addition in research done at the Kalamata home of the 31year old,they found and seized a sword, brass knuckles, money and power tools. Finally, confiscated the car and three mobile phones being used to commit offences. Those arrested were taken to the prosecutor in Kalamata. Tharros
Rubbish has created "a state of emergency" in W Mani:
Tatoulis has declared 'a state of emergency' to provide a temporary solution to the problem of garbage that has plagued West Mani for months. "We decided to declare a state of emergency in West Mani Municipality due to dangerous pollution from accumulated waste, with risks to public health and the environment, "noted the decision of Mr. Tatoulis.
The state of emergency will be in force for six months, until November 24, 2016. However, in essence, the decision demonstrates the impasse that has been created in another municipality of Peloponnese with waste management. The decision is nothing more than" blessing " for legitimate dumping in the borough. which is not the answer to the problem in the long term as they can hurt the local environment. tharros
Information summary from PsM ► JULY 2016 ◄
Water and rubbish - the same old problems! - too much rubbish/removal too slow, and lack of water without any publicity about why/when supplies are being cut off. Keep writing to DIMOS◄►LINK with your concerns! But we can all help to reduce our rubbish by recycling and composting. RECYCLING Stavroula has details of recycling reminders in Greek, on her
page Ανακυκλώσιμα υλικά. There has been water in abundance from recent storms, causing power cuts and flooding, but the lack of winter rains means the aquifers are low. This is causing considerable concern for the Dimos, and on top of the usual problems, water is being rationed in some places, by supplies being cut off for long periods. Again, we can all help by not wasting water, and notifying the Dimos quickly, if we have a problem ABOUT WATER
Rubbish aggravates the problems caused by fire and flood. Within a week, in early June, Gaia were called to deal with a fire at a huge rubbish dump in Stoupa - it needed 23 tons of water to extinguish it, and the volunteers needed breathing apparatus to cope with the toxic smoke that was spreading over Stoupa. Rubbish and debris jammed up against bridges, was also the culprit when heavy rain resulted in flooding around Stoupa. Rubbish dumped in gorges above Stoupa, restricted the natural run-off. GaiaSnippets
Better news! NO PARKING Stoupa seafront : Although in previous years, Stoupa seafront was supposed to be a no parking area during the season, it was impossible to enforce because there were no official signs, but "...New signs have gone up along the seafront and the police are enforcing the restriction and giving out fines (80 euros!)." The signs are not very obvious, so please alert friends and neighbours. Note: Vehicles are still allowed to drive through/drop-off during the day, but the road is CLOSED COMPLETELY after 20:00
How to save 15% on (part of) your electricity bill: As of July 1st 2016, PPC will grant 15% reduction to those private and business customers who pay their bills on time. The reduction refers to the bill part concerning the consumption of electricity only and before the Value added Tax and not to the total bill amount which contains taxes and fees to municipality, state broadcaster ERT and power distributions and others keeptalking Greece
WARNING - a new computer scam: A new scam, in which fraudsters pose as legitimate internet service providers to offer bogus tech support, either via the phone or on the net, is on the rise. The online version of the scam involves a realistic pop-up that interrupts a victim's normal browsing session with a message that appears to be legitimate and seems to come from the victim's real ISP. The pop-up scam seems to be mainly focused in the US at the moment, with Verizon, AT&T and TimeWarner all being impersonated, but Malwarebytes also discovered fake pages set up for BT, PlusNet, Sky and TalkTalk. BBCtech
The Gaia vehicle Fund : Since the end of May, when the fund had already reached €4,000, the fund has increased to well over €5,000 Alisee collected €55 at Greek dancing, the Melissa lunches on June 6th & 13th raised €463.52. and the Meze Lunch at Greggs raised another €250. And Gaia have found a suitable vehicle in Germany, which will be brought to Mani in July. snippets GAIA However we still need more fund raising initiatives, to get the vehicle 'on the road'. See VEHICLE APPEAL for the latest information.
Other local support for the community.
• Alisee's Greek dancing raised €80 for MIAO animal welfare
• Mat and Roland's 'The Wall' raised €300 for the Stoupa Cultural Centre repairs
• Stitch 'n Bitch has donated 4 more blankets and €364 worth of food to the SOS children's centre in Kalamata
Blood for Michael Davies : Thank you everyone who reponded to the appeal for blood donations for Michael Davies, MESSAGES (18/6) It is a reminder of the importance of the generosity of the general public when anyone here in Mani , is in need of blood. In the Greek system, the family of a patient is expected to pay a 'blood debt', by providing as many bags of blood(any group) that are needed for the patient. If there is not enough family to help, they depend on donations from the public. Each municipality is responsible for supplies for people living in their area, and W Mani is always in need of more blood, so do donate if you can, and encourage others. Unfortunately many people who would like to, are not able to donate, even when they fulfil the basic criteria, they may be rejected on the day, for a variety of reasons. BLOOD DONATION
The Stoupa Cultural Centre (SCC) Action Group : The Action Group was formed to raise money for repairs and maintenance to the Stoupa Cultural Centre. An estimated 5000€ is needed to deal with current problems, so many fund-raising activities will be needed, and the group is looking for people to be on the Events Co-ordinating committee - anyone interested in helping in this respect should contact Lydia Ellis asap lydia\greekscape The performance of THE WALL, by Mat and Roland, was their first fund raising event, which was blighted by the threat of rain. For detailed plans and an idea of the urgency of some repairs see STOUPA CULTURAL CENTRE
Happy news from ΦOM-MIAO : The friendly little dog found in Kardamyli at Easter has been reunited with her owner. Althea, the big friendly Greek Shepherd Dog found last September, can stay in her happy foster home. The young pup found in Stoupa in April, has been found a home in Mani. The tiny, very young pup that was not expected to live, is now healthy and has been found a home in Germany. LOST&FOUND. And Bobo (now Bob), the pup with badly bowed front legs, has fully recovered from his operations and is in Munich with Eva's daughter & friends The story of BOBO
Other Animal Matters - including a number of new animals that MIAO is trying to help to a happier future
• Do you know anything about a sickly dog found wandering in Neochori? LOST&FOUND (22/6)
• Have you lost a friendly ginger cat in the Gonatsa area? (22/6)
• Do you know the friendly cocker spaniel found in Pigi ? (21/6)
• Can you help find who abandoned little Brian? (20/6)
• And/or his sister Brooke, found a couple of days later (24/6)
• Cute but unlucky Ray needs a forever home (10/6)
• Alex the survivor, a young friendly pup, needs a home (10/6)
• Malo needs a paid carer for a month, while his owners are away Messages
• Gaia helped with the rescue of a wild boar piglet GAIA snippets
• The animal welfare event PENNY MARATHON will take place on July 10th in Kalamata
• On June 14th, alerted by Gaia, Dive Center, Stoupa, rescued a turtle tangled in fishing nets
• Goodbye Alfie Moon - a much loved canine resident of Mani.ALFIE MOON
ART FARM in Megáli Mandínia : Farmhouse Marini is a farm in Megáli Mandínia, which highlights the rural and cultural heritage of the region and aims at informing, educating and entertaining visitors .." In an area of ​​5.500sq.m The Art Farm combines the uniqueness of nature and human inspiration, offering experiences to children and adults. Composed of the stone amphitheater, which hosts cultural events during the summer season, and the main building of 120m, which hosts all types of seminars, gatherings and social events, as well as five specially equipped workshops where educational seminars on rural culture are organized" ART FARM and ArchiveJune
Greek Businesses struggle to survive: For the first time, more businesses close than open : New hikes in taxes and social security contributions introduced at the start of the June, coupled with pension cuts, are leading to a deeper recession, the closure of businesses and more people losing their jobs, experts warn. In the first 5 months of the year the number of new companies was for the first time smaller than those that shut down snippets. And tax evasion is increasing - Restaurants in certain parts of the country have already started presenting patrons with two menus listing different prices: one with VAT and the other without it. The menu presented, had the prices without VAT, i.e. the 23% charge that has now risen to 24%, with both the patrons and the restaurants being happy about defrauding the state that appears unreliable, inconsistent, and inefficient .snippets(15/6)
Help for refugees: The Greek Ministry of Education and UNICEF are working together to help refugee children stranded in Greece complete their education. Some 22,000 children are among the 55,000 migrants and refugees currently stranded in Greece, hosted in 35 camps and sites on the mainland and islands, while a study by the organization "Save the Children" found that these children have been out of school for an average of 1.5 years. Greece's Education Ministry has already drafted some pilot education and activity schemes for children at refugee camps over the summer, with the aim of beginning proper classes in September their own languages, English and some basic Greek GreekNewsAgenda. And a team of students from Edinbugh university has developed a solar powered phone charging station which will enable up to 240 refugees a day, to charge their phones for free. The first 2 units are lready in use. Ekathimerini Meanwhile, old life jackets left by refugees, are being recycled by ODYSSEA into revenue-raising items such as bags, wallets and notebooks. Some things are already being made in workshops by refugees staying in Athens. The proceeds from sales will go toward funding a mobile medical unit to travel around the villages of Lesvos and Chios Ekathimerini
Transport news
• The first direct flight to Kalamata from Lyon was on june 1st snippets(4/6)
• "Albatros II" and "Odyssey" have started cruising the Messinian Bay: snippets (9/6)
• New Ferry route for the summer, Kalamata > Kithera > Crete snippets (20/6)
Two new books
Iliofengari, The Cave Nymph: Maria Mavroyenneas has published her 3rd book in the series: "Mythical women's adventure stories", cover illustration by local artist.. At the deserted Bay of Diros, a poor man and his wife were fishing when, suddenly, they heard the loud laughter of a baby echoing from the rocks..........AMAZON.
'41 and a half kisses from Mr Leroi ' : A Novel in English, by Kalamata writer Hara Nikola . (Nikolakopoulou) Vera meets the protagonist of her life for the first time in a dream. Untamed, eccentric and charming, Constantinos is a famous actor who lives in Paris. The dreams continue and, thanks to them, Vera is able to write the book she always dreamed of........ AMAZON Hara studied Greek Literature in the University of Athens and holds an MA in Creative Writing. She lives in Kalamata, where she founded her own school of creative writing in 2013.
What else new?
• Asian Nights in Ag Nikolaos - Chinese style food at Vezuvios ASIAN NIGHTS
• New Fashion shop (clothes & accessories) in Ag Nikolaos
• New gelateria in Ag Nikolaos, by the harbour - 'Leonardo'
• Orato Village restaurant & pool now open snippets (19/6)
• Friday BBQ parties at Diokouroi in Kardamyli have restarted DIOSKOUROI
• A supervised Children's Play area in Stoupa ArchiveJune
• A new Piraeus bank cash machine in Ag Nik near by the harbour MEDUSA
• To Lokalee gift shop opened in Kardamyli - ' Tradition and art ' ArchiveJune
• Tips for travelling with a medical condition Useful Links
• Upgraded Nestor's palace reopened mid June snippets (14/6)
• Ms Kate Smith is the new UK ambassador to Greece. She will take up office in Jan 2017 snippets (4/6)
---