Archive September 2016
- - - - N e w s S n i p p e t s September 2016- - - -
Flood damage worse than originally estimated:
According to the Antiperifereias Messinia IACs the damage to both public works and individuals from the catastrophic floods is much larger than originally estimated. Several houses that face serious problems with subsidence, etc are unfit to be occupied. 350 businesses have recorded damage and appealled for help, and the investigators have been overwhelmed. More staff have been employed in audit teams to help finish as quickly as possible but "...so many businesses and homes have been completely destroyed...." 15 days after the disaster that struck Messinia, it had still not been announced what will be done with the emergency aid given for those affected, to cope with their urgent needs.
Tharros
(22-9-16)
Students are forbidden to have mobile & tablets in schools: The Education Ministry has sent instructions to the schools in the country, prohibiting the use of mobile phones and other electronic devices, with video and audio recording capability, except as part of educational programs. The storing of photos personal data etc on digital media (eg commemorative type photos, videos and activities of school life) is permissible only if the data subjects have given their consent. Tharros (18-9-16)
New angiography in Kalamata Hospital : The "Stavros Niarchos" Foundation has approved a 400,000 euro donation for procurement of modern angiography equipment. In addition 50,000 euro from the Karelia family and another 50,000 euros from the "Captain Vassilis" Foundation will provide the total amount for the supply of the above equipment. The director of Kalamata Hospital expressed great gratitude and profound thanks for this very important contribution to providing high quality health services offer in their hospital.. The aim of the Management is the whole process of purchase and installation to be completed by the end of the year.Tharros (18-9-6)
A special visitor on Kalamata beach
: On the morning of Sept 15th, a white flamingo walked the length of Kalamata beach and was very friendly! According to experts the white colour means it is young one and they acquire their pink colour as they get older.
Tharros (photos)

Series of economic measures for the relief of victims of the floods in Messinia There was a meeting of all relevant government bodies at the Interior Ministry on Sept 14th to decide how victims of the disaster of last week can be supported financially, and how to repair the damage to infrastructure in Messinia and Laconia. Mayors of the Municipalities affected were asked for a complete record of damage to businesses, homes, & appliances to be submitted in the coming days to the Aid Dept of the Interior Ministry. The legislation provides, inter alia, for granting individual aid amounting to approximately €600, and €6,000 for compensation for damage to homes and appliances. Also, for businesses, the suspension of payment of contributions for 6 months and repayment in 12 to 24 monthly installments, after the six-month suspension and redress them with a grant of up to 30% of damage to premises and equipment. There were estimates of the causes of disasters, and the need for strengthening and modernization of infrastructure, and the need for reassessment of stormwater management . They recruited 10 additional people in ELGA Tripoli, to accelerate the procedures of evaluation of losses in the agricultural and livestock sector.Extracts from Tharros (15-9-16)
Police crack down on foreign plated cars. Monitoring authorities have recently turned their spotlight on vehicles circulating in Greece with foreign plates, and increased their inspections, as in the last few months the phenomenon of Greeks choosing to register their cars in other countries to avoid excessive taxation has grown considerably. Most of the vehicles had Bulgarian plates but their owners were unable to produce the necessary documents that would prove they are eligible to use these cars in Greece (ie proof that the vehicle has left Greece every 6 months) . The problem is particularly big in northern Greece, with figures in Thessaloniki showing that the violation rate exceeds 50 %, as owners wish to take advantage of the lower road tax in neighboring Bulgaria. Ekathimerini (13-9-16)
WARNING : new Facebook virus A new virus has appeared on Facebook in recent days, with dozens of people in Greece having already fallen "victim" and trying to warn online friends via posts on their profile. This virus appears on your timeline in a videos post and even seems to have been posted by someone you know. When the user tries to view the video, a message informing him that must install a plug-in (add-in) to be able to watch it. If the user chooses to download this add-in and gives consent, this essentially allows malicious software to invade his system. And what to do if you see such a post on your timeline? Immediately delete without opening and then, change your password. Tharros (13-9-16)
Authorities accused of neglecting flood defences: Despite the flooding on September 7th being the worst for more than a generation, according to many people, there are accusations that the authorities have not done enough to develop flood defences and other infrastructure both in rural and urban areas, to keep pace with the growing population and tourism development. The Kalamata Municipal Authority and the Peloponnese Region is said to have spent huge amounts of money on promoting tourism, but flood control, purification and improvement of wells, cleaning of channels, etc., had had to take second place. Tharros (11-9-16)
Appeal to EU for help : In case of natural disaster, only the Government can appeal to the EU for emergency help. Next Wednesday 14th there will be a large meeting in Athens when the Messinain authorities will discuss emergency help following the floods on Sept 7th (Black Wednesday) with the Greek Government kalamat gr (11-9-16)
Army called in to help with the clean up in Kalamata : On the morning of Saturday 10th, the 9th Infantry Regiment, was on the beach of Kalamata. The soldiers offered their help in the effort being made ​​by the city to clear the damage left by the disaster, and to return to normality. They brought special army equipment to speed up the ​​cleaning of Kalamata beach. video+pics Tharros (11-9-16)
No water bills for 2 months: After angry complaints about increased water bills, from many people living in the areas damaged by floods, who were still battling with mud in their homes, DEYAK has backed off and said" ...We will go one step further. As a minimum of respect and understanding for weary citizens, DEYAY will not send any water bills to the citizens, for 2 months..."Tharros (11-9-16)
Review of damage to archaeological sites: Following the disaster that struck Messinia on September 7, a special representative team from Antiquities Messinia, conducted a study to determine and record the type and extent of problems that have arisen in monuments and archaeological areas. The main problems identified were in the archaeological site of Ancient Messini and the archaeological site of Akovitika (EH palace and temple of Poseidon) in Kalamata, not the monuments themselves, but mainly their surroundings and accessibility. The archaeological sites of Ancient Messini and Akovitika will remain closed to the public until the completion of the work of restoration, which is expected soon. The exhibition "Armoured, horses and flowers." due to be officially opened on Sept 10th, has been postponed, but fortunately none of the art works were damaged in the storms. Tharros (11-9-16)
Severe weather across the Peloponnese: The European Severe Weather Database recorded 8 areas suffering from severe weather between September 6th and 8th. Apart from heavy rain causing major problems in Thessaloniki, Kalamata, Thouria, Skala, Stoupa, and Larisa, there were tornadoes in Katakolon and Vartholomión (south of Patras) Parts of Italy and Scicily were badly affected during the same period. More photos/videos of the after effects of the deluge etc in keeptalkinggreece (9-9-16)
Educational help for refugee children: The average amount of time that refugee children have been out of school is a year and a half, according to Save the Children NPO.Even before that period, many children were rarely able to attend classes on a regular basis due to the war-stricken nations they come from not providing anything close to a safe educational heaven for children, and more than a fifth of refugee children of school age having never stepped foot in a classroom. Now the government of Greece is hiring many teachers teachers to help educate refugee children that are staying in Greece indefinitely, as other EU countries have closed their borders on the asylum seekers. Prime Minister Alexis Tsipras said that "The inclusion of all refugee children in the public school system will begin in September. Around 800 backup teachers will be hired to meet the additional needs" greekreporter (9-9-16)
Success of the 5th Kalamata Volunteer Donor challenge promoting organ donation : More than 250 swimmers and runners gathered to compete for the 5th Volunteer Donor Cup, on the beach in front of the Elite hotel on September 4th. The participants and organizers of the Navy Kalamata Group and the Association of Health Runners Messinia popularized the slogan "Donate a chance for life: become volunteer bone marrow donor and make leukemia a thing of the past" and their inducement found significant response, as there were numerous volunteer donors including sporting personalities. In the evening, other events included musical entertainment, official greetings and scientific lectures on the importance of voluntary donation of blood, bone marrow and organs for transplantationtharros (6-9-16)
4th 'White Night' in Kalamata a limited success: While many people came from all over Messinian, and some even from Athens, just for the event, and this year's program of activites was rich and organizationally better than any other year, many retailers did not benefit from boosted sales as much as they had hoped. The general feeling seems to be that more people came to enjoy the event, but did not spend money on the sales, other than for things they particularly wanted. Some felt that after four years, perhaps a change of format is needed and it was suggested that it might be better in September, when the winter merchandise is available. tharros (1-9-16)
Earthquake today (Sep 28th)
An earthquake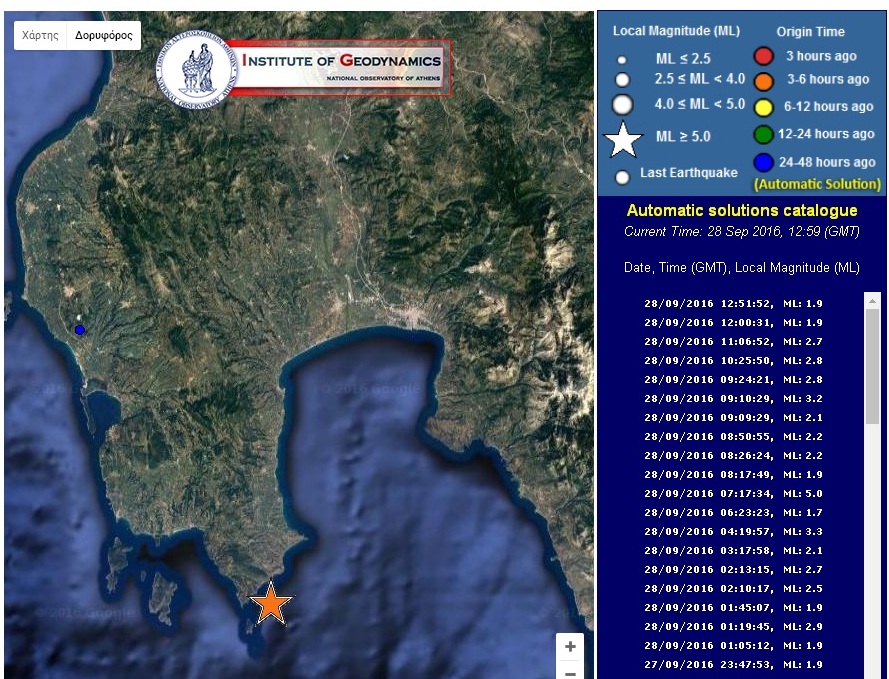 at 10.17 in the morning, today Wednesday, September 28, 2016 was very noticeable in Kalamata and the surrounding area. According to the Geodynamic Institute of the Athens Observatory, the earthquake was magnitude >5 on the Richter scale.
The focal center was located 25 kilometers southeast Pylos (south of Koroni) and its focal depth was 50 km. People came out of buildings and the students from the schools rooms, while there was general concern.
According to the information of the state authorities, no damage reported.
Kalamata gr


Where to report problems


General emergency number 112

If you still have problems after the storm/floods, here are some contacts

Power:
The power company DEDDHE / Kalamata District had a great many problems which affected not only the power, supply but also water, as pumping stations were out of action, and they issued this message on Sep 9th
Consumers please communicate where you have damage to DEDDHE / Kalamata District tel. 27210-97878, 1050 24 hours a day. Please note that for operational reasons, ONLY communicate with the DEDDHE about current damage problems and not issues that can be addressed after solving natural disaster problems

Water:
The mains water supply has been restored in most places. If you still have problems/leaks see ABOUT WATER

Road access :
The Dimos is dealing with roads. Despite many roads being made impassable by the storms, in most places access was restored very quickly with temporary repairs. If you still have access problems, you can contact the Dimos either direct MESSAGE TO DIMOS or Through DIMOS<>LINK

General hardship:
Gaia have had huge demands on their services in recent days, from pumping out many flooded properties, to dealing with medical emergencies in adverse conditions, but if you, or someone you know needs help, they are still the best first contact GAIA CONTACTS
Enjoy Trachila - with CARE!
Trachila
itself survived the storms and floods relatively unscathed and is still a beautiful spot to have a late summer swim and a meal overlooking the harbour. However, the road to Trachila suffered considerably. The large quantities of mud and rocks that were deposited on the road have been cleared but the power of the floods washed away chunks of road (see picture >>) in 3 places where the road crosses a gorge. The road is passable for all vehicles, but care is needed in these places, especially after dark
Sept 14th:Call from the District of Messinia for relief items
According
to a report at a press conference on Sept 12th floods in the city and county of Kalamata have afflicted business, shopping, buildings, but mostly homes and families. To date, the parishes have reported 200 families who are homeless as their homes are full of mud and damaged essentials, such as bedding, clothing, mattresses and appliances . At the same time, it said, there is a similar disaster in the Special School Gianitsanikon and the Student Centre of TEI. The student Hall of Residence has been damaged and it is impossible to stay there. About 55 students are accommodated in hotels at this time, but will have to leave today. The Diocese will offer the Church Home, which is close to St. George Street to accommodate 15 students. However, the 40 remaining need accommodation nearby.
A call to social organizations and city entrepreneurs, but also to anyone who can come to help, that " all together, in a spirit of unity, we can solve these problems and bring relief to people who are suffering." From today any families that have been recorded in their parishes as having their belongings destroyed, can go the Incurable Asylum (Laconia street). There they will be able to get beds, mattresses etc. species. In the more than 200 families, with an average of 4 members, nearly 1,000 people are currently in need.
Help is coming from the Archdiocese of Athens and Cyprus, However, the large number of people in need cannot be filled so quickly, and they are inviting everyone to help. The bishop appealed to everybody, businessman, and citizens to help by offering objects that are needed**, at least to allow these people to sleep and not be inconvenienced by turning from hotel to hotel. He also said not to forget that throughout this process there are children who have to go to school and to do this, they must have suitable clothing.
A community effort to restore Pantazi
First, many volunteers answered Stavroula Nikoloudi's call to help clear the rubbish and branches.
" ... We gathered the wood and branches in piles and we removed the small pieces from the sand. In the end we managed to clean the middle part of the beach for the visitors to be able to swim. Fortunately the machine came and gathered the piles of branches and dug up the branches that were trapped in the sand at the edge of the beach.... " More pictures in
Pantazi cleanup
Sept 13th: Once enough of the beach by the cafe had been cleared, umbrellas and sun beds were soon out on the beach again, while further along the beach the machines made a start on filling in the huge gullies left by the torrent pouring across the beach on Sept 7th.
Thank you everyone who contributed to the prompt cleanup at Pantazi and other beaches blighted by the storms
More pictures of the immediate aftermath of the storms are in SeptArch
Concerns about the Dentist in Ag Nikolaos
Whilst many people have been pleased with the treatment given, several local people who were less than satisfied with the dental work carried out by Dr Pourrezaei Arzhang, (the dentist who opened a practice in Ag Nikolaos early in 2016), decided to investigate. Nothing was found in the name of Dr Pourrezaei Arzhang, but when a receipt** from him was examined, it was in a slightly different name ΑΛΗΑΣΓΧΑΡ ΑΛ ΠΟΥΡΡΕΖΑΙ ΑΚΧΛΑΓΙ (ALIASGHAR AL. POURREZAI - AKHLAGI) Searches on THIS name revealed some worrying information. On the strength of this, their concerns have been reported to the Dental Association in Athens and the Dental Association in Messinia.
Athough allegedly, Dr Pourrezaei Arzhang is ΑΛΗΑΣΓΧΑΡ ΑΛ ΠΟΥΡΡΕΖΑΙ ΑΚΧΛΑΓΙ, there is no confirmation that this is the same person,$$ BUT in March 2015, in the UK, a POURREZAEI AKHLAGHI, Ali Asghar, a dentist based in Hove, near Brighton, was suspended. The Professional Conduct Committee , of the General Dental Council,"....erased Mr Pourrezaei Akhlaghi from the register and imposed an immediate order for suspension... ". This was the decision after a lengthy list of complaints about professional misconduct - see PUBLIC HEARING RE POURREZAEI AKHLAGHI, Ali Asghar Registration No: 102897.
The UK complaints that were upheld included
root canal treatment without clinical justification, extracted teeth without clinical justification, and failing to discuss alternative treatment options with patients.
The Committee concluded that failing to offer less invasive options was financially motivated.
Extracts from the UK PUBLIC HEARING report:-
p28 "The Committee considered that the clinical failings identified in this case, including, but not limited to extracting the wrong teeth of a child patient and failing to gain informed consent from multiple patients on more than one occasion, are serious and placed Mr Pourrezaei Akhlaghi's patients at risk of actual and potential harm and in some instances caused avoidable harm"
p32 " Unless Mr Pourrezaei Akhlaghi exercises his right of appeal, his name will be erased from the register 28 days from the date when notice of this determination is deemed to have been served upon him" He did not appeal, and his name was erased.
** The address on the RECEIPT from Dr Arzhang Pourrezaei , ΦΑΡΩΝ ΚΑΙ ΛΑΚΩΝΙΚΗΣ 0 24100 - ΚΑΛΑΜΑΤΑ, is the same as on the active Greek VAT registration for ΠΟΥΡΡΕΖΑΙ ΑΚΧΛΑΓΙ ΑΛΗ ΑΣΓΧΑΡ ΑΛΗΑΚΜΠΑΡ, in Kalamata VAT ID
$$
The UK dental register
odonti.com
has an
ALI ASGHAR POURREZAEI AKHLAGHI, based in Brighton,
which has a photo
After the storms and floods - some GOOD news
Sunday morning September 11th - Stoupa and Pantazi -
• The weather after 'Black Wednesday' has been better than forecast, enabling the cleanup and drying out to be done more easily
• Kalamata airport was only closed for 2 days
• The army has helped to speed up the cleaning of Kalamata sea front
• The sun is shining and the sea is warm and already back to crystal clarity in places not directly affected by the violent run-off
• The authorities and many volunteers have been making super-human efforts to get the worst affected areas cleaned up
• Most facilities for holidaymakers, and local activities are functioning more or less as normal
• Swimmers/sunbathers are back on Stoupa beach after only 3 days - it is hard to believe the state it was in on Sept 7th.
• Although the beach has been remodelled, Ag Dimitrios is fine for swimming
• The water company is not sending out any bills for 2 months Tharros
• The major exhibition at Ancient Messina "Armour, horses and flowers"is closed temporarily because of flooding, but none of the art works were damaged
• Lots of 'driftwood' on the beaches after the storms - free firewood!
• The rig for mobility access to the sea in Kalamata, was found undamaged 30m off shore.Kalamata gr
What the storm left behind
September 8th : There was so much water pouring down all the gorges and gullies, that tons of rubbish and debris, including cars and trees, were washed into the sea, which became brown from all the soil, and contaminated, in places, with oil.
Road access was restored in most places very, quickly, but some are with temporary repairs, and limited access .
For photos of Ag Dimitrios, Pantazi and some roads nearby see AFTER THE STORMS album in the PsM gallery.
September 7th 2:30: Road from Stoupa to Kalamata clear.
Prolonged torrential rain and very severe storms across much of Messian during the night and into the morning (Sep 7th) has caused a huge amount of damage and cost 3 lives so far. Many homes were flooded, roads became rivers and left impassable, cars washed into the sea, boats sunk, power, water and phones were cut off in places, as the storms raged across the area.
Kalamata Mayor Panagiotis Nikas has asked the government to declare " a state of emergency." in the municipality
More photos Kalamata Journal and Tharros
Storm Damage to Ag Nikolaos/Ag Dimitrios road
The road from Ag Nikolaos to Ag Dimitrios was washed away in the floods of Sept 6/7th, but soon made passable, as are were most roads in the area, after prompt action by the Dimos, to restore access.
Photos of the road from Ag Nikolaos to Ag Dimitrios after the storm! The damage and the temporary repairs
2016 Europa Nostra Cultural heritage award for St Peter's church in Kastania
The Byzantine church of St. Peter in Kastania, Mani, is one of the twelve 2016 winners of a Europa Nostra** award for high quality restoration/conservation. The restoration of the church included the securing of the building's structural issues and the conservation of the interior decoration. The care which went into every aspect of the work is remarkable. (The restoration was done over a period of 16 months between 2013 and 2014, coordinated by the former director of the 26th Ephorate of Byzantine Antiquities, Evangelia Militsi-Kechagia. )
The jury noted "the significance and importance of this European monument and its illustration of the Byzantine contribution to European culture". The frescoes, which had previously been largely unintelligible, can now be studied in detail and will no doubt be of great value to researchers of Late Byzantine art. The restoration also made visible certain parts of the masonry work, located just under the roof tiles, which had previously been obscured by later additions. The restoration of this charming church was warmly welcomed by the local community who was fully aware of the cultural and economic dimensions of the project. Their enthusiasm was apparent in the celebrations organised for the completion of the project. The preservation of St. Peter's church has attracted new touristic interest to the remote village of Kastania and may inspire more initiatives to preserve its rich cultural heritage. europanostra
The church of St. Peter is the oldest of the ten Byzantine monuments in the village of Kastania. It is a cross-in-square domed structure of the late 12th century, with a portico added to the west side in the 13th century and a bell tower which was constructed in 1813. The church was in a poor state before the work began and faced serious structural problems due to weather exposure, inherent weaknesses and inappropriate past interventions. The interior decoration of an exquisite programme of Byzantine frescoes had also suffered greatly over the church's 800-year lifespan.
The village of Kastania remains largel hidden, with buildings packed tightly between three mountain slopes of Taygetos, in a naturally fortified location, with few and narrow access roads. Of all the villages in Mani, Kastania has the most Byzantine churches, many of which boast excellent hagiographic material. The most significant of these is St. George (13th c.) At the entrance of the village, the Apostles, St. Peter (12th c.), St. John the Baptist (11th-12th c.), St. Nicholas Trikampanos ( 13th-14th c.), the patron of the village of Mary and the restored Assumption (11th c.) in the square. Sources say there are 44 chrurches/shrines scattered in the area, of which 10 have survived to the present day. Overall the village has several churches of the 12th, 13th and 14th century and one of the two-storey Christian churches of Europe! tharros

**
EUROPA NOSTRA represents a rapidly growing citizens' movement for the safeguarding of Europe's cultural and natural heritage. Our pan-European network is composed of 250 member organisations (heritage associations and foundations with a combined membership of more than 5 million people), 150 associated organisations (governmental bodies, local authorities and corporations) and also 1500 individual members who directly support our mission.

John Chapman's :Mani: A Guide and History has useful background information (last update 2011)
Information summary from PsM ► SEPTEMBER 2016 ◄
Ex-pat EU Citizens rights: Expat Citizen Rights in EU is a lobby and self help group set up to "...make sure your rights are foremost in the minds of those negotiating your future within the EU. They are working to get British MPs and Brussels representatives on your side and willing to state your case in any discussions and negotiations resulting from the UK's decision to leave the EU..." ECREU
What do you think of Kalamata? : 'Kalamata 21' is the project promoting Kalamata with the aim of winning the nomination for Kalamata to be European Capital of Culture in 2021. Kalamata is through to the final round, which will take place in November, but need our help to create a single tourist Strategic Plan for the city. They have created a questionnaire(English & Greek), which aims to record the current situation in the tourism sector, and record the civil vision of Kalamata, and dynamics that can develop the city in the future. The survey is open to all and will take place throughout the summer, with samples being taken until October. The ESURVEY is in the AugArchive
Compulsory registration of online rental properties, by the end of September 2016 :" ....It is believed that renting homes through websites like Airbnb and Homeaway leads to revenue losses of 270 million euro/year. For this reason, those who continue to rent their unregistered homes via the Internet, will be fined. It is understood that there will be a fee of 3% of each transaction through an online platform, and there will be a separate code to be used in tax returns...." Details of proposed tax arrangement were published in June 2016 ekathimerini and discussed in keeptalkinggreece
Mosquito news: Early in August there were reports of mosquito annoyance in areas around Kalamata where there are usually few problems, because of regular spraying, but apparently the spraying was done later this year, which allowed mosquitos to proliferate . Even so, it was really only after rain. Tharros Over the last 5 years the Peloponnese have been leading the way in developing an integrated mosquito control program and implemented innovative combat techniques such as conducting residual spraying indoor (IRS) in migrant accommodation, detection and treatment of malaria patients, the development and implementation of surveillance systems to keep the region free of malaria snippets (24/8) There have not been any cases of Malaria reported locally, but the National Center for Blood Donation, has put a ban on blood donation from residents and visitors in 12 municipalities, including 2 in the Peloponnese, because of the risk of Malarial infection snippets(22/8).
About water : Following a winter with much reduced rainfall in the mountains, there was considerable concern about the summer demand for water throughout Messinia. Pylos- Nestor introduced rationing early in August snippets(1/8) and locally, many villages only have water for certain hours, but hopefully the worst is now over. The W Mani Dimos appointed a new plumber to help avoid waste, by speeding up the repairs to the water supply network , which suffers from frequent leaks.DimosInfo
Rubbish matters:
• Currently W Mani rubbish is being taken to a temporary dump well away from habitation and it is being thoroughly treated with lime to prevent odours.rubbish2016
• There is still no Peloponnese scheme agreed for waste disposal, but municiplaities were warned recently, by Tatoulis, that trying to 'go it alone' rather than signing up to a central management scheme, would be an expensive option.
• The community composting scheme in Kalamata is in danger of collapsing from indifference snippets(8/8)
• Recycling got a boost from a 'Luna Park of recycling' on White Night (Aug 27/28th) + 100 more blue bins
• The Blue Bin company (HE.R.R.Co) has a
page mplekados with ideas for promoting/educating about recycling
• Dr Sophia applauded an unknown volunteer clearing rubbish from the main road side near Stavropigio KeepMani Clean
Pinatex and Brackettes - 2 new products using 'rubbish' as a raw material: After 7 years research, Pinatex a substitute for leather, made from pineapple leaves, which are normally just a waste product of the pineapple harvest, is now being marketed world wide through a UK company. Already a number of big name companies are creating products with the new material, and the company is struggling to keep up with public demand. Brackettes ('logs' made from bracken) are a very new product, which makes use of a nuisance plant which covers the countryside in many parts of the UK! By harvesting the bracken and turning it into 'logs', not only is a valuable and sustainable fuel created, the bio-diversity of the land is also increased so bluebells can flourish as can all types of flora and fauna. pinatex & brackettes Note: KLIMIS logs are a similar ecofriendly product made from olive waste, and available locally
TV licence needed for BBC iplayer: From September 1st, BBC iplayer users will have to pay the TV licence fee. Even people who only watch BBC shows on catchup, will be legally required to have a TV licence, now the new legislation to close the so-called "iPlayer loophole" has comes into force. Up to now, those without one, who only watch catch-up content and not live broadcasts, were technically exempt from paying the £145 a year charge the guardian
Free Photography workshop : Graham Parish is a UK based photographer and teacher. He runs photography walks, workshops and holidays in the UK and Europe. He has been visiting friends in Kalamata for some years now and is planning to start running some workshops in the Southern Pelopponese in 2017. As an introduction to ShutterBugs Photography Workshops he is offering a free workshop in Kardamili on Sept 6th - a chance to gain confidence with your camera controls. Learn about apertures, shutter speeds, depth of field, ISO, white balance, megapixels, composition etc photoworkshop
Activities promoting health/fitness: The European week of Sport runs from Sept 10-17th 2016. The Week is for everyone, regardless of age, background or fitness level. With a focus on grassroots initiatives, it will inspire Europeans to #BeActive To encourage participation there is also a photo competition which is open until Sept 18th 'Show the world how you choose to #BeActive ' snippets(21/8) Although in Greece the official week of sport is later ( Sept 24th-Oct 2nd), the Navarino Challenge, the multiple award-winning sports tourism event which is organized each year with the participation of people of all ages, will be Sept 9th-11th.NavarinoChallenge. In particular it aims to tackle the issue of childhood obesity through its numerous sports activities.
Parea Autumn Walks : Time for a change - Up to now, the dates and starting points have been published on the Parea sti Mani website, in advance, so anyone could join in. However, there have been an increasing number of occasions when the walks have had to be postponed or cancelled, at short notice, so Ursula and Walter would like to try a different format for the Autumn. They still plan to organise and escort a walk each month, BUT THESE WILL NOT BE PLANNED MORE THAN A FEW DAYS IN ADVANCE. If you would like to be kept informed of their plans each month, please email them at ukagel\web see Parea Walks
Animal Matters
• Veterinary Acupuncture in Kalamata, available from Dr Eleni Tsoupa VetsinStoupa
• Despite great support for the protection of sea turtles, there has been repeated vandalism of nests this summer near Kiparissia. snippets(16/8)
• There is 1 fenced in turtle nest on Pantazi beach, but it has sun beds right in front of it.
• Largest ever sea turtle rescued by Archelon, returned safely to the wild after treatment for a severe head injury. Animal welfare
• Míu , the brave little kitten, has been lucky - she has a new home in Germany, but little Kara has not been so lucky, and still needs a home LOST&FOUND
• 2 lost dogs that were taken to MIAO, were reunited with their owners - Aug 5th and Aug 15th
• 2 abandoned pups have been found homes by MIAO
• MIAO held a succesful 'Wildlife Special' open evening on August 23rd to promote awareness and raised enough money to pay off their vet bills.
• NEW threat to bees - the agrochemical industry is applying for permission to market new pesticides with hidden neonicotinoids, which may be just as harmful to bees as the ones that have been banned. POLLONIS has started a petition to stop governments approving the new chemicals AugArch
• Farmers angry about the damage done to crops by the increasing numbers of Messinian Wild boar snippets(28/8)
Kalamata Hospital improvements: The Out Patients department has been considerably improved and follows on from the improvements made to the Emergency Dept a few months ago. The strengthening of the medical potential of Kalamata hospital continues and it is hoped that five permanent doctors will be recruited and come to the hospital by the end of October. Efforts are being made to reduce the waiting time for appointments for certain specialists such as the vascular surgeon and opthamologist snippets (15/8)
Wheeling2Help, a project to raise money for wheelchairs and encourage volunteering : On September 7th 2016, the second "wheeling2help" event will start in Istanbul. Cyclists will be starting a 1700 km ride to raise money for the purpose of providing wheelchairs for the disabled. The route will take them through 20 cities where events and celebrations are being arranged, to raise both awareness of the needs of the disabled, as well as money. The goal this time is to raise € 19000 for the purchase of 100 wheelchairs, and so be able to give 5 to each city stop, for people with disabilities. The route passes through Kalamata on October 1st. wheeling2helpVOL2
Giant Greek flag disppears! : In early August a giant flag appeared on the hillside near Verga, which was visible over a wide area. It is thought to be the biggest Greek flag manufactured so far, and is being nominated for the Guinness record. It has an area of 1.5 ha, weighs almost 280 pounds . The idea was launched by Yannis Maniatis Tsoulako, owner of the gym "Education" in Kalamata and gym members. Volunteers and local businesses helped in achieving the idea by selflessly devoting materials and personal time. The entire exercise was purely symbolic and aimed to send the message that "...under the "shadow" of the flag, we can all come together for a common purpose...." Pictures in Maniatika However, on Aug 27th it had disppeared!. Apparently it was found torn the night before, but it is not known whether this was caused by the weather or by strangers. tharros
Business/tourism
• 30% decline in foreign arrivals at campsites snippets (22/8)
• Spending on food and basic necessities 5% down in first half of 2016 (22/8)
• 22.5% increase in international arrivals at Kalamata airport, compared to 2015 (14/8)
New bereavement information pack/support groups : In August 2016, the UK Foreign & Commonwealth Office published a pack of 4 on-line booklets to help people facing difficult situations in Greece. FCO UK. These are all in PDF format :-
-- Support for British nationals abroad:
-- A guide Guide for Bereaved Families
-- Death/Bereavement Information Sheet
-- Victim support groups in Greece Death&Dying in Greece
FOLLOW UP
The Stoupa Cultural Centre Fund for repairs has had several donations in recent months. Two performances of 'The Wall' by Matt & Roland plus a performance of 'The Wizard of Oz ' by the Neon Players brought the total raised by August 20th, to €813, but there is still a long way to go to reach the target of €5000 needed for repairs/maintenance. For details see StoupaCulturalCentre.
The Gaia Appeal for a medical emergency vehicle: During August, a further €701.73 was added to the vehicle fund, bringing the total raised to €7764.14. €54.73 came from the on-going Friday Fayres at Pefko and €647 from donations. This includes €200(€197after bank deductions) from NOMAD, one of our advertizers based in the UK. Gaia are still using their old rescue car as a temporary 'ambulance', which was called out 8 times during August, but it is hoped that the refurfishment and licensing of the new dedicated vehicle, which arrived in July, will be completed before too long. vehicle appeal
---