LOCAL EVENTS
Please let us know if you are running an event and would like it published in this list and in the event diary. Events are published in date order. Regular or repeat events are included in the Regular Local Events page.
18 July: Latin Fever, Mani-Sonnenlink
Latin Fever: El Violin Latino meet Yumarya: Gregor Hübner with El Violin Latino Quartett, New York,
Yumarya, Curacao, the unique Carribbean Island paradise: Voice
Gregor Hübner, Violin, Musical director - www.gregorhuebner.com
Jerome Goldschmidt, Congas - www.percussiontutor.com/portfolio/jerome
Klaus Mueller, Piano - www.klausmuellermusic.com/Bio/
Veit Hübner, Bass - www.veithuebner.de
Tickets available for purchase at the Blauel shop in Kardamyli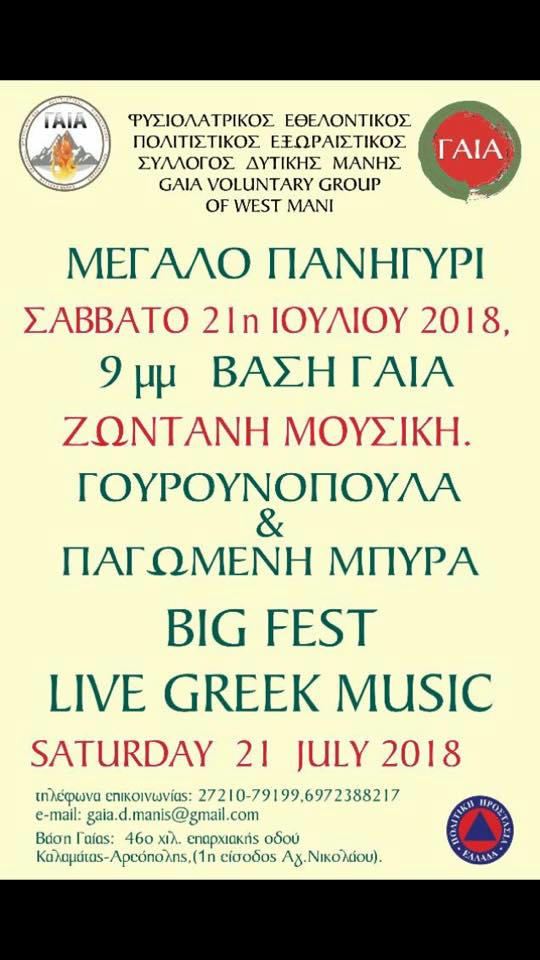 21 July: Gaia Big Fest: Gaia Headquarters : 9pm
Gaia is having a big party this Saturday 21st July. Enjoy live Greek music, gourounopoulo and cold beers. Free entrance. It starts at 9pm.
22 July: Trio Infernale, Mani Sonnenlink: 9pm
Trio Infernale: Classical Music Trio
Alexia Mouza, Venezuela - Crete: Piano, Felix Froschhammer,
Germany: Violin, Indira Rahmatulla, Turkey: Cello
Tutors of the International Summer Mastercalss in Kalamata perform themselves...
Works of J.Haydn, M.Ravel, L.v.Beethoven, F.Schubert
The Trio, which will be performing on SUNDAY is formed by the Tutors of the Kalamata Summer Master Class Academy and the Musicians are not only fantastic Tutors, (I have watched them teach last year) coming from all over the World but also fantastic musicians. This Summer Academy Master Class brings together people and stories, Kalamata is flourishing with its Music - Development. This time we are privileged we have the students and their Tutors here. You will not only hear the concert itself, you will hear students at the Dinner part.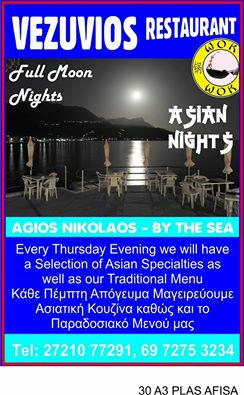 27 July: Full Moon Party, Vezuvios, Ag. Nikolaos
The next full moon part takes place on 27 July. To book your table please call 27210 77291
3 August: Violin & Cello Romance: Mani- Sonnenlink: 9pm
Violin & Cello Romance - Susanna Fini, Switzerland: Violin, René Camacaro, Spain: Cello
Works of R.Glière, W.A.Mozart, M.Ravel, J.Halvorsen & G.F.Haendel

11 August: Celebration Concert, Mani Sonnenlink: 9pm
CELEBRATION CONCERT - Aris Blettenberg, Kalamata - Germany: Piano, Marthe Lindenthal,
Vienna: Oboe. Roland Lindenthal, Vienna: Cello
Works of F.Liszt, J.Brahms, B.Britten & Ovid, D.Schostakowitsch

21-23 September: Kazantzakis & Zorbas in Stoupa 100 + 1 years after Festival
NARTOURA festival -"Kazantzakis & Zombas in Stoupa 100 + 1 Years After" festival, will take place on 21, 22 & 23 September 2018. More details to follow
φεστιβάλ "Καζαντζάκης & Ζομπάς στη Στούπα 100+1 χρόνια μετά" που δρομολογεί το σωματείο για τις 21, 22 & 23 Σεπτεμβρίου 2018.

---