REGULAR LOCAL EVENTS
We publish information about regular or weekly local events here. If you run a regular event or know of one we have not already included please let us know NB Local adhoc events or events with their own page, are NOT included here. Please confirm with venue, for a particular date
MONDAYS Συναντήσεις του συλλόγου ΚΑΘΑΡΗ ΜΑΝΗ - Meetings of CLEAN MANI
Kάθε Δευτέρα θα πραγματοποιείται συνάντηση του συλλόγου ΚΑΘΑΡΗ ΜΑΝΗ στις 19:30, στο ιατρείο της κυρίας Χριστοφιλοπούλου, με σκοπό τη συζήτηση καινούριων ιδεών, την υλοποίηση του προγράμματός μας και γενικότερα την οργάνωση του συλλόγου.
Every Monday we will have a meeting of CLEAN MANI, in Stoupa, at 19:30 on the medical office of Dr Sofia Christophilopoulou. We will discuss all the news of the association, all the actions we need to take and everything else regarding to the association.
For more about the CLEAN MANI Assoc see Clean Mani News
MONDAYS fortnightly Cribbage Socials -
Meetings are held at Melissa taverna in Stoupa. Before playing, most people take the Moussaka and salad option kindly offered by Linda at 5 € a head.
The events starts at about 1 o'clock for those wishing to eat first; crib games begin from 2 o'clock. New members always welcome. If you wish to have the moussaka special, please let me know before Monday (email) so Linda can have an idea of how much to cook Also if you prefer a veggie option. Contact either me, Mike, at the following emails or numbers Mike : allanmbinks\hotmail : tel +44 7846433693 or Pat : woolfe\sky : tel +44 7508527944
WEDNESDAYS - Mosaic Courses (we are open over the winter months)
We run weekly mosaic courses for beginners at our outdoor Art Studio at The Olive Grove. We also do adhoc courses to suit individuals or groups on other days so please call to discuss your requirements. We are open all year round, Call Annamarie or Robin Tel: 27210 78308 Mob: 6937 184071

Website: www.theolivegrove.co Email info\theolivegrove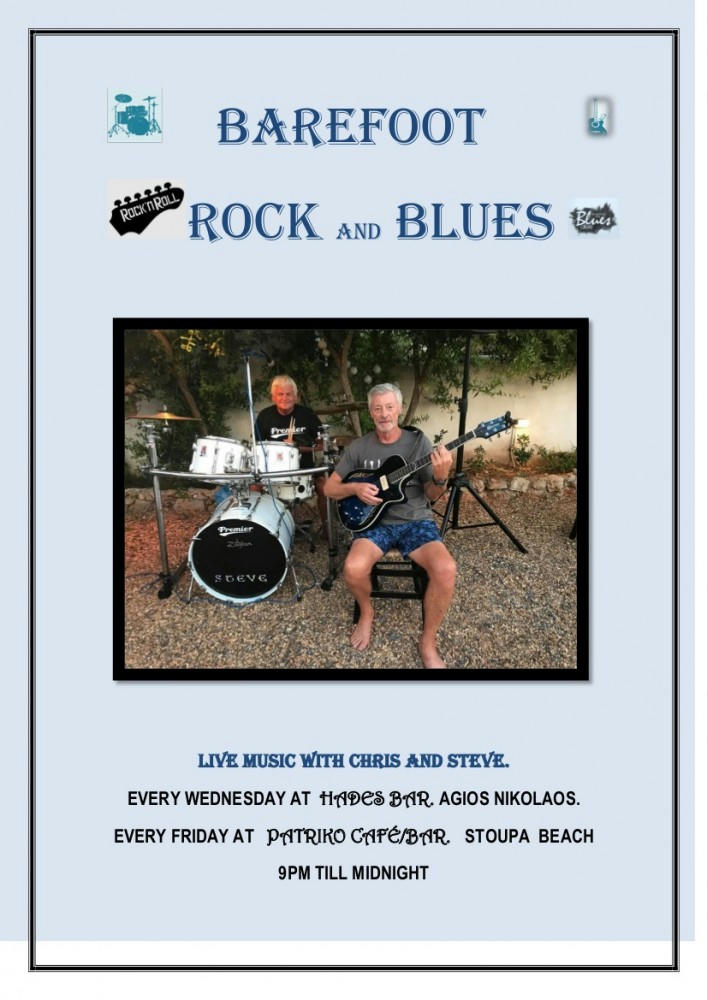 WEDNESDAYS - Live Music from Chris & Steve, Hades Bar, Ag Nikolaos: 9pm
Live music from Chris on guitar and Steve on drums throughout the season at Hades Bar. Every Wednesday from 4th July 9pm to midnight.
THURSDAYS 'Asian Nights' at VEZUVIOS will restart on 7 June 2018: 7pm
Aris Christeas is back in Ag Nikolaos and offering a selection of Asian specialities at VEZUVIOS RESTAURANT, near the harbour, on Thursday evenings VEZUVIOS : Tel 27210 77291, 69 7275 3234 or email arischristeas\gmail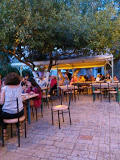 STATHI'S TAVERNA, Pigi, live music from 9pm onwards
Live music at Stathi's taverna every Tuesday. Thursday and Saturday in Pigi. Booking is advised. Phone 6932214562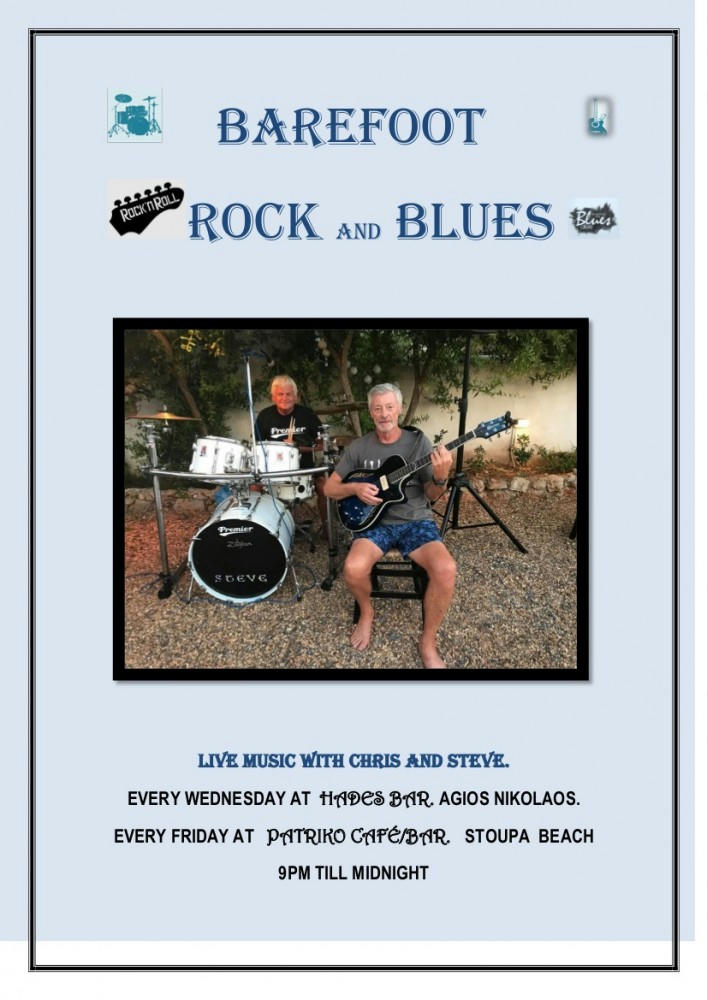 FRIDAYS: Patriko Bar, Stoupa
Live music at Patriko cafe/bar in Stoupa from Chris on guitar and Steve on drums every Friday evening at 9pm.
FRIDAYS: Dioskouroi Taverna, Kardamyli
Every Friday during the summer, there is a BBQ Party at Dioskouroi Taverna in Kardamyli
Eat as much as you like for € 12 a head
The BBQ starts around 20:00
Tel: 27210 73236 or email soufika\hotmail
Trip Advisor Dioskouroi
FRIDAYS: GREGGS PLATEIA
Greggs Plateia are starting their Friday night buffets from 11th May onwards. There is live music to dance to. It's €11 per person -eat as much as you like. Dinner is served at 8 15pm and booking is necessary. Please call to book on 27210 79150.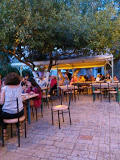 SATURDAYS: STATHI'S TAVERNA, Pigi, live music from 9pm onwards
Live music at Stathi's taverna every Tuesday. Thursday and Saturday in Pigi. Booking is advised. Phone 6932214562
---