BLOOD DONATION IN GREECE
17/10/18
There is a blood donation on Wednesday 17th October from 09.00am until 13.30.
The Dimos of Kalamata is completely desperate for blood at the moment – we've run out! If you are up to age 65 and even if you have high blood pressure you can give. Just don't take your pill in the morning of donation, you can take it after. Speak to the nurses at the donating centre in Agios Nikolaos Health Centre for more information. You can also give if you have other medical issues, just talk to Koula, the head nurse when you arrive at the centre.
I'm not able to attend this time to help parcel blood, hand out numbers in order to keep it orderly and generally boy people along. If there is another volunteer who can, please drop me a line or pop along to the centre on the morning of the donation and offer your services.

15/5/18
The next blood drive will be on Wednesday 6th June from 0930am to 2pm at the Agios Nikolaos Health Centre
23/3/18
An urgent request for blood is needed by a local resident. A total of 4 units is required. Anybody able to donate must go to the Blood Donation Clinic situated on the lower floor of Kalamata Hospital. You must also have your AMKA number with you. Please give in the name of GERALDINE LEA STRICKLER, Room 303 Kalamata Hospital. Many thanks
February 2018
The next blood drive will take place on 14 February 2018 at the Aghios Nikolaos Health Centre from 930am to 130pm
PLEASE GIVE ON THIS SPECIAL DAY FOR THOSE YOU LOVE AND TO SHOW YOUR LOVE!
We need your blood. Any questions please email Pam on toaloni\otenet

June 9th: Message from Pam Garelick:-
A brilliant turnout. A big THANK YOU to all who showed up yesterday. It was the best so far with 52 bags of blood!
Because an increasing number of us, who would like to donate blood, are unable to do so, it is important to encourage 'new' donors to give blood for the Dimos, so there will be supplies available for people when they need blood. In Greece, each Municipality is responsible for providing sufficient blood for its residents. Contact Kyriakoula Christea 6979 044 606, or Pam Garelick (except between 3 & 5pm ) or see more information below......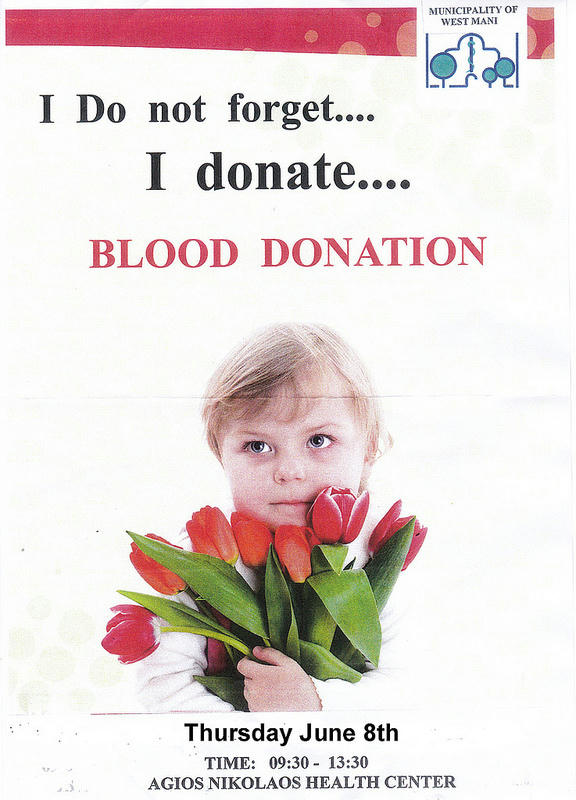 ​June 2017
" As usual we need blood! The next blood drive is
Thursday June 8th, 2017
Ag Nikolaos Health centre
Start time 09.30 ends, 13.30.
The donor age has increased to 65 and it's a great atmosphere at the clinic and Kyria Koula provides a little buffet for everyone once they've donated."

Note: here in Greece people are expected to repay a blood debt, by donating an equivalent amount of blood. If there are not enough family mermbers able to donate, they rely on the generosity of the general public to help ensure there is enough blood available for the next emergency.
HAPPY DONORS at the Ag Nikolaos Health Centre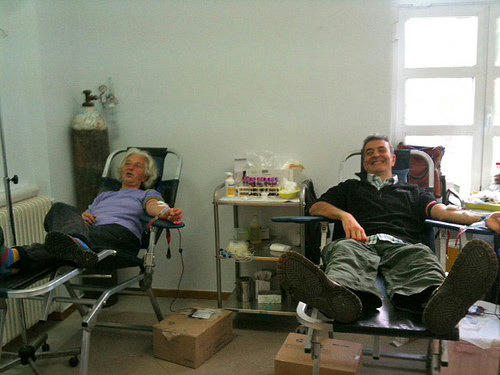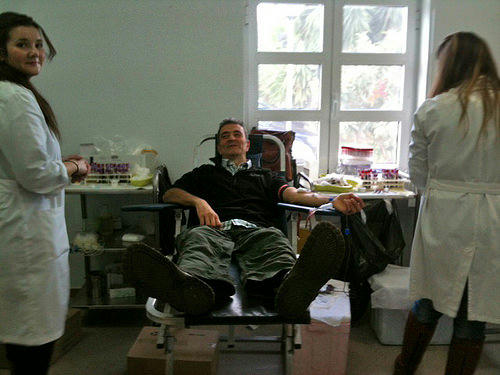 Unfortunately, if you are over 62 65 years old, or on blood pressure tablets or cholesterol-reducing tablets you CAN'T donate. HOWEVER, we are as always desperate for blood, so if you are young and healthy, please consider donating .
We are there to help and if you have never given before here are a few guidelines:
No alcohol for 24 hours before. Eat breakfast before you go as you cannot give blood on an empty stomach. Do not plan to do a lot of physical work after you have given blood. Please call if you want more advice: 693 926 3390 . We will be there to help any newcomers who are nervous about this. Every drop is appreciated...........
June 14th is World Blood Donor Day - Every year, on 14 June, countries around the world celebrate World Blood Donor Day. The event, established in 2004, serves to raise awareness of the need for safe blood and blood products and to thank voluntary unpaid blood donors for their life-saving gifts of blood Wikipedia
GIVING BLOOD
(Reprinted from Manifest issue 2)
Here in Greece each local municipality is responsible for supplying blood to the nearest major hospital. If someone has an accident and requires blood the first thing that is asked of them is where they live. The supplies are then checked to see if that municipality(dimos) has donated enough of not only blood, but the particular blood group that is needed. Sometimes urgent calls are made for individuals or family members to donate blood in a crisis. It can be a worrying business. That is why, here in our local community we organise at least two blood donation sessions a year at the Agios Nicolaos Health centre. We are required to supply Kalamata hospital with a specific number of bags of blood, and very often fall short.
In the past years I've been helping the blood drive and trying to recruit more foreigners into the donation programme. I carry haemophilia A and suffer from Von Willebrand Disease, where my blood doesn't clot properly or quickly enough causing long lasting nosebleeds, bruising, gum bleeds, internal bleeding in my legs and very heavy periods. My male cousins all suffer from haemophilia and are regularly injected with blood clotting factors. So although I can't give blood, I want to help in some way. If you are under 62, in good health, haven't taken aspirin 4 days before the donation, are not on cholesterol reducing drugs, or blood pressure medication, and have not had a serious operation in the last year, THEN WE NEED YOU
We do our best to make you feel comfortable, offer a nice buffet after and make you feel OK throughout the whole process . The team that comes down to run our programme are lovely and make everyone feel as comfortable as possible. I know it's not the ideal way to be spending an hour or so and you can find all sorts of excuses for not coming, but believe me, EVERY DROP COUNTS and anyway it is a great reason not to do anything else all day long! For more information please contact Pamela Garelick 6987 945 521 except 3-5 pm in the summer.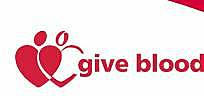 Ag. Nikolaos health center (Tel. 27210-77210) In this area you have the opportunity to give blood at the Ag. Nikolaos health centre. The blood bus from Kalamata comes twice a year, the clinic knows the date 20 days in advance.
Kalamata hospital ( Tel. 27210-46000) At other times you can donate your blood at Kalamata hospital. The blood donor centre is in the ground floor and is usually open from 9 -1pm, but phone to check. To give blood you have to be less than 65 years, healthy and not on any medication.
---