People have asked how/where they can make donations of supplies to support the humanitarian aid for the huge numbers of refugees in Greece. Things are changing almost daily, but here are some of the current initiatives in Greece. (Some info. through Gaia)
MARCH 2016
March 10th :KALAMATA - NOW until March 24th
The Bar Assoc of Kalamata is participating in the collection of supplies, especially for young children. Donations of any of the following items can be made from 8:00 a.m. to 3.00 pm at the Courthouse Kalamata - first floor.
Evaporated milk, breakfast items / dry food (cocoa, cookies, croissants, cereal, toast, honey, jam, juice individually wrapped), cornflour, baby purees, baby milk, baby care Items (diapers, wipes, shampoos, shower gels, creams rash), Individual cleaning products (soap, cleaners and general purpose disinfectants), personal care products (shampoo, shower gels, toothpaste, toothbrushes, towels), paper (toilet paper, paper towels) Water in 500ml packs, plastic cups, and plastic plates and Sport shoes tharros
March 11th ERT alongside refugees - Constant updating
Public broadcasting provides continuous information on the needs of organizations and collectives, that offer to gather and distribute supplies for refugees.
It is important that the public is aware of changing needs.
The public can be informed about what they can offer, and where, on telephone lines 210 6075711-2 and by email ert4refugees\ert
ERT alongside refugees
Greek Red Cross working with Municipalities :
Humanitarian Alliance and partnership between Central Union of Municipalities of Greece and Greek Red Cross to provide humanitarian assistance to refugees and migrants, and vulnerable population groups PRESS RELEASE Match 11th What the Hellenic Red Cross is doing MARCH 8th.

GREEK General Postal Agency
"
We support Facing Humanitarian Crisis Free packaging and shipping of humanitarian aid for children and social institution
"
Thessaloniki (Main contact)
: Municipal Solidarity Group Chalcedon Mark Botsari 34 Koufalia T K 57100, Thessaloniki, tel. 6983642989
See
Catalog Social Agencies
taking part in Thessaloniki, Athens, Piraeus, Idomeni , Volos
takidromiki gr
Supplies wanted:-
baby food in jars
baby milk, long life milk
(not evaporated milk
), baby creams,
diapers in all sizes,
baby bottles, pacifiers,
biscuits, toast, nuts, cereal bars
lollipops, candy
rice, penne, pasta, tomato paste, oil, lentils
hats, gloves, scarves, socks, tents, sleeping bags, waterproofs,
Styrofoam cups, plastic spoons, plastic bags
small games and in good condition, balls
kettles and vrastirakia Bottle
blankets in good condition
(clean and light)
wipes, toothpaste, toothbrushes, soap, toilet paper, sanitary napkins, incontinence pads or maternity
FREE PARCELS FOR REFUGEES (Announced on ANT TV)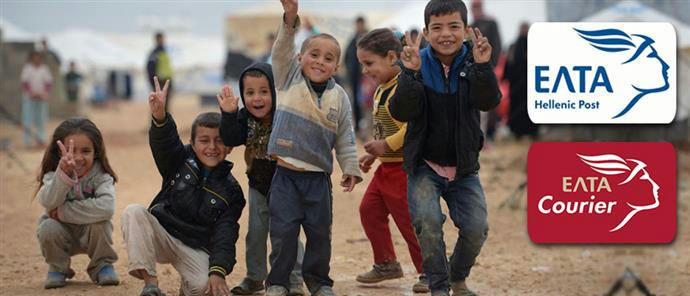 This is organized by the General Secretariat for Trade and Consumer Protection and the General Secretariat for Telecommunications and Post in cooperation with the Greek Post and Courier Post Office.
Every citizen who wishes to offer help,
can send parcels free of cost
, containing goods from those listed below:
Citizens who wish to support the action "postal Solidarity" can deliver the offered goods
packed in a cardboard box
addressed to:
General Secretariat of Commerce and Consumer Protection For Action «Ταχυ- Δρόμοι Αλληλεγγύης».
("Postal-Courier Solidarity")
In particular, Hygiene products(shampoo and liquid soap, toothbrushes, toothpaste),
face towels, disposable gloves,
baby milk powder
Shoes Men's sportswear, socks, men's underwear
Sleeping bags, Blankets
NB Please indicate the types of product and amounts on the OUTSIDE OF THE PARCEL
---