PELITI AND TIME BANK
17th Peliti Seed Festival - Saturday, April 22nd, 2017 and 1st Seed Olympiad (April19th-22nd)
From 10:30 in the morning till 5:00 in the afternoon. With our great pleasure we invite you to the 17th Pan-Hellenic Festival Exchange of Traditional Varieties at Peliti in Mesochori (NE of Thessaloniki) Paranesti Saturday, April 22nd 2017. This is the main annual event for Peliti's exchange of traditional varieties, native livestock, the alternative economy Peliti this year celebrates 22 years (1995-2017). On the occasion of 22 years Peliti invite friends, colleagues, not only from Greece but from all over the planet.
The Peliti Seed celebration for 2017 is in parallel with the 1st Seed Olympics, proposed by Peliti at the World People's Congress on 14-16 October 2016 in The Hague. The event is organized by Peliti, www.peliti.gr
For full details of the Seed Olympics program (April 19th-22nd) in English, and a chance to donate see indiegogofirst-olympic-seed-festival-greece
The Olympic Seed Festival is the celebration of seed development cooperation with the land, water, seeds and other people. A truce with nature. This is inspired by the ancient Olympic Games where wars stopped during the race and peace prevailed. So with this event we invite you to work with nature, to stop the use of poisons, contamination of water and soil air. We recommend for a month to find ways to collaborate with other life forms. We focus our attention on positive actions taken on the planet in positive actions that we can implement. With our thinking and our actions we can strengthen the positive views. We share responsibility for what is happening on the planet working on cooperation and love.
People from all over the world were excited with the idea and expressed a wish to support us. During the Seed Olympiad, we will organize a photo exhibition with pictures from around the world. The exhibition shows how farmers preserve their seeds and tells their story. At the end of the Seed Olympiad, we will join hands in a circle and envision a positive future for the planet.
Message from the founder November 2014 VIDEO in English
Dear friends,
I am Panagiotis Sainatoudis initiator and general coordinator of the alternative community Peliti from Greece. When I was 22 years old I found in my village a corn like what I hold in my hands that changed my life. It changed my life and the lives of thousands of people in Greece and beyond. I started with no money to look for farmers who keep their own seed throughout Greece. Within a few years I collected over 1200 varieties of traditional seeds endangered.
"Rather than worry about the darkness light a light"
Greece is one of the major countries around the world on the subject of plant genetic material. It has 50% of Europe's plants and 80% of the Balkan peninsula. In 1995 I realized that my mission is the preservation of traditional varieties. So I started Peliti no money, no infrastructure, only with a passion. Today there are 15 groups in different regions in the country, a group in Bulgaria and they are spreading. Each group has its own collection of seeds. There is a central gathering seeds at our headquarters.
We distribute seeds free, make public distributions and seedbeds, and do a lot of work with schools. We believe that each of us is important regardless of the economic and political position. That each of us is holding a part of the solution of the issues because we are all co-creators of the situations in which we live.
The ancestors of our seeds come from hand to hand we have to deliver them to our children. It is the key of Freedom and Democracy. It is a living part of our culture and will not obey laws that deny us our right to continue to encourage them to grow and to exchange them.
We ask for your financial support to continue our work and build the seed bank Peliti.
With love from Peliti.
Panagiotis Sainatoudis
For the financial support of Peliti has opened a bank account in Piraeus Bank.
Account number: 6198-040030-332
IBAN: GR10 0171 1960 0061 9804 0030 332
SWIFT-BIC: PIRBGRAA
Beneficiary: Alternative Community Peliti
...............................................................................................................................
December 2013 - Time Bank comes to Kalamata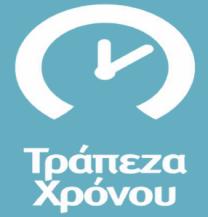 The
Time Bank Kalamata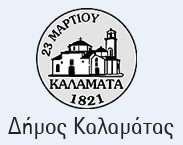 is a network for exchanging services , knowledge , and goods based on a barter economy. The basic principles are respect and the assumption that everyone has something valuable to contribute.
Accountability and openness to trade are key success factors. The members of the time bank through a specially designed website indicate their intention to swap the services and products they can offer, and are credited with units of the alternative system (
time unit T.E.M.
).
The T.E.M. (
Local Alternative Unit
) is a virtual currency which is used for carrying out transactions. The transactions are not necessarily interpersonal and its members must be over 18 years.
Examples of exchanges
• A cabinetmaker offers repair services and accepts repair of electrical appliances.
• A teacher offers English courses and receives care for her child.
• A one hour visit to a doctor is equal to one hour self-defence course
• A mother offers baby products and toys, and accepts children's clothing and footwear for girl aged 5 years
Contact Time Bank Kalamata Hours: 9:00 a.m. to 5:00 p.m. Address: 2 Thoukididou Tel: 27210 91887 & 27210 89693 E-mail:
trapezaxronoukal\gmail
Office Telephone Mediation & E.P.E.K.A. : 27210 97222 Website:
www.epeka.gr
For more information in Greek see trapeza-xronou.pdf
.................................................................................................................................................................
PELITI AND THE TIME BANK
The exchange of goods and services, and helping the community, have always been part of Greek village life. Also a wider community with a conservation theme, 'Peliti' has existed in Greece, in the side lines, for over 15 years.
Now in these difficult economic times, these ideas are becoming recognised as a way to make thinks better for everyone, and they are gaining increasing support. The on-line TIME BANK initiative being launched in September, is a high-tech way of harnessing these traditional ideas.
THE ALTERNATIVE COMMUNITY OF PELITI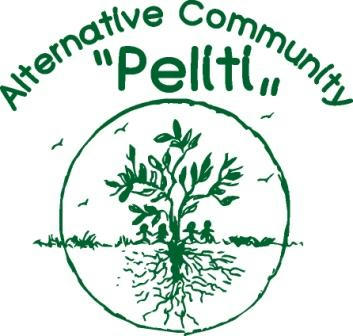 The alternative community "Peliti" (in brief "Peliti") was established in 1995 by Panagioti Sainatoudi, who has been the organization's coordinator until today.
The logo of "Peliti" is an oak tree under which men and women, holding hands, are dancing in a circle. This was initially inspired by an Indian myth. Its use as a logo was suggested by Panagiotis Sainatoudis
FROM HAND TO HAND
from generation to generation
so as not to lose tomorrow
what we have today
The main goals of "Peliti" are: -
- The collection, conservation and distribution of local varieties.
- The exchange of goods and services without the mediation of money.
- The establishment of an alternative community.
For more about Peliti and their philosophy click
The alternative community
You can arrange to visit the Peliti centre in Mesochori. Their office is open 09.00 - 13.00 Monday to Friday from October to May. For an English translation of their website click
PELITI
Pan-Hellenic network for the exchange of goods and services without money
In 2001, "Peliti" launched the "pan-Hellenic network for the exchange of goods and services without money" aiming at the contact and collaboration of people without the mediation of money.
A booklet called "From Hand to Hand and from Heart to Heart" registers people who offer goods and services without money and is published annually.
..................................................................................................................
The
TIME BANK
website is being developed. You can find out the latest information from this link.
---