Having heard that some people have had trouble getting an AMKA number at KEP, we are publishing this page on the registration procedure and some advice from Shelley on how to avoid problems .(May 2013)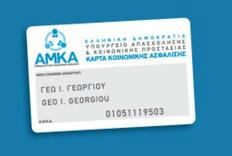 Below is some information from the 'user friendly' English version of the AMKA website,

It includes a section of FAQs and a contact phone number -11131. There is more information on Living in Greece
'Your AMKA number is the new Social Security Number that was introduced in Greece by the Minisrty of Labour, in 2009. It is in essence the work and insurance ID of every employee, pensioner and dependent member of their family in Greece.
With AMKA, services will be easier and faster in all your transactions concerning employment and insurance such as beginning employment and insurance, paying your insurance contributions, issuing or renewing your health booklet, getting your pension or any benefits. All these will take place with a lot less delay and a lot less bureaucracy
You and your dependent family members may acquire your own AMKA at the KEP and AMKA offices which operate at the Social Security Insitutions all over Greece.
REGISTRATION PROCEDURE
The interested party must present himself at the KEP or AMKA office of their choice and display the required documentation**, which must be originals or certified copies.
For what happens next see AMKA Acquisition procedure
** The required registration details are listed clearly on AMKA Registration Details The documentaion necessary to provide these details depends on whether you are Greek or a foreign national.
For foreign nationals the easiest document is a valid passport, but the website gives aternatives.
-- The expatriate ID card or ID card (equivalent to a Greek ID card), or passport.
-- A family status certificate, officially translated into Greek when an ID card or passport are not available, or when these documents do not contain the necessary details required for registration.
-- For underage individuals born in Greece a birth certificate is required.
Procedure for altering or updating details:-
It is possible to alter and update details of those already holding an AMKA (such as name, telephone number, postal address, insurance institution, etc) through the KEP or AMKA offices at the interested party's request.
.................................................................................
Whilst most people will find registering quite straightforward, we were alerted that some people seeking an AMKA number to use on forms for the OGA 'Workers Insurance' scheme, have had difficulty trying to get an AMKA number at KEP, as they did not have insurance in Greece.
Shelley sent us the following advice:-
TO AVOID PROBLEMS AT THE KEP OFFICE
"If the person seeking an AMKA number at KEP mentions (or has written down on sheet of paper: ΕΡΓΟΣΗΜΟΥ ΟΓΑ (er-go-se-mou OGA) they will issue for that purpose an AMKA number without having insurance in Greece at the present (that would also apply to workers starting the work to have insurance or employers).
A person applying must also have their legal identification, their Greek tax number, AND a legal copy of something with mother and father's name. The easiest and no cost document each person should already have is when they first received their tax number. There were two forms issued by the tax office - one was a simple short form with tax number, the other was a longer form that listed mother and father's name as declared when applying for a tax number. ( an example of that form is below). If that second form is not in someone's records - I would think they could go to the tax office, go to the right when entering, take a number and then attempt to get it from the office there. It might be a good idea to write down what is needed (OR TAKE A COPY OF THE EXAMPLE FORM). in case there is no one that speaks English at the office. OR there is the possibility that their accountant could get it for them - or whoever is their legal tax laison for people that have not declared they permanently reside in Greece"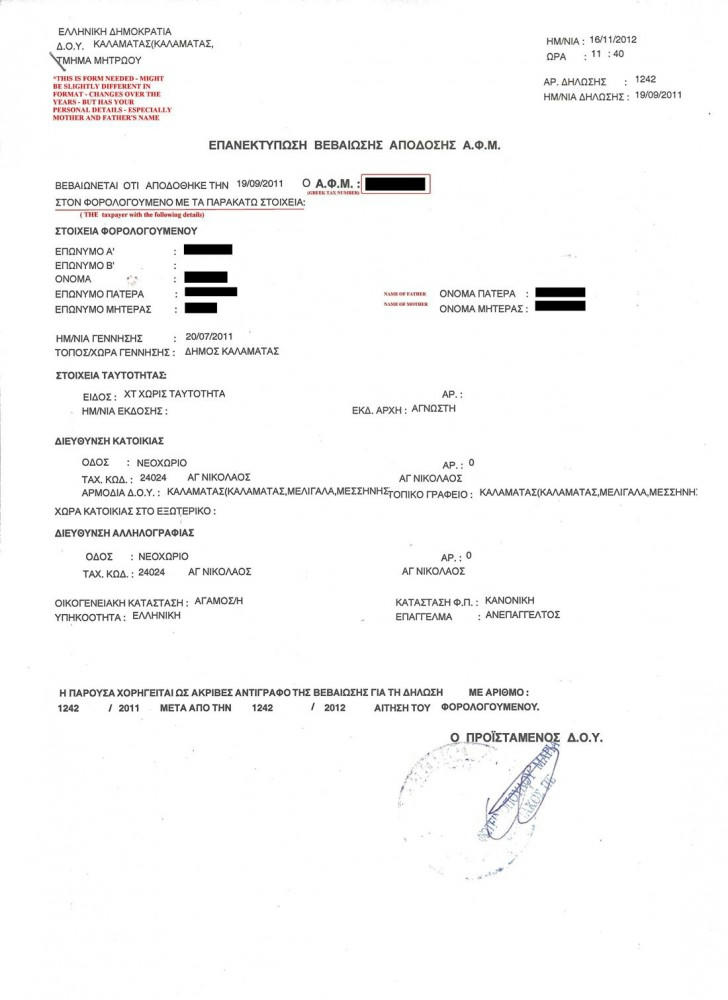 ---