DEATH AND DYING IN GREECE
March 2017 : Cremation news - Recent legislation will enable relatives, after the exhumation of the deceased, to incinerate the bones instead of paying every year for them to be kept in ossuaries. tharros
Greece Bereavement Pack/information : On August 17th 2016, the UK Foreign & Commonwealth Office published a pack of 4 on-line booklets to help people facing difficult situations in Greece. FCO UK. These are all in PDF format :-
Death/Bereavement Information Sheet
Victim support groups in Greece
Also more details in Coping with death abroad
July 2016 : Repatriation Service : MINAS KALOUMENOS MK Services, 95, Ioanninon str, 10444 Athens, GREECE
tel: +30 210 5154600 fax: +30 210 5131660 e-mail: mk\mkassist; web: www.mkassist.gr
This company helped Julie Guest when Andy passed away: "Kaloumenos provided a very professional service. Their English-speaking staff were extremely helpful, liaising both by email and telephone. They managed all of the the necessary arrangements from day one. They also provided numerous certified copies of the Greek death certificate, together with certified English translations, and obtained additional copies at no extra charge.
Notes: (1) €1000 in cash had to be sent back with the driver of the hearse as a deposit.
(2) It's important to have numerous copies of the death certificates as they are needed for dealing with everything both in Greece and in the UK."
November 2015 : A BBC Radio4 program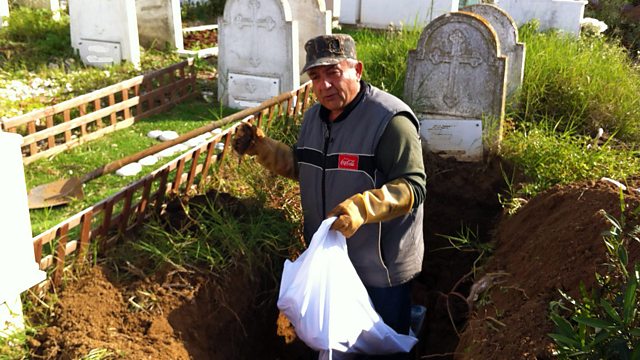 (Crossing Continents - Greece-No Place to Die Nov 26th 2015) highlights the on-going problems facing families in Greece. ' Permanent plots in the country's packed cemeteries can cost as much as a small flat so most graves are rented for a 3 year period and once that time is up the dead are exhumed and their bones collapsed into a small box to be kept at the cemetery. Those relatives who can't afford the cost of the exhumation or the storage charge for the box of bones will have their loved one's remains thrown in a so called 'digestion' pit with countless others' where they are dissolved with chemicals. In the current economic climate and with continued capital controls, Greeks are struggling to pay for the burial costs and unclaimed bodies are piling up at mortuaries. But there are few cost effective alternatives because Greece happens to be the only EU country without a crematorium - each time plans have been made to build one it has been blocked by the Greek Orthodox Church. Instead Greeks are forced to send their relatives' bodies to Bulgaria for cremation'. Chloe Hadjimatheou** reports on the business of dying in Greece. Listen or download MP3 No Place to Die ( There is also a BBC TV program available Our World :Greece-No place to Die)
** Chloe's father lives locally
May 2015: Overcrowding in Greek cemeteries stokes cremation debate : Because of overcrowding in city cemeteries, graves can only be rented for 3 years, but even that can cost €2,500-3,000. Antony Alakiotis set up the Committee for Cremation in Greece after witnessing his own father's exhumation, and has led a campaign against the country's strict burial regulations. The Mayor of Thessaloniki, Yiannis Boutaris, is also keen to see an alternative to the "unpleasant and inhumane" rental system. Mr Alakiotis believes cremation would not only alleviate overcrowding in graveyards, it would also reduce financial pressures on families. The BBC approached the Greek Orthodox Church for a comment, but it has not received a response. BBCnews
Do you need a Greek will? :Following the item( below) on cremation we have had information about a related subject, making a Greek will. If you have a will drafted in accordance with the laws of your country of nationality, it is acceptable in Greece BUT " ....Despite this, most Greek lawyers recommend making a will that conforms to the Greek format. They usually grudgingly concede that it is not essential, but claim it will save time and money to have one. "livingincrete
According to Greek law, any person over the age of 18 and of sound mind is entitled to make a will in Greece to secure the transfer of their assets. However, Greece has a system of forced heirship, and a person may not freely determine who gets what. If a person dies without making a will, all assets will be divided among the next of kin, according to Greek law.
Any will that involves a property located in Greece has to follow Greek law, regardless of whether the testator is Greek or not and whether they lived in Greece or not. Therefore, the first step before deciding to write a will is to consult a Greek lawyer with experience in this matter!
Arranging for a cremation from W Mani
In 2014, a local resident investigated arrangements for someone who dies in W. Mani, and wants to be cremated. "The nearest place to be cremated is Sophia in Bulgaria (it's only half an hour flight from Athens). I contacted a company there last year and they sent me all the details. They seem very on the ball. " see CREMATION from MANI (October 2014)
..........................................
Sept. 2014 : Arranging Cremation in Greece is still not easy
Greece's Parliament only passed legislation allowing for the cremation of the dead in Greece in 2006, even though the practice has been permitted since 1884 in Britain, so Greek law permits the cremation of people who express their preference for this method instead of burial, as long as their religion also allows it. However, the Greek Orthodox Church has again said 'no' to crematoria.

On September 3rd 2014, although new town-planning regulations were drafted by the Environment Ministry earlier this year to allow crematoria to be built next to churches, the Church of Greece's Holy Synod stated that they objected to the creation of crematoria at parish cemeteries. The move by the Church of Greece came less than three months after the mayors of Athens and Thessaloniki, asked the government to introduce legislation removing obstacles for the creation of crematoria, an option that has been enacted by law but never fulfilled. Ekathimerini

In July, the President of the City Council of Kalamata, prompted by the recent passing of the relevant amendment to the issue of cremation in Greece, said " .....It is time tackle the big issue of cremation and the Municipality of Kalamata, defending the will of so significant a portion our fellowmen (for cremation)...........". THARROS
INFORMATION FOR THOSE IN GREECE WHO WANT TO BE CREMATED:
Cremation is only permitted for those whose religion allows it. To be cremated a person must have made it clear before their death that they wish to be cremated (alternatively, relatives must declare that this is the case).

The choice of cremation is accepted by Buddhism, Hinduism and Taoism as a basis of their rituals. All the Christian doctrines such as Catholics, Protestants, Orthodox but for the Orthodox Church of Greece. Religions that are opposed are Zoroastrians, Orthodox Jews, Muslims and Orthodox Christians of the Church of Greece.
A Demand of our time: Back in 2006 cremation was first approved. Detailed and information (in Greek) can be found at http://www.cremation.gr

The Church in Greece says: "......Cremation involves taking the body of the deceased to a country where there are crematoria. Bulgaria is the country that is most frequently used. After the cremation the cremated remains become the responsibility of the family or friends. Returning the body of the deceased to his/her home country for burial or cremation is possible, but there are strict procedures to follow. A Funeral Director with international experience is preferable. Advice is obtainable from the appropriate Consulate ....." Anglican Church in Greece.
Death & Dying in Greece :
How and where to report the death, how to arrange a burial or cremation, and where you may scatter ashes. Plus, how to repatriate a body... ANGLOINFO
---