News from the 'CLEAN MANI' Assoc
The 'CLEAN MANI' Assoc was founded in June 2017. For details of the initial meeting see 1st Meeting of the 'CLEAN MANI' Asoc
On this page we shall be publishing news of the association's activities and events. For more information, or to register as a member, contact Sofia Christophilopoulou sophiachristof\gmail , Moutzouris Ilias iliasmoutzouris\gmail Tel. 6973934747, Kiskyreas Christos kiskyras\gmail Tel. 6932442551, or Katsouleas Evangelos evangelos.katsouleas\gmail
July 2017:The CLEAN MANI FB Group: The 'CLEAN MANI' Assoc, welcomes ideas/suggestion from the community. A good way to share them is on the their Facebook page. There have already been a number of ideas, suggestions and positive comments posted . If you have any ideas, or would like to comment on some of the ideas put forward so far, you can to join the group.
ΚΑΘΑΡΗ ΜΑΝΗ, CLEAN MANI
Σας
ενημερώνω ότι το Σάββατο 21 Οκτωβρίου θα γίνει εθελοντικός καθαρισμός στη Στούπα και στον κεντρικό δρόμο Νεοχωρίου Στούπας. Σημείο συνάντησης στην υπεραγορά 'Κατερίνα' στον κεντρικό δρόμο της Στούπας στις 09:30 πμ. Δεν πρέπει να περιμένουμε κάποιος άλλος να κάνει τον εξωραισμό και την καθαριότητα του χώρου που ζούμε. Είμαστε κι εμείς υπεύθυνοι να τον διαφυλάττουμε ευπρεπή και καθαρό και μισή ή μια ώρα συμμετοχή σε δραστηριότητες εθελοντικές όχι μόνο βελτιώνει την γενική εικόνα της περιοχής μας αλλά και δίνει ένα καλό παράδειγμα και στους υπόλοιπους κατοίκους να μην πετούν σκουπίδια και να νοιάζονται.
Message from Dr Sophia:-
Οn Saturday 21st of October there will be a voluntary cleaning in Stoupa and on the road between Neohori and Stoupa. Meeting point is outside of Katerina s market on the main road at 09:30 pm. We must all participate and not expect others to clean the area where we live. We are also responsible for the good public picture around us and half an hour or one hour is enough to give , also, a good examlpe to all the inhabitants of West Mani not to throw rubbish and care.
tel: 6977779314
Saturday September 16th, at 17:00, at the Cafe Agkira** in Agios Nikolaos,
Dear friends, We would like to inform you about a lecture regarding waste management, by the agriculturist Mr. Stoyannis Evangelos.
in the context of the two-day festival "Mani pulse - Art & Music festival". the CLEAN MANI Assoc.
** next to Niriides/Agi's
August 2nd Recycling event for children - a great success!

First recycling event..children painting environmental subjects that will be used on T shirts and cloth bags..they learnt how to separate recyclables at source..Sophia Filea was a perfect teacher..she attracted their attention in an interactive way..she suggested no straws no plastic bags and toys, no beverages that are bad for our health, and the cans to be thrown into bins ..fresh juice instead...sweets were given to them at the end..the event will be repeated regularly
ΚΑΘΑΡΗ ΜΑΝΗ,CLEAN MANI (Σοφία Χριστοφιλοπούλου)
More pictures
Peter Rollett and
Σοφία Χριστοφιλοπούλου
"Clean Mani": Children said "No" to plastics - "Yes" to recycling :
The importance of the 'Recycling Event for Children' on August 2nd has been
recognized by people out side Mani.
It was reported with many pictures, by Messinia Live ".......
a small but very important event for children was held, about recycling, composting and separating our household garbage, so that in the end we would throw away only a little rubbish. The children searched for hidden recyclable materials and separated them in different bins. They learned how to reduce the plastic they use from Sofia Philea, who stole the show and managed to keep children's interest undisturbed in an interactive way. - Remember this table of how long garbage lasts (click to enlarge )
At the end, they painted ecological themes that will be put on cloth bags and t-shirts with their name, and will be sold.
"
messinia live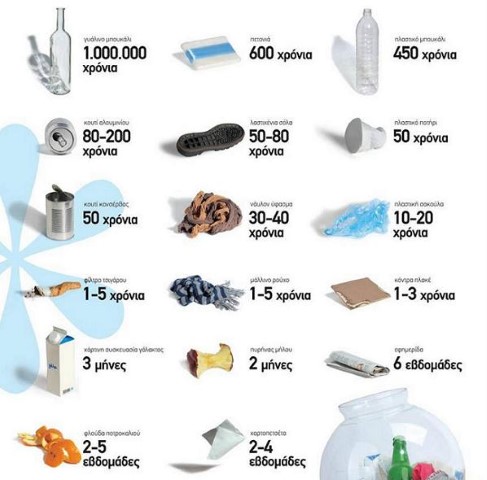 Cleaning Morning Friday July 21st
Click to enlarge
Another successful cleaning day!
A group cleaned some parts of the road from Prosilio to Kardamili, Izabel Zeiss cleaned between Pantazi beach and Agios Nikolaos and the rest of volunteers around the bins and baskets of Stoupa and almost all the road from Kardamili to Stoupa. We are now enjoying to travel on the road of Mani! Unfortunately some people expect everything to be done by the Dimos.
The Dimos is responsible for a lot of things
but not for everything
. We can try to give a good example to others but it takes a long time to change their way of thinking. Meanwhile we can clean our area and try to educate children and adults. There is an article with photo on
"Eleftheria "l
ocal newspaper in Kalamata (
p.33 July 22/23
). Thanks a lot all volunteers who participated in this cleaning day.
More photos on
Σοφία Χριστοφιλοπούλου
July18th : Information from the Dimos : PROPOSED CLEANING REGULATIONS
The CLEAN MANI Assoc has been working with the Dimos to prepare guidelines and regulations for the handling of solid waste in the W Mani municipality.
Wednesday August 2nd at 19:30 there will be a painting competition for children so the best ones will be put on T shirts and cloth bags for sale. The children are going to paint ecological subjects and they will be educated how to separate rubbish .
Τhe goal is to decrease plastic bags and use cloth ones that we take with us to super markets etc and the decrease of rubbish in the bins. Doctor Sophia


Recycling event for children: At a meeting in Dr Sophia's Office on July 15th, 7 volunteers & members of the 'CLEAN MANI' Assoc. decided to organise an event for children in early August. IT has since been agreed that the event will be held on Wednesday August 2nd, on Stoupa beach, outside Patriko Cafe/bar from 19:30. The plan is to ask children to paint, and use the best paintings on T shirts and cloth bags. In a parallel activity, children will be asked to find and collect rubbish that has been put on the sand, and put items in the right bin.
July 14th: Message from Dr Sophia Christofilopoulou
News and request for help with cleaning, and ideas for educating the public about waste reduction
I would like to inform you that we have collected 1140 € and I'd like to thank you for your participation, your ideas, money and good words . We all know that it is important to act for a clean environment around us which, now in summer with tourism, is polluted more as we observe everywhere on the roads and the beaches. Last Saturday the 8th of July , we met with Tasos who is secretary of Patras KOINsep, at Maria's Kafenes and he talked together with Ilias Fikouras, member of it, about their experience. It was decided to start with foundation of the association and in the future, if some volunteers want they can found a KOINsep. This company has the right to sell compost and recyclables to cover its expenses (employees, a car , rent for a storehouse etc) and of course to improve the environment and also donates to the community, from its income.
Our central goal now is to educate children and adults and decrease the volume of our rubbish.
Our future activities are: Mrs Spyrea, our lawyer is going to prepare the constitution and all will be invited to express their opinions and come to a decision about the aims and means of the association 'CLEAN MANI'.
Everyone who is interested to take part in a volunteer cleaning around bins, one of the next days, and everyone who is interested in participating in a meeting this weekend or next week to plan some actions in August, to inform and educate/motivate children and adults about recycling, composting and protection of nature against rubbish, through activities like painting, theater, movies etc can call me on 6977779314 or send me an e mail.
Report from Dr Sophia on the July 8th meeting :
On July 8th a meeting of citizens was held in Maria's café in Stoupa. Tasos, secretary of KOINsep in Patras, which is a voluntary cooperative society, spoke to us about how they manage waste locally in Patras. It has its own site and collects recyclable electrical appliances, and cooking oil, as well as paper glass plastic and aluminium. Tasos proposed that such a company should be established here, not a club. He believes that we can educate citizens and schools and at the same time engage in commercial activity so that we can earn money to pay our expenses. We can also make donations to the community.
It was decided that in future, maybe a working group of volunteers can work towards eventually setting up a KOINip here. Mr. Kiskrakas considers it important to remove organics from the bins by training people and creating areas for compost production.
For now, our goal is to create an Association and have elections in September. Those who have already paid, or want to be members can come to the clinic to sign. In order to found the association we need names and signatures of founding members. The lawyer will soon have the statutes ready, and a meeting will be announced to discuss and finalize them. Those who cannot come will receive details about it, by e-mail.
July 8th: Meeting about recycling with a representative of KOINsep Patras
Message from Dr Sophia:- Next Saturday, the 8th of July at 10:30 am at Maria's kafenes in Chalikoura, Stoupa, there will be a meeting with a representative of KOINsep Patras which is a non profit company about recycling . Besides, there will be an update about our visit to Sparti and our meeting with the vice mayor Mr Argyropoulos. Finally we are going to talk about the form of the constitution and the potential that it can give us. Whoever would like to participate and express his/her opinion is welcomed.
July 1st : Visit to Sparti to see how waste disposal is managed there
Message from Dr Sophia:- We had a brief meeting on June 28th, about the constitution of our new association. Mr Xioureas informed us about his visit to Patras and he showed us videos from the KOINsep in Patras which is a non profit company that manages and separates waste disposal in a part of Patras. Next Saturday very early in the morning (07:00 am ) we are going to Sparti (Kiskyras, Xiouteas and I , and possibly Ilias Moutzouris ) to talk with the vice mayor Mr Argyropoulos and see in reality, what they are doing there. Whoever would like to come in his own car will be welcomed.
So far we have collected 995 euros, 550 of this money will go to the lawyer. It is very encouraging that every day people are coming to my office to pay me money and want to be members of the new association.(29-6-17)
Meeting on June 28th to decide on the constitution of the 'CLEAN MANI' Assoc
June 26th: Message from Dr Sophia
This coming Wednesday at 18:00 pm there will be a short meeting at my office in Stoupa to talk about the constitution and Mr Kiskyras and Chiouteas will inform us about their visit to Patras last Friday, when they talked with citizens who have created a a Κοιν.Σ.Επ company. Whoever has any new ideas please come to the meeting, or send your ideas to my email. We must decide what form of association we can found.
Next weekend we are planning to go to Sparti as well.
We have collected 695 euros so far. Thank you everyone who has contributed ( Dr Sophia has the list of everyone who has contributed and how much they have paid)
June 22nd 2017 : Message from Dr Sophia
Yesterday, there was a meeting of about 20 people in my office with the lawyer Mrs Spyrea Voula . We talked about the constitution of the new association ie what the goals will be, and the means of the association. We talked a lot about the possibility of founding a Κοιν.Σ.Επ company. It s a company that can have more activities than an association with one objective eg selling compost, renting a land, etc. Kiskyreas and Xiouteas are in Patras tonight to talk with citizens that took the initiative to create a company like this, and they are trying to educate people about compost and recycling. I do not know details yet.
At the end of the month we are planning a meeting with two speakers one from Patras and one from Sparti. Hopefully they can come the same day otherwise separately. It s important before writing our constitution to have the knowledge and to clarify exactly what we expect to do about waste disposal.
I'd like also to thank people that came to my office and paid for this attempt. We have already collected the money for the lawyer (550 euros) and shortly I'll announce the names of our first members and their contributions. Anyone who would like to pay 10 euros and be a member, can come to my office . I think we are going to have some money as a good start for the association. I contacted Dimos too, to let them know about our moves.
---