RECYCLING MATTERS
February 2017: West Mani success with recycling glass! Separate glass recycling (BLUE BELLS -see below) started in W Mani in 2015, when 18 tons were recycled. In 2016, the total recycled was more than double - over 42 tons -a massive 133% increase! Also W Mani provided 26% of the glass recycled by the prefecture of Messinia - second only to Kalamata(64%)
​Και ένα ευχάριστο νέο: Υπερδιπλάσια ποσότητα γυαλιού ανακυκλώθηκε στο Δήμο Δυτικής Μάνης το 2016! Η ανακύκλωση γυαλιού ξεκίνησε το 2015 με 18 τόνους. Το 2016 ξεπέρασε τους 42 τόνους, δηλαδή αύξηση 133% !!! Πρόσθετα ο Δήμος Δυτικής Μάνης συνέλεξε το 26% του γυαλιού στο Ν.Μεσσηνίας, καταλαμβάνοντας τη δεύτερη θέση στο νομό Μεσσηνίας μετά την Καλαμάτα (64%)*.Φιλικά Ιουλία Εξαρχουλέα
December 2016 :
A group of local residents, business, community and Dimos representatives have been working on an education program to raise awareness and promote waste reduction through recycling and composting.
SOLID WASTE MANAGEMENT IN W MANI is a translation of the document, recently issued by the Dimos** , that is being circulated in the area. It will also be available in Albanian.
LOCATION OF RECYCLING BINS IN AG NIKOLAOS : This is a map of where to find recycling bins in Ag Nikolaos. It is hoped other villages will produce similar maps
COMPOSTING PROGRAM Citizens who are already composting organic waste, and those interested in learning how, are being asked to contact the Dimos**


καθαρος τοπος (clean place) is a public Facebook group where people can post news/information about recycling matters
** Ioulia Exarhoulea, Department of Environment and Cleanliness, 1st floor, Town Hall, 2721360907 or iexarhoulea\dimosdytikismanis
November 2015: Progress in rubbish management in W Mani has been slow over the past year, but there is some GOOD news. For a start, rubbish bin sites have been reorganised for easier collection and are now mostly on concrete bases.
RECYCLING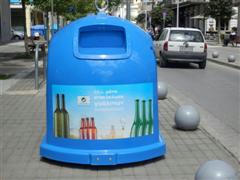 • A large number of BLUE BELLS have been placed in key locations LOCALLY - these are for collecting glass of all kinds, which can then be recycled. Ordinary blue bins should be used for all other packaging BLUE BIN RECYCLING
• There are no LOCAL public collection points for used cooking oil , BUT you can now take used oil to AB supermarkets - there is a collection tank outside many stores ABrecycle oil
• There are collection points for domestic batteries of all kinds in many places, including the TOWN HALL in Kardamyli
• Still no news about a local collection for old electrical goods, but MOST things can be recycled in Kalamata - see KalamatRecycling and RedBinRecycling (for good clothes, bedlinen, shoes etc)
• There will be a CREATIVE RECYCLING EXHIBITION in Stoupa in December 2015, to show what can be done with things that have been thrown away, and to inform and encourage more local recycling.
For the updated summary chart about recycling see WHAT? WHERE? We keep it as up to date as possible, but please let us know of any out or date or new facilities.
........................................................................................................................................

---