Parea sti Mani MESSAGE BOARD
On this page we can display messages from our members. eg Do you need to borrow a cot when relatives visit? Have you any specialist equipment you are willing to lend? Do you have some useful information to share? Do you need help with something? Please email your message to contact\parea-sti-mani
Hello, on 1st December I am returning to Aghios Nikolaos for my third successive winter stay. I am bringing materials and either CDs or Cassettes for improving my Greek. I can't bring a player in my limited luggage. Can anybody lend/hire me a small cd player or even cassette player until mid January? Trevor Phillips trevphillips007\gmail (AP 29/11/18)
Hi does anyone know of a reliable television engineer? Regards Barry. contact btwrees\otenet (AP 06/11/18)
Message from Pam Garelick:
The official new address if you want to redirect your mail to the new post office in Stoupa is as follows:
TAXIDROMIKO PRAKTORIEO,
ELTA,
Stoupa, 24024,
Messinias,
Greece

ΤΑXΗΔΡΟΜΙΚΟ ΠΡΑΚΤΟΡΕΙΟ
ΕΛΤΑ
ΣΤΟΥΠΑ 24024
ΜΕΣΣΙΝΙΑΣ
Greece
There are quite a lot of envelopes and letters which have not been collected. Stathis, who runs the post office is keen to get mail to its rightful owners so why not pop down and look through the mail to check that you've got the right address. You can also alert the electricity company and phone company of your mail address to make delivery easier.
WINTER FLIGHTS PETITION POSTED OFF
A very big thank you to all who "signed" the Winter flights petition. (I hope that I thanked everyone individually at the time) We managed just over 350 names and, as that was from just our area, I have stressed this in my letters that have accompanied the petition. I am sure that in Kalamata and the outer finger there are many more who would support the idea. The recipients of the letters and petitions have been made very aware of this. The letters were posted off on Thursday 1st November 2018. On 19th October the Hellenic Ministry of Infrastructure, Transport and Networks announced that there was to be a modernization of 23 Greek airports inc Kalamata
(see https://www.messinialive.gr/aerodromio-kalamatas-aksiopoiisi-sdit-parachorisi-eksetazei-kyvernisi/).
Apart, then, from Easyjet (as the first airline I have contacted) I have also written, in detail, to Christos Spirtzis, the Minister for Transport et al, as well as the Hellenic Civil Aviation Authority who, at present, own Kalamata airport. I have made a solid case that as Kalamata airport is to be modernised and given more of an international status, the fact that hundreds, at least, of people would use flights in winter should that be made possible. The agency gathering information ought to be pleased to receive your messages (I have kept all of your emails in full for the relevant people to read at length). They will also know that there is a solid market for such flights. I did stress the Manchester connection, too though your comments in full were there to be read. Common sense ought to suggest that our proposals should fit neatly into these new plans for Greek airports but we will have to wait and see what happens. I will, of course, keep you informed through Parea-sti-mani, Stoupa Life Facebook Page, carrier pigeon and any other means possible. Mike Heath (AP 5/11/18)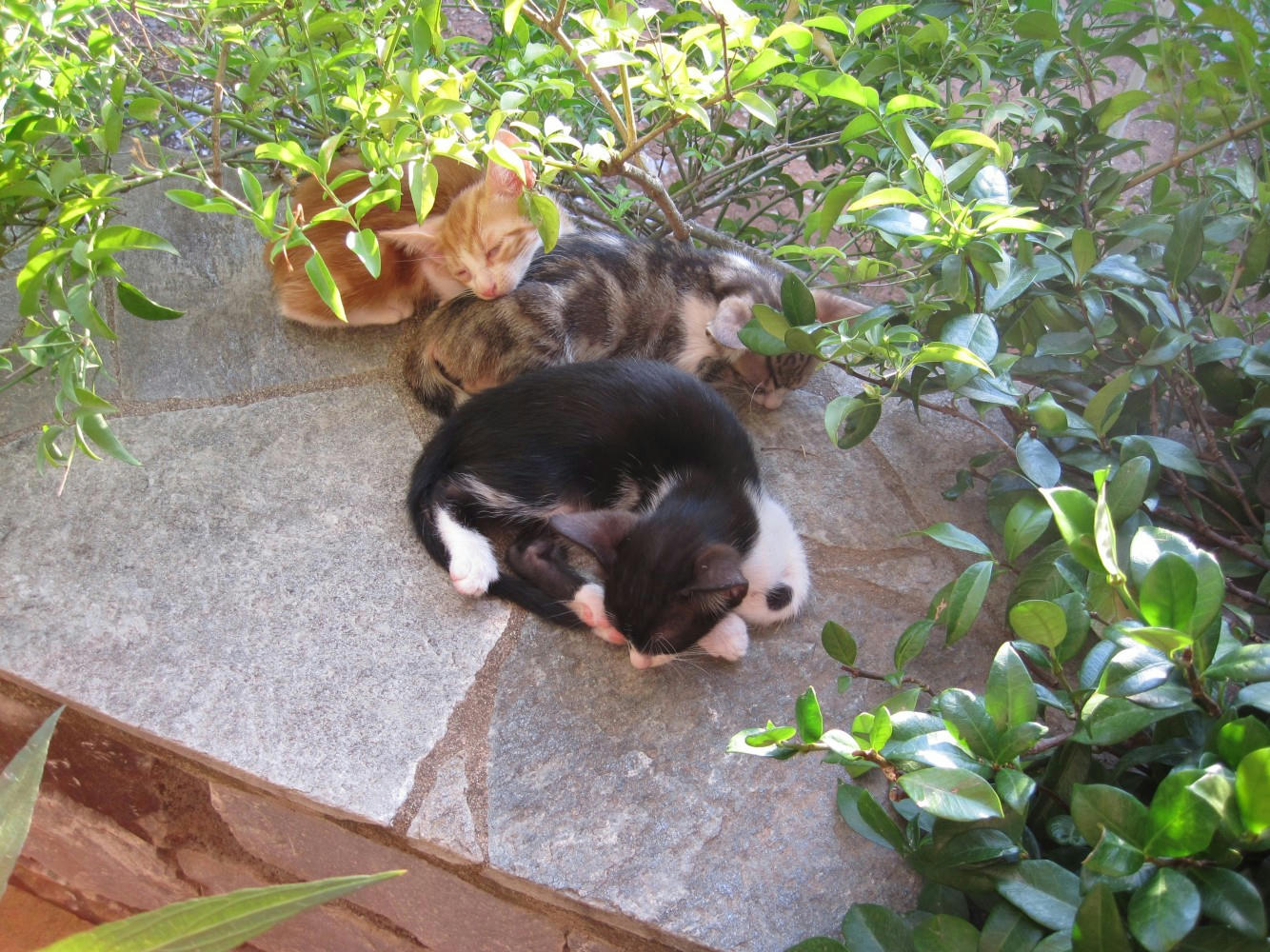 Can you help: For health reasons I have to return to the UK for treatment & may be away for a prolonged amount of time. Is anyone either willing to foster this mum (who is now spayed) & her litter or if someone who can visit them daily (I live in Stoupa close to the Bakery) & feed them until my returns. The mother cat Lily, Ginger Tommy, little Dickie, black and white female Haroula. All know their names. All wormed and front lined. All toilet trained to go in the field or garden If anyone can offer assistance in anyway please contact Barbara direct on 27210 77838. (AP 5/11/18)

Easyjet winter flights - I am going to send the petition for WINTER FLIGHTS at the end of this month (October) to Easyjet and other airlines, too, in order to get some sort of service around Christmas, at least. I am making one last push for names of those who live here as well as family members who would like to visit. The Manchester connection will be stressed too, as I have had a biggish response for this. I will make my plea on Stoupa Life and Maria's Magical Mani as well as Parea sti Mani.If you have NOT signed there is still time to do so at my email address (in the article which is reproduced below).
HELP MAKE EASYJET WINTER FLIGHTS A POSSIBILITY
With the ever increasing popularity of this area, year on year, (Kalamata, Kardamyli, Agios Nikolaos and Stoupa not to mention Costa Navarino) and the number of international flights into Kalamata airport, there is a question that needs to be addressed. Tourist flights into Kalamata terminate at the beginning of November each year and do not start again until April the following year. There are a large number of expats who fly to the UK every December for a week or two for the Christmas holidays. This has to be done via Athens which is often a lengthy and tiring way to travel. Whether travelling to Athens by car on a much improved highway system or by bus, it is not the best way to get from Kalamata to the UK. Direct flights would be the answer. We are hoping that Easyjet would consider putting on flights at this time of year. A minimum of two – a week apart or better still four flights around the Christmas period could suffice. In order to demonstrate to Easyjet that there is indeed a desire for this to happen, we are looking for people to sign a petition in support of the idea. Maria from Mani Cars has said that she will garner names over the months at her office at the seafront in Stoupa and hopefully via my email mikensas@hotmail.co.uk we can build an effective list of names, too. You just need to email me directly and I will build a list to add to Maria's work. All of the names will be presented to Easyjet at the end of the season. If such flights could be put into effect it would mean that people with families in the UK could have their folks visit them as well as those people who, independently, would like to visit here at Christmas. The petition obviously would be open for them to sign as well. We are not looking for an avalanche of people flooding in, especially as a number of the fine eating places close down during the winter, but it is worth seeing if this is a viable idea. Of course, if the demand does not warrant it we can, at least, say to those who have had such thoughts, that we tried. Mike Heath (12/10/18)
Lost some where in Kardamyli or Stoupa a rose gold bracelet. Great sentimental value. Reward offered if found and returned. John and Mary Cole 27210 78132 or email: johnmarycole\hotmail (AP 23/9/18)
Hello We found this dog in our garden in Pedino. It seems to be lost or left behind. Do you have a way to put his picture on your site and ask if anybody lost it or knows it? Thank you Ala and John Van Bilderbeek 2721073952
(AP 15/9/18)
Wooden louvered window shutters: I need to replace these on my Pripitsa house - is anyone able to help with a contact either locally or in Kalamata to get some made? - please contact Paul on pavlosf48\gmx (AP 11/9/18)
Message from Mara Von Heyden: Dear patients and friends. I will be returning to work slowly after my maternity leave from 17th September. I am also happy to announce that I completed my studies and am now an Ostepath as well. (AP 10-9-18)
Housesitter/dogsiiter wanted: We are looking for someone to house sit and dog sit our 7 month old puppy from 15.3.19 to 29.3.19 in Agios Nikolaos.
Please contact Siggi or Wilma at aeystiel\ok (AP 10/8/18)
Problems with bees, wasps or hornets? Contact John Phipps for free advice: iannisphoto\gmail (AP 19/6/18)
Urgent appeal from Parea sti Mani: As many of our readers are aware, Parea Sti Mani has a support function as well which alongside the fantastic work Gaia does, helps individuals and families in our local community in emergency situations and times of need. Gaia has been supporting a family in Stoupa for the last 6 months who are going through a particularly tough time. The Stilla family have lived and worked in Stoupa for many years. One of the daughters had a kidney transplant 10 years ago (donated by her mother). Unfortunately her kidney is failing and she has been in hospital for 6 months in a very serious condition. Her niece was recently involved in a serious motor bike accident and has been in hospital for 3 months in a serious condition. The niece has 3 children all under the age of 6. The family are desperately in need of financial assistance and we are therefore asking members of the community for donations to support them at this awful time. If you would like to make a donation (no matter how small), please out it in an envelope with your name and contact number and drop it in to Patriko Bar in Stoupa for the attention of Christina or Irene. Many thanks for your support (AP 21/4/18)
---