Parea sti Mani MESSAGE BOARD
On this page we can display messages from our members. eg Do you need to borrow a cot when relatives visit? Have you any specialist equipment you are willing to lend? Do you have some useful information to share? Do you need help with something? Please email your message to claire4parea\gmail
'A Taste of Home' Deliveries back to fortnightly - next delivery Friday January 27th - Prosilio Square , Kardamilli , Stoupa - bakery crossroads, and near junction to Neohori, and Freda's/Greggs in Ag Nik by about 11.15/30am. 'Specials' this time include - buy 4 hot pies, and get a 'Sausage & Mash' Pie FREE - (Value 3.50 euro) and English style fish 'n' chips with mushy peas. For more information/full product list, contact Gary 693 4337768 or uksausages\msn (20-1-17)
Wildflowers of the Mani - a new book by Roger Marchant:
The book has a comprehensive coverage of the area with photographs IMAGE(1) and descriptions IMAGE(2) of more than 930 plants, each one illustrated with at least one photograph and information about the flowering period habitat etc. The book also contains background information on the geography and climate of the Mani with maps and identification keys and diagrams and a glossary of terms to help with identification. The book is hardcover with 262 pages printed on gloss paper. The book is currently available on Amazon at £25 +p&p but is also available from the bookshop in Kardamyli and from Mani Money in Aghios Nikolaos. This is the only book devoted specifically to the flowers of the Mani. Roger Marchant - " I have spent my working life as a professional biologist in various universities. I am now combining my interest in photography with a continuing interest in plants and animals to produce volumes of identified plants and animals from locations around the world. ' Wildflowers of the Mani ' has been a labour of love on my part and I am making no profit whatsoever from the sales." For other books by Roger Marchant see blurb co uk (8-1-17)
Do you know an Alan Parr from this area?
6/1 ALAN IS FINE :-) Gaia are trying to contact him. The story is not clear, but Gaia were alerted this morning by someone who had a phone message from Alan, who apparently is lost after being out walking for 3 days. Gaia have tried to contact him, but he is not answering his phone. If you know anything that might help locate him please contact Gaia - Christina Constantios 69 7238 8217 or Gaia Base in Ag Nikolaos 27210 79199 (4-1-17)
PsM Website news :
Message from Claire:- I am pleased to say that I have had several replies to my request for help with editing the website, including a couple who are willing to learn about the technical side, so I am optimistic that even if I have extended periods without internet, there will be someone who can circulate news and information. However, my next absence will be from January 30th until March 3rd 2017, and although I have someone learning about the website, it will probably be too soon for him to work on the site, so, as during previous absences, I shall be monitoring things from afar, and may not be able to respond to emails very quickly, as I shall have limited internet access. (27-12-16)
'Seeing and Believing' is a new book by Gillian Bouras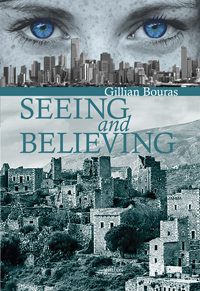 : Gillian lives near Kalamata, and spoke of some of her amusing and poignant experiences, at one of the PsM 'Meet the Author' events, a couple of years ago. She is an expatriate Australian writer who has written several books, stories and articles, many of them dealing with her experiences as an Australian woman in Greece. GILLIAN BOURAS. Her new book Seeing and Believing which continues the story of her experiences, will be available from Bookmark in Kalamata: Antonopoulou 12. ( Just up from the National Bank on the lower part of the plateia.) 27210 21100. (26-12-16)
Advice wanted about olive growing: We have a small garden in Trachila and want to plant 2 olive trees and a fig. Does anyone know the best figs to grow in this area? I know there must be hundreds, but a good eating as opposed to drying fig is what we want. We have a couple of fig trees already but have no idea of their variety. Regarding olive trees we thought of the Kalamata olive as we love them. Again for eating rather than oil producing. Any recommended nurseries/ tree growers would be really useful. Also any advice would be most welcome. Anita and David info\atelier22york (16-11-16)
Editorial help wanted with PsM
:Message from Claire:- During the coming year, I anticipate needing to spend more time in the UK, and there may be extended periods when I will not have much time/opportunity to update the Parea sti Mani website. While I am only looking for occasional help at the moment, I would be particularly interested to hear from anyone who might eventually like to take over as editor of the website. There are various ways we could organize 'who does what', depending on the interests/availablity of whoever is helping (possibly more than one person). One option would be to offer your email address in an automatic reply to anyone who emails the Parea sti Mani, while I am away. Then, assuming you had learnt a little about the editor program, you could put urgent information, or imminent events on the website, while I am away. If you would like to know more, please contact me initially, by email claire4parea\gmail Don't worry if you are new to the area, or know nothing about editing websites - I didn't when I took over, and the new website is easier to handle than the one I took over! (10-11-16)
Advice about telescopes: Message from Mike Binks:-
I am looking for someone who can give me some advice about telescopes. I am hoping to buy one in the near future but have no previous experience of If you, or someone you know can advise me, please let me know. Thanks. allanmbinks\hotmail (1-11-16)
Debut Novel by local resident
: André Verhagen and his wife have had a property near Frigano, for almost 13 years. Originally it was a holiday home, but since they retired, they are spending an increasing amount of time in Mani, and André has started writing. His debut novel was published in Dutch last spring, and with the help of a professional translater and two native speakers, the English version, 'Behind the rustling dark' is now available. The setting is in the Peloponnese, more specifically, in Stoupa. ' ...The couple have only just arrived in Athens on their way to their holiday home when disaster strikes. Although there is help from all sides, the situation looks pretty hopeless. Nothing is what it seems. Reality and fiction compete for priority and boundaries are blurred. In a fight with a wolf the fate of the protagonist seems to be sealed, but again appearances are deceptive. The story takes a dramatic turn and the reader is drawn into a labyrinth of suspense! ......'
The book is available on AMAZON Kindle edition £6.53 (29-10-16)
NEXT CRIBBAGE SOCIAL -
October 24th : The1st meeting for a cribbage social on Mon 10th October at Melissa's taverna in Stoupa was a great success. There were 16 players, and 3 or 4 non-playing partners. Before playing, most people took the Moussaka and salad option kindly offered by Linda at 5 € a head. We collected € 52 for Gaia, in contributions. The next event will be on Monday 24th starting at about 2 o'clock for those wishing to eat first; crib games will begin from 3 o'clock.
All comers welcome. If you wish to have the moussake special, please let me know before Monday (email) so Linda can have an idea of how much to cook Also if you prefer a veggie option. Look forward to seeing you all there. Contact either me, Mike, at the following emails or numbers Mike : allanmbinks\hotmail: tel 07846433693 or Pat : p.woolfe\sky : tel 07508527944 (17-10-16)
New specialist doctors in Stoupa : We shall soon have 3 new specialist doctors visiting Stoupa. All three will have their clinics on the main road between Stoupa and Ag Nikolaos. Stephanos Zarmakoupis is already here ( almost opposite Katerina's supermartket) and the husband and wife team, Iannis Manoleas and Sophia Oikonomou, hope to be here by the new year, in the new building opposite the old 'Drive In' cafe. They plan to work in Stoupa at weekends and Wednesday evenings.
Pediatrician: Stephanos Zarmakoupis
already comes to Stoupa Tues 9:00-14:00, Wed. 18:00-21:00, and Sat. 9:00-14:00. He speaks some English. Mob. 6932 910404, Tel. 27210 94094 in Kalamata
Gynaeocologist : Sophia Oikonomou
Physiatrist **: Iannis Manoleas Tel. 27210 22773 in Kalamata (5-10-16)
**A physiatrist is a medical doctor who specializes in physical medicine, rehabilitation, and pain medicine. These spine specialists focus on the body's musculoskeletal system, which includes bones, joints, muscles, ligaments, tendons, and nerves
Insurance Office has moved: Message from Stuart:- Christos Manoleas has moved his office. He is no longer above the beer wholesaler's warehouse on the Stoupa/Ag Nikolaos main road. He has moved along the road - 500 metres further towards Agios Nikolaos, and still on the right hand side of the road. He has taken over the 'Drive In' coffee shop premises, and is already open. Level ground and plenty of space to see to turn in off the main road, park, and see to turn out again. Soon he will also open a coffee shop within the office! (22-9-16)
---