November 2016: Can you help Megan?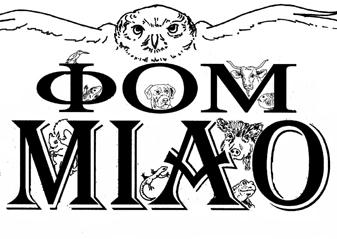 Message from Eva :-
MIAO has a very serious problem regarding a new dog that was abandoned in Pigi about two weeks ago. Whether this dog gets a chance to survive is a question that can only find a positive answer when we all think of all the animal loving people we know, here and abroad, in order to try to find a foster home for her.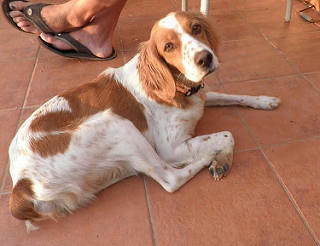 Here comes Megan`s story, her problem: Megan, a beautiful female spaniel as you can see on the attached pictures, is about three years old and turned up in Pigi about a fortnight ago. She was very frightened and nervous but thanks to the couple who kindly look after her, she has calmed down and shows her peaceful and friendly character now. Megan has problems with her knees, which is obvious when you watch her walking. She has got "bilateral patellar luxation", as veterinary surgeon Dr. Kostas Antonopoulos diagnosed at a first examination. This is a genetic problem which could have caused Hip Dysplasia, too. To give an exact diagnose vet Kosta would need to take many x-rays, but he is already sure that Megan`s condition "requires very complicated surgery to correct all problems and months of physio afterwards".
This is exactly the problem we are facing: At least two surgeries with three months of recovery after each surgery are the minimum this dog will have to go through - and her carers, too! We know from our own experience with various dogs what a heartbreaking job that is and how much love, time and dedication the carer has to provide. On the other side it is also the most beautiful experience to look after an animal in such a situation because the reward is the improving condition as well as all the love and trust you get from the dog.
Of course there is the monetary aspect as well, we are talking about 700 Euros at least, but I am sure we could raise the money with the help of a lot of friends. So in my eyes this is not the biggest problem. Once again it is the question if we can improve the living conditions of a young and otherwise healthy animal, or if she will have to be put down. There is no third way to go, because to do nothing would be very cruel. Megan`s condition will get worse rather quickly and she will be in unbearable pain in the foreseeable future.
So it is all down to the question of who can look after Megan? Where she is now she cannot stay for various reasons, and within our small group we do not see any possibility to look after her in such an intense way for the next months. We are all far too busy with far too many animals already. I want you all to rack your brains and to think of all your friends, and their friends, too, in order to find the right person for the job. It must be somebody who loves dogs, who is good as a nurse and has got enough time to look after the patient. A second dog in the house might be a problem as Megan will not be allowed to play or run around a lot.
MIAO will provide all the help we can and organie transport, for example. We can give money towards feeding Megan and we will(!) raise all the money requested. If you can think of a carer for Megan, please let us know as soon as possible. Thank you!
Contacts : Eva Lang : miaomani\gmail or 6972 775 870 (German, Greek)
Julia 6978 330 816 (English , Greek) or Chris 6985 986 331(English)
---